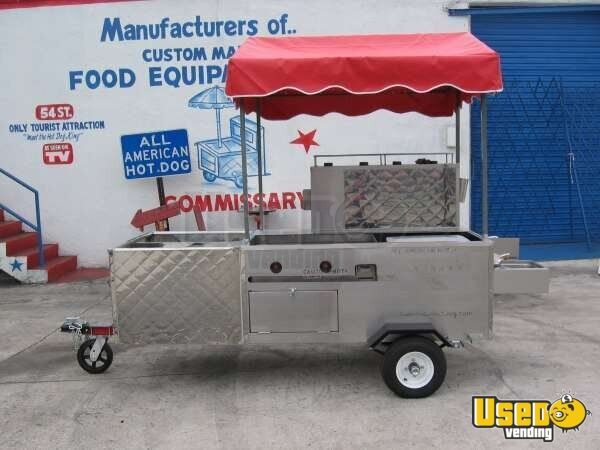 10' x 5' Fully Contained All American Hot Dog Vending Cart!!!
SOLD



Use to sell dogs, pastrami, roast beef, etc. It's 10' x 5' with tongue and tires. It is in very good condition. Lots of features- see details for list of equipment.

$9,200. Eureka, California.

CLICK on "MORE INFO" for PICS & FEATURES!!!
SOLD
More info...
FEATURES:
Mobile Vending Cart - 10x5 FULLY CONTAINED Cal Code Compliant - Stainless Steel, 2 burners w/ space for 4 1/3 size steam pans (can use 8 1/4 size pans), 2 Pan Separators, 30 Gallon Waste Tank, 20 Gallon Potable Tank, 4 Sinks w/ Splash Guard (per Cal Code Req.), Refrigerator (Per Cal Code Req.), Pressurized Water System (per Cal Code Req.) w/ Dual Pumps, Hot Water Heater/Tank (per Cal Code Req.), Propane Tank, Custom 7 Function Light System, DOT Approved Tires, LED Tail Lights, Pivoting Dual Tire Hydraulic Jack
---
Have Question? Have Questions about this item, its condition or features?