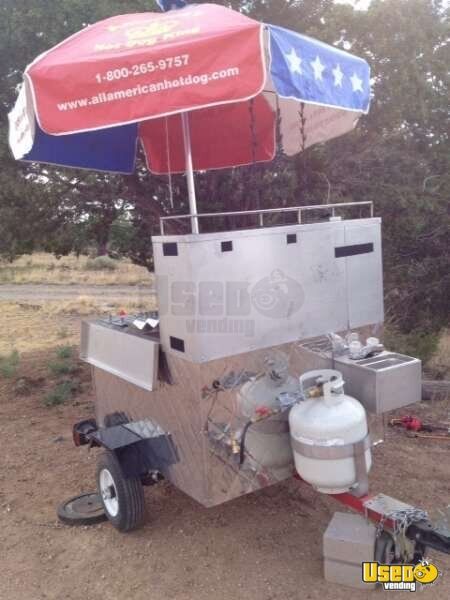 2009 - 40" x 48" x 56" All-American Hot Dog Cart!!!
SOLD


Used for selling Hot dogs, Hamburgers, Grilled foods, BBQ, hot & cold sandwiches; plus all kinds of mexican food, breakfast foods (eggs,bacon, pancakes, etc.). Seller is original owner; unit was used for less than 1 year and is in like new condition. See details for list of equipment / features.
$5,750. New Mexico
CLICK on "MORE INFO" for PICS & FEATURES!!!


SOLD




More info...
FEATURES:
Double size soda cooler - 23"Long X 20"Wide X 22"Deep (holds 100 cans) Towable trailer (DOT approved) with suspension, lights, wiring harness, and 1 7/8" ball coupler.
Two books & Four DVD's on "Complete Guide to Starting Your Own Succesful Cart Business"
Upgraded 6 gallon fresh water tank, Two removable 7.5 gallon waste water container
Sign shop logo (create your own logo)
Sinks: one compartment Single hand sink with pressurized cold and hot running water ; 20 lb. propane gas cylinder 3 burners with adjustable controls - Two-stage regulator with shut-off valve
Large under storage with safety latch; 36" long mounted side shelf Plexiglas storage case including a shelf; Two chip racks & napkin dispenser
18X18 Flat surface griddle with lid ; free steamer insert
Four - 1/3 x 6" Deep, with Lid Food Trays all Stainless Steel ; Two - 1/6 x 6" Deep, with Lid Food Trays all Stainless Steel;
One 6' Diameter Umbrella, Fire Extingusher & First Aid Kit Certified by NSF
---
Have Question? Have Questions about this item, its condition or features?