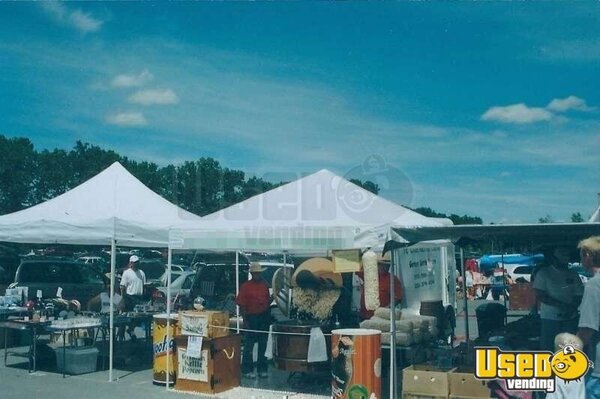 6' x 12' Turn Key Kettle Corn Concession Business!!!
SOLD

This business comes with a 16' enclosed trailer, one Premier kettle corn cooker, and all the necessities to start your own kettle corn business. The condition of the equipment is like new and is with original owner. Be sure to see details for a list of features and equipment.
$7,500. Pennsylvania
CLICK on "MORE INFO" for PICS & FEATURES!!!
SOLD
More info...
Features:
One 6' 16" enclosed cargo, trailer with side door, lettering, electric brake and spare tire,
One Premier copper colored stainless steel receiving kettle with special sieved bottom and unpopped kernel catcher,
One receiving kettle setup mounting hoop attachment,
One 10'x10' tent with all hardware and rigging,
Complete screening for tent,
Complete sides for tent,
Diamond plate flooring for tent,
Four sand bag tent weights,
One 8' Ye Olde Kettle Cooker banner with velcro backing for tent face signage,
One old Fashion handmade wood box for supplies and bags,
One old fashion canvas "free sample" sign attached to wood box,
One air/propane operated whistle draws attention as you dump a fresh batch of kettle popcorn,
One wooden mixing paddle and electric mixer,
Canvas carrying case for whistle and wooden mixing paddle,
One oil pot with lid,
One old fashion oil ladle,
Two 40lb propane tanks with hose attachments,
One offset "Z" connection with quick connects (keeps propane hose in the ground),
One emergency safety valve bypass unit,
One hand held pilot light igniter,
One old fashion wooden sugar barrel,
Measuring containers for corn and sugar,
One saltshaker two popcorn scoops - 38.8,
One sample basket for free samples,
One safety cooking package sleeves,
One fire extinguisher,
One set of padlocks, keyed alike, for trailer doors,
One first aid kit,
One Olde fashion price sign,
One custom Olde Fashion handmade collapsible table,
One Olde Fashion canvas,
Ye Olde kettle cooker sign,
One canvas style bag with handles to carry and store table,
Two folding workstation tables,
Two money aprons,
3 bay stainless steel sink,
Hand towels,
One broom and dust pan for clean up,
One 28-gallon rubber trash container,
Recipe for German kettle corn popcorn and other cooker food options,
One toolbox and basic tools to hook up propane and general maintenance,
One operation manual with parts list,
List of magazine and web site resources for locating and booking special events,
Training course on show set up and cooker operation
---
Have Question? Have Questions about this item, its condition or features?