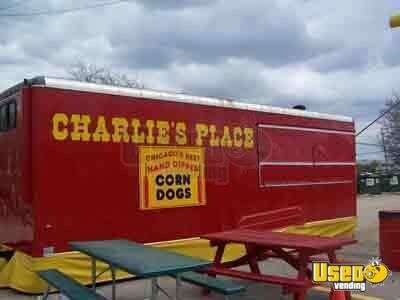 Fully Equipped 18' Food Concession Trailer!!!
SOLD

Some of the equipment is less than 1 year used, the trailer recently had new paint (fire red). Has many appliances and extras. The seller used fans to keep it cool, and it has a hood vent. Be sure to see the details.

$19,800 for ALL. Romeoville, Illinois.
CLICK on "MORE DETAILS" for FEATURES & PICS!!!
SOLD


More info...
SOLD

Commercial Fridge
Ice Cream machine
Slushie Machine
Pizza ovens
Microwaves
Steamers
Cooler (used soley for pops),
coffee machine
Crock pots (used for nachos and cheese)
Nacho machine
Hot dog and Polish sausage machines, etc.
$19,800 for ALL. Romeoville, Illinois.
Call @ 601-749-8424 x 15
or Click on the "Request" link to E-mail for more information.
---
Have Question? Have Questions about this item, its condition or features?