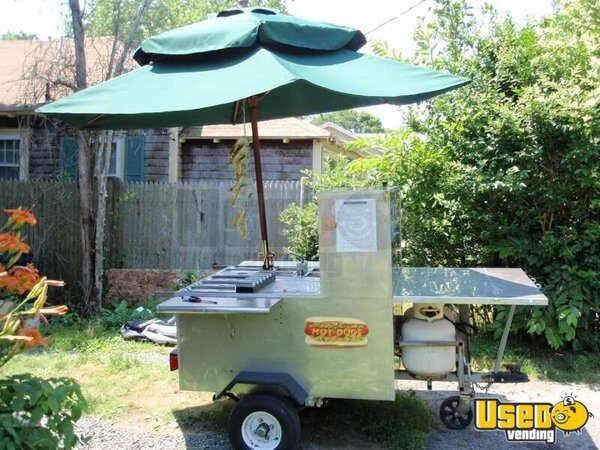 Towable Hot Dog Cart!!!
SOLD



This unit can be used to vend hot dogs, chili buns, nachos, chips, and beverages. Comes with all lights and safety equipment for towing, AND push handles for easy mobility while operating. SUPER LIGHT WEIGHT, could tow this thing with a smart car! It's in very good condition, see details for list of features and included equipment.

$3,750. Marshfield, Massachusetts.

SOLD
More info...
FEATURES:
-5 Pan steam table
-4 sinks with Hot AND Cold water supply
(this allows you to sell more types of food than the other cart vendors! making YOU more competitive!)
-Easy drain and fill water tanks.
**PASSES ALL INSPECTIONS WITH NO PROBLEMS!**
-2 Side tables built in for ease of food prep
-Front sales/condiments table
-2 propane tanks
-Dry storage cabinet
-Cold storage cabinet
-Comes with all accessories, Including GIGANTIC cooler for drinks and shaved ice
---
Have Question? Have Questions about this item, its condition or features?