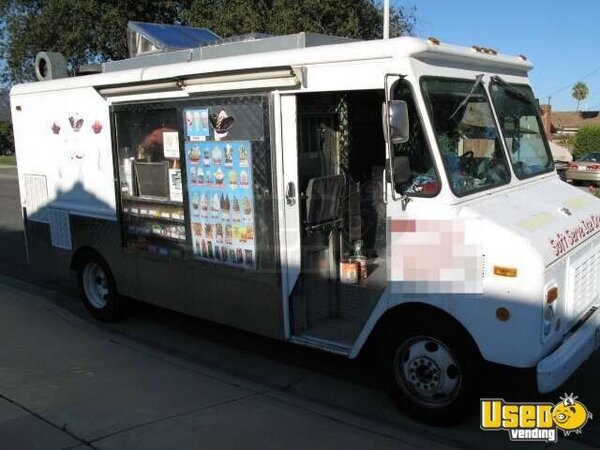 SOLD
1993 Chevy V8 Custom Soft Servce Ice Cream Truck!!!
Sells soft serve, nachos, hot dogs, snacks, drinks, etc. Stainless steel top to bottom, air conditioned. It's in very good condition. LOTS of features & extras, see details for list.

. Los Angeles, California.

SOLD
More info...
FEATURES:
A. Air window for ventilation 24"x 36"
mesh screen not greater than 16 mesh per sq inch
B. Enlergency window 24"x36"
mesh screen not greater than 16 mesh per sq inch
c.Sealed and screened fan Motor:for generator ventilation.
D.lnlet water with Hansen 3HK quick disconnect inside a
stainless steel box w/protected door.5 feet above ground level.
E. Air-vent for generatof, sealed and screened.
F. Shut-off valve for waist tank

A. Microwave: 1,000 watts power
1.2 cubic ft capacity
B. 84"x12"x24" Food and untensil
storage with minimum of 13.5 cubic ft.
C. 10"x48" stainless steel shelf
D. Nacho chip warmer NSF approved
E. Utensil storage drawer
F. 120v electrical outlet GFI
G. Nacho cheese warmer NSF approved
H 12' divider
1.3 compartment sink NSF approved
12"x12"x10"
J. Paper towel dispenser
K, Hand wash soap dispenser
L. Refrigerator 15.5 cubic ft (usable interior space)
NSF approved 160-3/8xD30-1 /8xH36-3 / 4
M.Drain board 12"x12" forwashing utensils
N.Hand wash sink
O.Wash down water hose is food gradewith
pistol grip nozzle capable of reaching entire
truck.ln an enclosed box.
minimum of 4.5 cubic ft.
Q.Storage compartment big enough to store
a box of ice cream cones.
R. 86"x20"x20" Chemical Storage compartment
S.Mechanical Ventilation minimum
12"x12" with screen and protected
vent coVer above cheese warmer.
T. Permanently mounted. Fire
Extinguisher is at least 10 BC minimum
J. 34"x86"x72" Generator compartment
sealed and insulated for noise reduction.
K. Refrigerator 13.9 cubic ft NSF approved
.. and equiped w/ evaporator system.
1.3 10'x40' Stainless Steel Shelves
M. Soft-serve i ce-crea m refri gerator NSF a pproved
, N. Se-rvice window 12"x18" self-closing
w/mesh notgreatelrthan 16 mesh perinch
O. Main entrance 36" clearance.
---