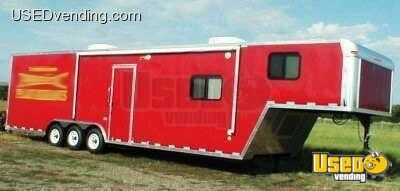 38 Ft. Cargo Express Trailer with Living Quarters!!!
8ft x 8ftx38ft trailer has custom designed Stallion living quarters- 8 feet of living quarters and 20 ft. of cargo space. This item was used for only 2 shows and is like new. Has lots of amenities, see details for list of features and equipment.
$27,500. South Dakota
CLICK on "MORE DETAILS" for PICS & FEATURES!!!
More info...
FEATURES:
Custom designed. Living quarters include a bathroom with shower,toilet&sink,kitchen with microwave,stove,oven,frigde,freezer,sink,table,bed,tv,stero with inside and out speakers, 18ft awning, Oak paneling and oak cabnets. 18ft of living quarters and 20ft of cargo space,a beautiful set-up for business/life on the road. Custom mural on the rear,center hydraulic and dual manual landing gear, A/C and furnace in living quarters and cargo area,insulated in the side walls and ceiling,screwless unit,stored indoors, less than 1000 miles of use.
---