The Planet Antares Refreshment Center Vending snack & soda combo is a handy vending machine for those locations that don't have room for the large electrical combos.
This combo has 4 components:
snack machine

soda machine

dollar bill changer

a stabilizing base
The snack and soda vending machines are mechanical in how they dispense the products for the vending operation. In other words, they work like a gumball machine - put the coins in and turn the knob or handle. Electricity is only required for the cooling unit on the drinks and an, as needed, vend of the coin changer to read a dollar bill and eject change.
This vending combo is extremely quiet and is reliable. However, the construction may not be best for locations where vandalism is likely. They are very easy to maintain & perform repairs.
This vending machine has a nice capacity even with a compact footprint.
Snacks - 9 selections with 125 to 140 items
Sodas - late 2005 - 2007 models have 6 can selections totaling 150 cans and 1 selection for 12oz to 20oz bottles)
Change - holds $100 in changer
Planet Antares machines often sell for as much as $6,500 ea. However, they are really worth about 25% of that when compared to other mechanical combo vending machines. They are usually sold in package deals as business opportunities.
What many fail to realize before paying this outrageous price is that they are pressured into it via a scarcity tactic. "If you don't decide by Monday, you will not be one of the chosen ones.." However, do you really think that these companies will turn you away in a few weeks if you want to pay them tens of thousands of dollars? They go to many of the same cities each and every year; so there is no reason they would not be willing to sell to you later.
UsedVending.com normally has the Planet Antares, Natural Choice, vending machines, sometimes new, never used in the original boxes for between $900 and $1,600 each, sometimes less, sometimes more. For the price of 1 new one, you could have 3 Antares combos out there making you money. We may have some for sale right there in your city! See our Antares for sale by either...
Clicking on your state to the right & above

Click Here & use the search box to see them in all states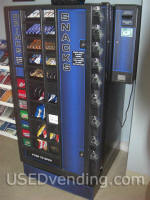 Click Pics to Enlarge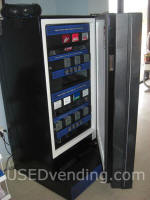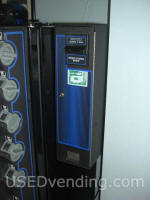 Vending Machine Specifications
Overall Weight: 330 lbs
Dimensions
Overall Height: 61.5"
Snack: 53.5"h, 29"w, 7"d 45lbs
Soda: 55"h, 28"w, 26.5"d 244 lbs
Changer: 23"h, 6"w, 14"d 29 lbs
Base: 6.5'h, 28"w, 33"d 12 lbs