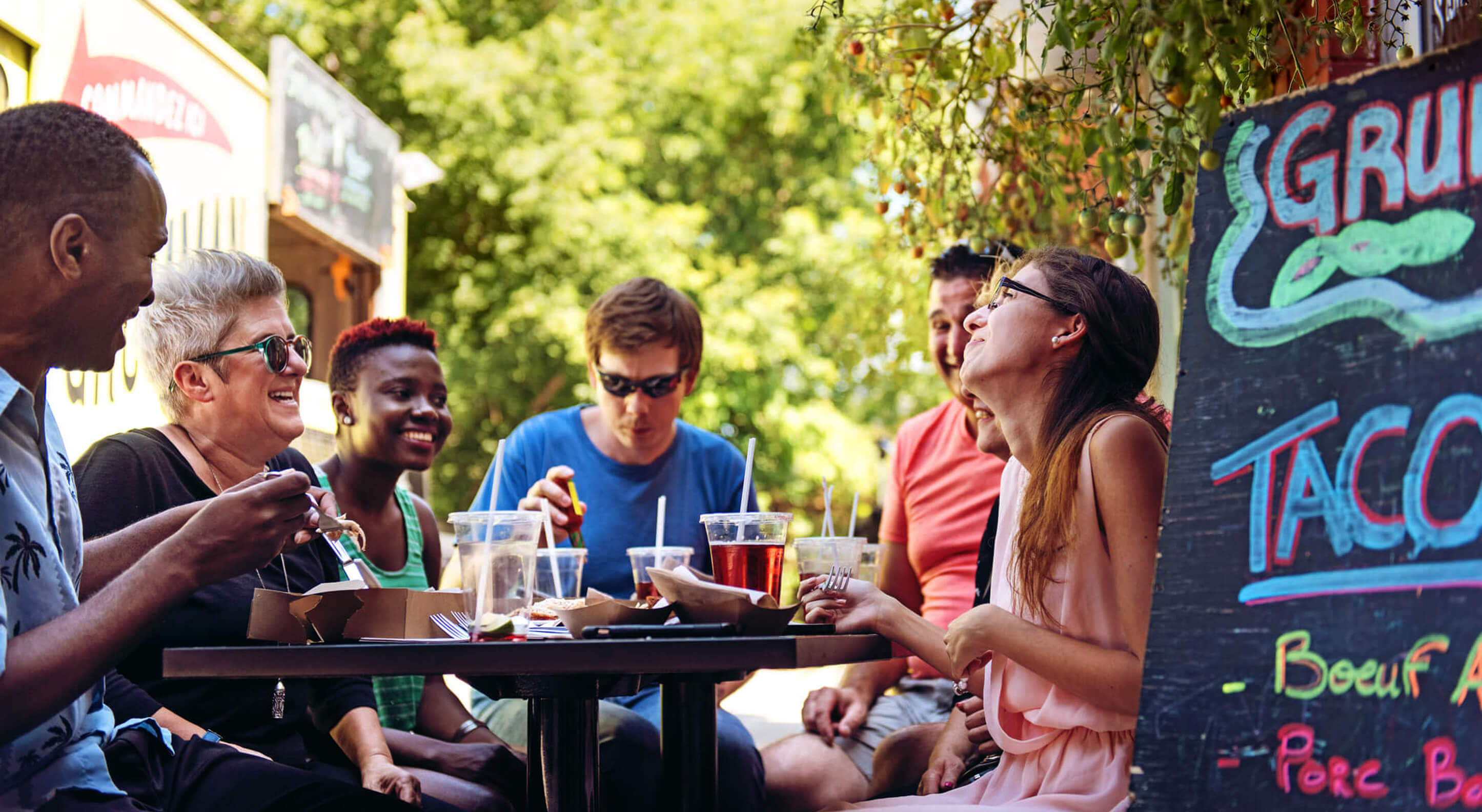 Best Lunch Serving Trucks in America
Eating out is a common habit among Americans. It's especially common during weekdays, where they have a limited time to eat during lunch breaks. A lunch out, the American way, means many things. It may mean feasting on seafood, flipping on chicken wings or ribs, and munching sandwiches. Today, food trucks have redefined serving gourmet food to Americans. Let's take a look at the best lunch serving trucks in America.
Best Lunch Serving Trucks in America
Bon Me (Boston, MA)

Bon Me started in 2011 after the duo Ali Fong and Patrick Lynch won a Boston food truck contest. This lunch serving truck serves Vietnamese delicacies. Its most popular item is the banh mi sandwich. Bon Me's take on banh mi is made of toasted baguettes stuffed with BBQ pork, carrots, cilantro, cucumber, daikon, red onion, and spicy mayo. They also offer a vegetarian banh mi by using tofu instead of pork. The other items on Bon Me's menu are:
Ali's Pho – Vietnamese-style chicken noodles

Bon Me Bap – a bowl of white rice with egg, cabbage, carrots, daikon, mushroom, scallions, and tofu

Bun Bowl – a street dish in Vietnam made of chicken, rice noodles salad, and veggies

Kimchi Fried Rice – fried white rice with egg, kimchi, and scallions

Miso Kimchi Ramen – noodles, miso and pork broth with egg, kimchi, and Thai chili oil

Tofu Rainbow Fried Rice – fried white rice with egg, broccoli, carrots, scallions, and tofu
Cypress Knee Food (Little Rock, AR)

Benjamin Lee LaFoon is a well-traveled chef. The countries he visited include Afghanistan, Colombia, Mexico, and Turkey. He had also been to Hawaii and all over the U.S. by living in a houseboat for 3 years. In 2017, Ben and his wife, Rochelle, launched the Cypress Knee Food truck. It's a lunch serving truck specializing in Cajun cuisines. Their menu offerings include:
Alligator Love Bites

BBQ Chicken Sliders

Bread Pudding

Campfire Steaks

Catfish Tacos

Fried Chicken Fingers

Gumbos

Mornay Melt

Shrimps-N-Grits
Dashboard Diner (Indianapolis, IN)

Dashboard Diner started from Edward's Drive-In on Indianapolis way back in 1957. It was originally opened by Herb Edwards together with his son, Tom. The diner became popular for its onion rings, pork tenderloin, and root beer. In 2012, Tom's daughter and son, Terri and Jeff, continued the legacy by launching the Dashboard Diner Mobile Truck. This lunch serving truck was inspired by the iconic American rock and roll. With a vintage feel, Terri and Jeff continue offering their family's legendary sandwiches and sides. The items included in their menu are:
Cheeseburger

Chef's Salad

Chicken fillet sandwich

Coney Dog

Corn Dog

Dash Wraps

Fish sandwich

Fried Pickles

Hotdog

Onion Rings

Potato Wedges

Pulled Pork sandwich

Root beer

Tenderloin sandwich
Diva Dawg (New Orleans, LA)

Ericka Michelle Lassair was a culinary arts graduate. She was popularly known as Chef Diva and was featured in different food magazines and TV shows. She initially opened a hotdog restaurant in 2012 but the business failed. In 2014, she came back through the Diva Dawg food truck. This lunch serving truck became a hit in New Orleans. Among her signature hotdogs are:
Cajun Surf & Turf with alligator sausage and crawfish

Etouffee Chili with crawfish

Red bean chili with chicken and ketchup

Vegetarian dawg with zero meat

Zapp's Chip Chili Cheese with nacho cheese

Diva Dawg also offers non-dawg meals like chicken wings, crabmeat, fries, and nachos.

Giovanni's Shrimp Truck (Honolulu, HI)

Giovanni's shrimp truck was founded by Troy and Mary Nitsche in 1993. It has been serving the North Shore of Honolulu with shrimp dishes. In 1997, they opened a 2nd truck which became popular as the truck across the street from McDonald's. All of their plates include rice and a dozen jumbo shrimps. Among the flavors are: 
Hot & Spicy Shrimp

Lemon Butter Shrimp

Shrimp Scampi (Giovanni's original garlic shrimp)

This lunch truck also serves jumbo garlic hotdog, mac salad, and refreshments.

Guerilla Street Food (St. Louis, MI)

Brian Hardesty was tasked by Seneca Commercial to bring a food truck in its entertainment district in the 9 Mile Garden of St. Louis. In 2011, he and a Filipino chef, Joel Crespo, bought a laundry van for $2,000 on Craigslist. The duo converted into the 1st Guerilla food truck serving Asian cuisines. Today, they own 5 restaurants and continue operating the lunch serving truck. Among their lunch entrees are:
Chicken Adobo – chicken thighs braised in bay leaves, black peppercorn, garlic, soy sauce, and vinegar

Flying pig – roasted pork shoulder slowly cooked in calamansi juice, chili sauce, egg, and hoisin sauce

Fresh Lumpia – shredded cabbage, carrot, garlic, lettuce, and onion wrapped in coconut milk crepe

Kare-Kare – oxtail braised in peanut sauce and served with bagoong sauce, eggplant, and long beans

Kilawin – local fish dressed with coconut milk and vinegar

Tocino Chicken Skewer – grilled chicken marinated in sweet banana ketchup

Wandering Pig – Flying Pig without the egg
The Blaxican (Atlanta, GA)

The Blaxican is America's number one food truck in 2015. It was created by Will Turner in 2010 to serve Mexican soul food in the streets of Atlanta. The name described his racial origin – a black American. The Blaxican lunch serving truck offers 5 variants of Mexican tacos, Mexican-style mac and cheese, fries, nachos, and veggie bowls. Their taco variants are:
Al Pastor pork with Mexican pineapple

Blackened fish

Buffalo chicken

Savory Steak

Smoked sausage
The Celtic Pig (Louisville, KY)

The Celtic Pig started as an amateur BBQ team in 2014. They used to sell food in tents and join BBQ contests, bringing the bacon and trophies. They then moved into a food truck as demand grew in 2015. The owner, Sam Bracken, found the truck in Dayton, Ohio. He painted it blarney green and did some renovations. Then, it hit the streets of Louisville and became a story. Included in the lunch truck's menu are:
BLTC sandwich

Brisket French Dip and Fries

Cheeseburger and Fries

Chicken Salad sandwich

Cock-a-leekie Soup

Egg Salad sandwich

Halvsies

House Salad

Irish Chili

Piled High Rueben

Ratatouille

Looking for the best lunch serving truck for your food business? UsedVending is the right place to go. We feature a large selection of newly refurbished trucks that won't burn a hole in your pocket. 
Discover the cheapest food trucks for sale near you by visiting our website.
For more inspirations and ideas, check out our other food truck articles:

Don't miss out!