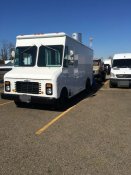 I Contacted Jennifer Melerine at USED Vending in May.I informed her that I was looking for a food truck & the price range willing to spend. She promptly forwarded several vehicles to my email.
Jen was very helpful in answering questions & walking me through the process. She coordinated with the seller (in another state), and arranged for me to see the vehicle. She also followed up before, during & after the transaction. The vehicle was purchased the first week in July.
All in all, the experience from start to finish was positive & pretty seamless. I won't hesitate to call Jen for our company's next food truck.
Patrick
Managing Partner
Beans & Cornbread,
Southfield, MI