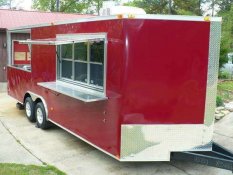 Jennifer,
Thank you so very much for all of your help in completing our search and ultimately buying our new trailer! Above all, your patience and calm demeanor was paramount in keeping our deal alive throughout its completion.
As with any large purchase from out of state, things can seem pretty hectic and out of control but your mediation between the manufacturer and me the buyer truly exemplified your work ethic.
It was a pleasure doing business with you and we have found a new friend in the manufacturer.
Our most prevalent obstacle was the transfer of funds. dBoth myself and the seller really felt comfortable having UsedVending as the escrow account prior to approval of purchase.
I hope to do business with you all in the future.
Sincerely,
Anthony Falcon, Chef Proprietor
Gaucho Parrilla Argentina, LLC