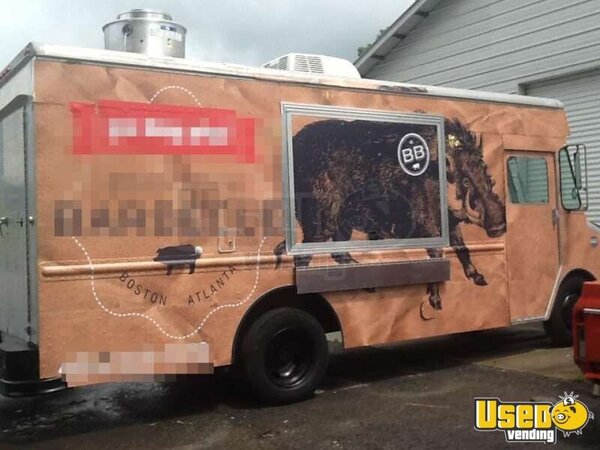 1974 - GMC BBQ Rotisserie Food Truck!!!
SOLD


This truck has a kitchen full of commercial equipment with a 6ft rotisserie smoker. It has new tires, battery, brakes, master cylinder, and power booster. Truck runs great! See details for complete list.
$43,890. Georgia



SOLD
More info...
This is a very cool-looking GMC food truck for BBQ, fried or rotisserie foods. It is loaded with super clean commercial grade cooking and food prep equipment. It has new tires, new battery, new brakes, new mastercylinder, new power booster..Runs great, very dependable.
Included:
All New: 5ft (True) Sandwich Maker,
35lb (Dean Fryer),
2ft Griddle (Champion),
4 Pan Steam Table (Eagle),
Fire Suppression System (KitchenKnight II),
All Aluminum Interior Walls with Stainless Steel
Wall BehindC ooking Equipment with Hood Vent
All New:
Hand Washing Sink,
3-Bay Dishwashing Sink,
10 Gallon Fresh Water, 15 Gallon Grey Tank, Hot Water Heater,
2-4 foot Fluorescent Lights,
2 ExteriorLights,
Front & Rear Entrance,
74X40 Server Window with Screens and SidingGlass
All New:
Diamond Plated Floor,
Overhead A/C unit,
10 Case Soda Holder
9000 watt Generator, 220V, 40 amp with Breaker Box,
Propane Tank
6ft Rotisserie Smoker
---