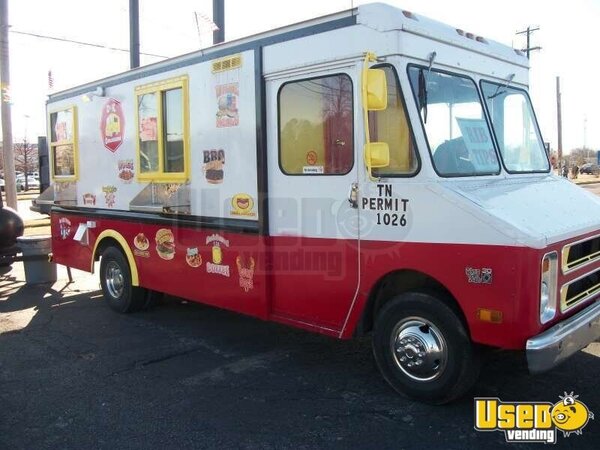 1988 - 21' x 7' Food Vending Truck!!!
SOLD



Used for selling fried and grilled foods. Completely rennovated Chevy P30 Step Van with 4 -speed transmission. It is up to code for the state of TN. It is in very good condition and ready to go. See details for list of features & equipment.

$34,650. Southaven, Mississippi.

CLICK on "MORE INFO" for PICS & FEATURES!!!
SOLD
More info...
FEATURES:
EQUIPMENT SPECIFICATIONS INCLUDED:
-NEW GE DEEP FREEZER
-IDW ELECTRIC DRINK COOLER
-WELLS (GAS) FLAT TOP GRILLE
-A SINGLE HAND WASHING SINK
-40 LB. AD CRAFT (GAS) DEEP FRYER
-SILVER KING REFRIGERATED PREP TABLE
-(2) PORTABLE AIR CONDITIONING UNITS
-INSIDE HEAT
-SIDE AND REAR ENTRY DOORS WITH LOCKS
-NEW UNDER COUNTER POP-OUT CASH DRAWER WITH KEYS
-NEW 900 WATT EMERSON STAINLESS STEEL MICROWAVE
-NEW UNDER COUNTER BLACK AND DECKER REFRIGERATOR
-3 COMPARTMENT SINK WITH ONLY 1 DETACHABLE DRAINING BOARD
-5 GALLON HOT WATER HEATER (ELECTRIC) UNDERNEATH 3 COMPARTMENT SINK
-(2) 300 CFM CUSTOM BUILT-IN NU-TONE VENT-A- HOODS 1st OVER DEEP FRYER 2nd OVER GRILLE
-BOTH SERVING WINDOWS HAVE PULL DOWN PRIVACY SHADES INSIDE AND WINDOW SCREENS TO KEEP UNWANTED INSECTS OUT DURING OPERATION
-(2) 100 LB. PROPANE TANKS MOUNTED ON REAR OF TRUCK INSIDE CUSTOM BUILT HOLDING STORAGE WITH AUTOMATIC CHANGE OVER VALVE
- THE "INSIDE" KITCHEN COOKING AREA OF THIS TRUCK IS 16 FT LONG X 7 FT WIDE
- THIS TRUCK HAS ALUMINUM FLOORING & CEILINGS THROUGHOUT
- THIS TRUCK ALSO HAS QUILTED STAINLESS STEEL WALLS INSIDE COMPLETE COOKING AREA
- EQUIPPED WITH A 25 GALLON STORAGE TANK INSIDE UNDERNEATH TABLE OF GAS GRILLE
- EQUIPPED WITH A 45 GALLON GREY (WASTE) WATER TANK BOLTED UNDERNEATH BODY OF TRUCK ON DRIVER SIDE
---