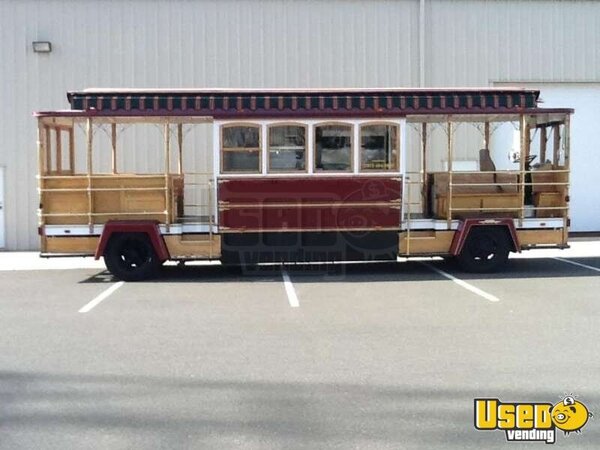 1989 - Ford Mobile Kitchen Trolley Food Truck!!!
This is a nice mobile kitchen converted from a Ford bus trolley. It has 6,000 miles on its rebuilt gas engine and has passed California Highway Patrol Motor Carrier Inspection, and has a current California Smog Certificate. Can be used for many types of foods. See details.




$108,900

. Pennsylvania
More info...
This Ford trolley style mobile kitchen is full of high quality food prep and cooking equipment.
Features:
Guardian 7500 Watt propane powered generator with remote start from kitchen
30 Gallon Fresh water tank
45 Gallon Waste water holding tank
50 Gallon Propane tank
Silver King Commercial NSF refrigerator
NSF Commercial Freezer
Sharp NSF Commercial Microwave
Atwood 10 gallon Hot water heater
Full Length Sunflex Awning
Kwikee Hydraulic Leveling System
Ansul Fire Supression System in custom built Hood/fan over stove
Royal RSMG-24 Grill 24X24 in.
Royal RSMG-18 Grill 18X24 in.
Frymaster J1C Countertop Gas Fryer.
APW 7 Quart round food warmer with locking lid
Built in ice chest
InteliPower 9100 power converter with a PD9105 Charge Wizard
Custom built cover for 3 compartment sink to provide extra counter space
Pyle Pro Amp for CDPlayer/PA system
---
Prior Equipment Questions...
Do you need a special class of license to drive this ?
Is it completely self contained?
Does it meet PA health req ?
Have Questions? Have Questions about this item, its condition or features?