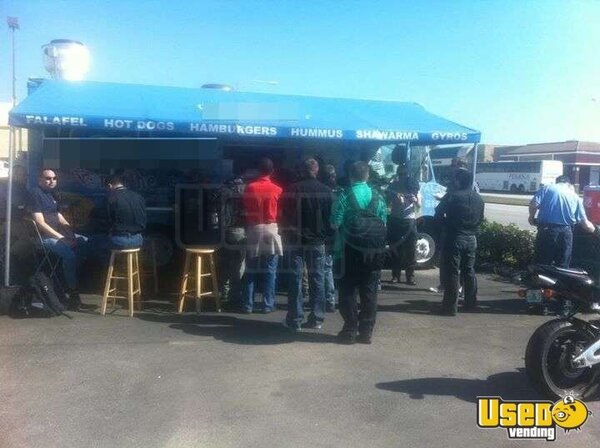 1989 - Mobile Kitchen Food Truck!!!
This mobile kitchen truck is set up for Shawarama, Chicken, Burgers, Schnitzel, French Fries, Etc. New diesel engine. It has a complete kitchen.
$54,990. Florida
More info...
This food truck was only used for 16 months (May 2012-Sept 2013) and comes with a complete kitchen that is currently set up sandwiches, burgers, fries, salads, or even Shawarma! Truck was purchased with a brand new diesel engine, new tires, and a 5k Awning job that is perfect for rainy & hot days!
Includes:
36 inch Grill,
50 Gallon Deep Fryer,
38 Inch 3 Compartment Sink,
GE Oven (Brand New, Never Used),
Cadco Oven (Brand New, Never Used),
Brand New Stainless Steel Kelvinator Commercial Refrigerator,
4 ft work station,
27 inch cold salad bar station,
Freezer (Brand New, Never Used),
Your Choice of a New Shawarma Machine or New 25 inch griddle Microwave (Brand New, Never Used),
Stainless Steel Hood,
Hand Washing Sink,
Exhaust Fan,
25 Gallon Water Tank,
Awning on both sides of the Truck,
7 foot high ceiling,
18 ft long inside,
86 inches wide inside
Storage Info: Food Truck comes with a trailer for all your dry food storage needs! Food Truck also comes with almost brand new Artic Air Commercial Freezer (6 ft tall x 28 in deep x 32 inches wide) & 2 Frigidaire Freezers ( 61 inches wide x 27.5 inches deep x 35 inches tall). Perfect for additional storage needs when ordering meat in bulk!
---