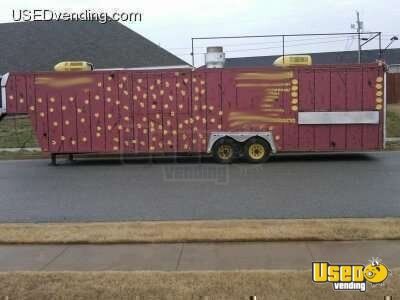 1994 - 37' Concession Trailer with Living Area!!!
SOLD

This air conditioned unit was used to sell fried foods, burgers, kettle corn and more. It has food prep equipment plus living quarters. It's in very good condition. See details for list of feature / equipment.
WAS: $23,000

NOW: $14,300. Pea Ridge, Arkansas.

CLICK on "MORE INFO" for PICS & FEATURES!!!


SOLD
More info...
FEATURES:
1 fountain machine with compressor and carbonator, double sided slushie machine, eash side is 2 gal, large fryer, small double basket fryer, vent hood with fan, full kettle corn setup wtih kettle and sifter, household refrigerator with freezer,
chest freezer, triple sinks plus handwas, hot water heater, fresh, gray and black tanks, shower, toilet, queen size bed, 2 40 pound propane tanks that are full
---