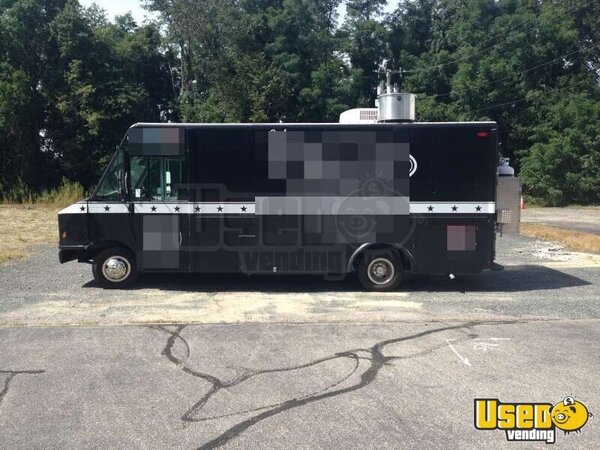 1998 - 16' GMC Workhorse Food Truck!!!
This GMC workhorse features a full mobile kitchen that was used for cooking primarily burgers, hot dogs, sandwiches, french fries, and fried seafood. It has a rebuilt engine with less than 10,000 miles on it.See details for features & equipment.
$71,500. Rhode Island

More info...
GMC Workhorse food truck is NSF, fire, Serve Safe, and health code compliant for its local area. This truck is ready to cook and could start using the day it sells. This truck has custom exterior features as well as lower body stainless steel trim. Interior has custom stainless steel covers for equipment. Heavy duty stainless steel front and rear bumpers. This truck is licensed for its local area, and is being lightly used at this time. Fully equipped truck runs well and looks great.
Includes:


Features: (2) 100# Propane Tanks with Cage,
10 ft. Commercial Exhaust Hood,
36" Gas Griddle,
24" Char Gas Grill,
Double Burners,
(2) Deep Fryers,
24" Stainless Steel Work Table,
Supression Control Box Power Outlets,
50 AMP Electrical Power Breaker,
Fire Extinguisher,
30 Gal. Fresh Water Tank,
3 Bay Sink,
6 Gal. Hot Water Heater,
Exterior Lights,
Hand Wash Sink,
Security Camera System with DVR, Monitor & 4 Cameras,
Audio Receiver with (2) Speakers,
42 Gal. Grey Water Waste Tank,
(2) Dual Flourescent Light Fixture with Plastic Enclosure
(2) Removable Exterior Counter Tops,
15,000 BTU Air Conditioner,
5 FT. Serving Glass Window and Screen,
Custom Insulated Beverage Cooler,
Commercial Refrigerator,
48" Refrigerated Chef Base Propane Holder,
Generac 7500 Watt Generator Alarm & GPS
---