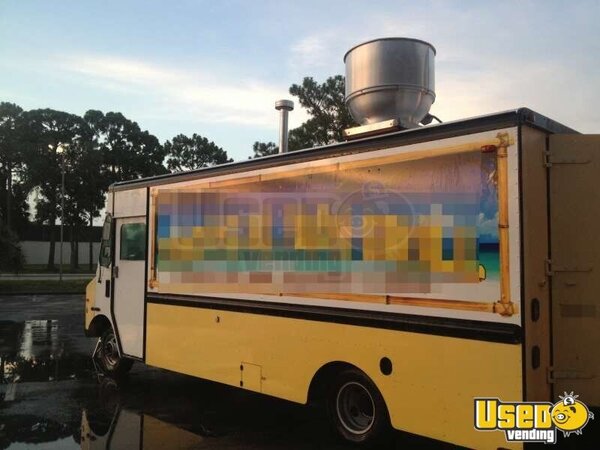 1999 - 20' Grumman Olson Food Truck!!!
This 20' Grumman Olson food truck was used to sell Gourmet Hot Dogs and Sausages, Cheesesteaks, Gyros, Cubans, Mexican items, fries, etc. Possibilities are endless. It is in very good condition. Has 118k miles on the engine. See details for equipment & features list.
$47,190. Florida


More info...
Trucks is equipped with commercial cooking equipment. Everything works at the present time. May need new water heater but seller will replace, easy fix.

Features:
44lb. deep fryer with 2 baskets,
2 burner stove,
24" Chargrill,
36" flattop,
5 full size steam table with independent gas controls,
hand wash sink,
3 bay sink unit with built in speed rail for cold items,
2 refrigerator units, one on each side of sinks,
One stand up fridge freezer unit,
8 foot stainless exhaust hood,
roof AC unit,
all aluminum and stainless steel on inside with custom Starboard accessories.
5500 watt continuous power Generator built on back of truck with 10 gal gas tanks,
Propane tank under truck.
---
Prior Equipment Questions...
where is the location of this truck?
I saw the list, however wanted to ask. Is there a oven installed in the truck?
No, there is no oven installed
Have Questions? Have Questions about this item, its condition or features?