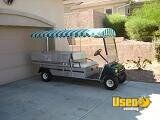 2006 Golf Course Concession Cart - Reasonable Offers Considered!!!
SOLD

This is a gas powered,19th hole edition, club car cocession cart. It is designed For selling: drinks, food, candy, chips, hot dogs, ice cream, taco's, hamburgers, games, toys,and more. It's sas powered and street legal.The six storage units and over head canopy are brand new. Everything on the cart works perfectly. The cart gets 65 miles to the gallon. You can cover the whole neighborhood with one gallon of gas.

$5,749.99. Phoenix, Arizona. Feel Free to Make Offer.
SOLD


Machine Minimums / Shipping Limitations


More info...
The retail price of this unit new was 12,500.00. Don't miss out on this opportunity for some extra income! Seller says he averaged daily 150.00. in sales. This is a sure fire money maker. Looking for some fast money? Start selling drinks and ice cream right now.
Machine Minimums / Shipping Limitations
Call @ 601-749-8424 x 15
or Click on the "Request" link to E-mail for more information.
---