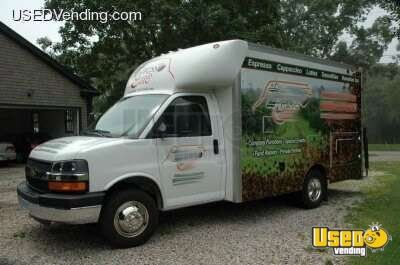 2007 22' Chevy 3500 Express Custom Espresso /Coffee Truck!!!
SOLD

Use to sell coffee drinks, smoothies and other frozen beverages, shaved ice, pastries, etc. 22' overall length with headroom for 6' individuals; Carrier roof a/c; Supreme Manufacturing Spartan Van box. Composite material, wood, aluminum, steel. Used for 1 season and is like new, has 10k miles. Packed with professional equipment. See details for list of features/equipment.
WAS: $81,950

NOW; $60,000. New London, Connecticut.

CLICK on "MORE INFO" for PICS & FEATURES!!!
SOLD
More info...
FEATURES:
Two Door Package W/Concession Window (EHD Approved)
Brasilia Century DEL 2 espresso machine (NSF Approved)
Mazzer Luigi Jolly S Semi Auto Grinder (2) W/Knock Box (ETL Approved)
Curtis D500GTH Brewer W/(3) Air pots (NSF Approved)
Beverage-Air UCR-48 Refrigerator (11.8Cu.Ft.)(NSF Approved)
Electrical System
Xantrex 458/30 3000 Watt Inverter System
Blue Sea #7129 Hi-Amperage Fuse Protection System
MK 6V GC-2 Deep Cycle Sealed Gel Cell Batteries (10)
Generac Quiet pack 75G Generator wI muffler system
Lyght Automatic Transfer Switch System
Water System
One (1) 16 gallon fresh water tank - Espresso Machine
One (1) 28 gallon fresh water tank - Hand Sink
Shurtlo Fresh Water pumps 3.0 ga. (3)
Koffee Kleen Water Condition System
Koffee Kleen Filter System (Particle Filter)
Hansen Q~ Disconnect inlet valve
-------""""'Waste-Water System
One (1) 40 gallon waste tank
One (1) 3/4" Inlet with 2" Air Gap
One (1) 3/4" Inlet - Espresso Machine
One (1) 3/4" Inlet - Hand Sink
One (1) 3/4" Inlet - Spare
Other Added Features
Moli (3) Compo Sink W/Bar Faucet (BHS-1736)
Moli Hand Sink WI Bar Faucet (DBHS-1120)
Moli Drop-In Ice Bin 90 lb .. (BIB 14180)
ISE w-154( 4.0 gallon) water heater
Custom Interior Cabinetry
Full Acrylic Pastry Case
Stainless Condiment Counter (Exterior)
. Overhead Lighting (Florescent)
Accent Lighting
Six (6) Stainless Cup Dispensers
Stainless Steel Towel Dispenser
Acrylic Lid & Straw Holders (2)
Sharp Solar System (240W) WI
Digital Controller
Wet/Dry Vac System
Diamond Plate Floor (Polished Alum.)
Counter Top Soap Dispenser
Awning
Stereo Speakers in rear
Syrup Rack (1) Holes
Stainless Sink Partition
Blendtec Blenders Smoothers (2)
(counter mount w/4 jars)
Carrier Roof AIC (13.5 BTU)
Cash Register
Additions! Options:
Pioneer Audio System -In dash "CD Tuner with wireless remote control, , High
Power 3-Way Speakers (4) Satellite Tuner (Xm or Sirius), l-Pod hookup
Audiovox Voyager Rear Color Observation Camera
Hatsuyuki HC-8E Ice Shaver
---