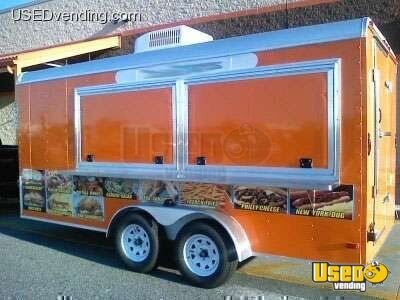 2010 16' x 7' Lark Custom Food Kitchen - New, Never Used!!!
SOLD

Seller is original owner; this trailer can be used for many different food applications. It's has never been placed into service- is still new. See details for list of features and equipment.
WAS: $38,500

NOW: $27,500. Burlington County, New Jersey. REASONABLE OFFERS CONSIDERED!!
CLICK on "MORE DETAILS" for PICS & FEATURES!!!


SOLD





More info...
FEATURES:



1CUSTOM7' x 16' FOOD KITCHEN TRAILER(6FT 61N IN. HIEGHT))
*TANDEM AXLES
*13,500 BTU AIR CONDITIONER
*COLOR CODED 12 VOLT DOT LIGHTING
*7 WAY PLUG/12V SYSTEM
*DOT APPROVED SAFETY CHAINS
*HEAVY DUTY TONGUE JACK
*EASY LUBE GEASE FITTINGS/AXLES
*7000 LB. SUSPENSION
*HEAVY DUTY VINYL FLOORING
*100 AMP BREAKER BOXl11 0 SERVICE
*9 DUPLEX 11 OVOL T OUTLETS
*WHITE ALUMINUM WASHABLE INTERIOR WALLS
*6 GALLON GE WATER HEATER
*6FT COMMERCIAL STAINLESS HOOD/EXHAUST FAN
*3 COMPARTMENT NSF DESIGNED SINKS
*HAND WASH SINK
*FRESHWATERICITY WATER FILL
*15 GALLON WATER TANK
*30 GALLON DRAIN TANK
*DUMP VALVE
*(2) FLOURESCENT LIGHTS
*ON DEMAND SHURFLO WATER PUMP
*STAINLESS LOWER CABINETS
*FULL SLIDINGCONCESSIONWINDOWS/REMOVABLE SCREENS
*2 FLUSH MOUNT CONCESSION WINDOWS ..
*1 FLUSH MOUNT ENTRY DOOR
*122 CUBIC FT ARTIC AIR REFRIGERATOR
*1 22 CUBIC FT ARTIC AIR FREEZER
*24" LP GRIDDLE CASTLE/EQUIPMENTSTAND
*PITCO DOUBLE BASKET FRYER
*2 FULL PAN LP STEAM TABLE
SUNKEN FLOOR
TRAILER PICK UP
HEATER IN AC
*FIRE SUPPRESSION SYSTEM
*WRAP AROUND BOTTOM SKIRT/SNAPS
*2 EXTRA PANS ON STEAM TABLE
---