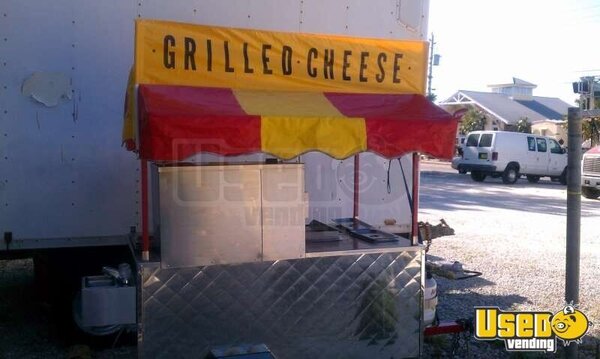 2010 - All American Hot Dog Cart w/Flat Top Griddle!!!
SOLD


This All American Hot Dog Cart features a flat top griddle, so you can cook many types of foods, not just dogs and brats. It was used for 6 months and is in like new condition. It measures approximately 3 x 5 not including tongue. See details for features!
$3,400. Florida



SOLD

More info...
All American Hot Dog Vending Cart with Custom Flat Top Griddle. Made of all stainless steel. Use for burgers, hot dogs, grilled cheese, and more.
Features:
* Flat Top Griddle measures 31 x 21 with 2 Cast Iron Burners
* 3 Steam Pans with (2) 17,000 btu Cast Iron Burners
* 2 Add'l Pans on Opposite Side with no burners
* Sink with Hot and Cold Running Water
* 5 Gallon Fresh Water Tank
* 7 Gallon Wastewater Tank
* 20lb Propane Tank with 2 Stage Regulator and Holder
* Custom Canopy with Rod Iron Frame
This Cart is Very Good Condition and Everything Works Perfectly.


---