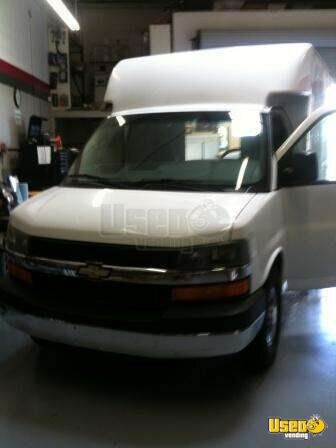 2011 - Coffee XL G3500 Truck!!!
SOLD
Used for selling coffee, espresso, tea, smoothies, pastries, etc. Seller is original owner of the kitchen equipment, which is top-of-the-line and has never been placed into service. The truck is a 2008 Chevy conversion and is like new. See details for list of features & equipment.
$49,500. California

CLICK on "MORE INFO" for PICS & FEATURES!!!
SOLD
More info...
FEATURES:
Basic Equipment: - Four Door Package w/ Concession Window (EHD Approved) - Brasilia Portofino Super America DEL-2 (ETL Approved) (New) - Mazzer Luigi Super Jolly Man. w/ Knock Box (ETL Approved) - Curtis D500 GTH Brewer w/ 3 Air Pots and Rack (NSF Approved) - Beverage-Air UCR-48 Refrigerator (NSF Approved) - Blendtec Smoother (counter mount) w/ 2 Jars Fresh Water System: - 16-Gallon Fresh Water Tank (Brewing Equipment) - 28-Gallon Fresh Water Tank (Sinks) - Shurflo Fresh Water Pumps (NSF Approved) - Koffee Kleen Filter System - Koffee Kleen Softening System - Hansen Quick Release Valve w/ Hose - Moli Three Comp. Sink w/ Faucet (BHS-1736) - Ariston GL-4 Water Heater (NSF Approved) - Stainless Steel Hand Sink w/ Faucet Waste Water System: - 40-Gallon Waste Tank - Valterra Gate Valve (Cable Pull) - 2" Air gap Electrical System: - Xantrex 458/30 Inverter Charger - Blue Sea Fuse Protection System - 8 MK 6V GC-2 Sealed Gel Cells - Marinco Power Chord and Recepticals 110/30A - Generac Quietpact 65 G - Lyght Automatic Transfer Switch System - Single Pole D/ Throw Switch Other Features: - Moli 90 lb. Drop In Ice Bin (BIB 1418D) - Custom Interior Cabinetry - Acrylic Pastry Case - 10-Space Syrup Rack - Stainless Exterior Fold Down Shelf w/ Light - Blendtec Red Rinser - Overhead Lighting (Florescent) - 6 Cup Holders - Stainless Steel Towel Dispenser w/ Soap - Polished Diamond Plate Flooring (Aisle) - Sharp 240W Solar System - Under Counter Lighting - Sharp XE-A 102 Cash Register - Miscellaneous Stainless Steel Applications - Insulated Skin Roof & Side Walls.
Transmission - Automatic
,
Passenger Seat
,
Gas Engine
,
Hot Water Heater
,
Hand-washing Sink
,
Triple Sink
,
Refrigerator
,
Generator
,
Fresh Water Tank
,
Gray Water Tank
,
Exhaust Hood
,
Exterior Lighting
,
Interior Lighting
,
Water Tank
,
Cabinets
,
Insulated Walls
,
GFI Outlets
,
Diamond Plated Aluminum Flooring
,
---