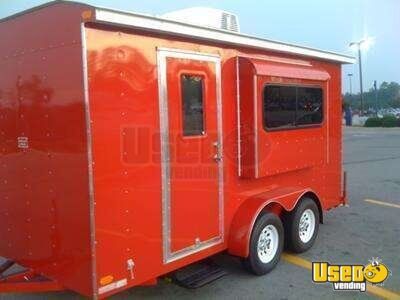 2016 - 14' x 6' Shaved Ice Snowball Concession Trailer!!!
14' x 6' shaved ice concession trailer. 7' inside height. This unit has never been used, and they are made to order. Set up for snowballs, shaved ice and raspados. See details for list of equipment / features.

The 14 x 6 Trailers have Electric Brakes


$16,500. Texas

More info...
See this equipment on video...
This units features:
New Southern Snow Ice Shaver,
New 15 Cu Feet. Whirlpool Freezer (It Will Hold 50 Blocks If Stacked Correctly)
New Tires And Wheels,
4 Sink Water System,
Hot Water, Fresh Water, Grey Water Tanks.
Cash Drawer, 13,500 A/C
---
Prior Equipment Questions...
What is the total weight of this trailer (14'x6') with the standard equipment listed?
The trailer will weigh roughly 3300 lbs.
Can the floorplans be customized?
Let your rep know what changes exactly.
How long does it take after ordering for the trailer to be ready for pickup?
20 business days. 4-5 weeks
Can this trailer only be powered with a generator, or could you also plug it into a building as a power source?
Does this come with a generator?
Is this California approved? if not, what else would be required?
I am sorry. I do not know what California requires. I know i am good in Burnet County , Texas.
Can you paint it a different color than what you have shown?
Red, blue, yellow, green are the colors we offer. White is a special order color that takes longer. You can put a wrap on the trailer and have any design you would like. We do not wrap the trailers
Where is trailer located? Is this a manufacturer- it says it has never been used?
We have these in Alabama and near Austin, Texas, but the color availability in each location just depends on production at the time. Yes, we have the trailers manufactured and then built out the kitchen area to our own setup.
You said these are made to order. Do you have different trailer sizes available?
I'm looking for something 10-12 ft with equipment for shaved ice.
Do you have more info?
Hi- Have a look at this listing (copy & paste the link into your browser) it is for the made to order unit, but in a 12' model:
http://www.usedvending.com/i/2015-6-x-12-Sno-Pro-Shaved-Ice-Concession-Trailer-/TX-P-393L
Have Questions? Have Questions about this item, its condition or features?