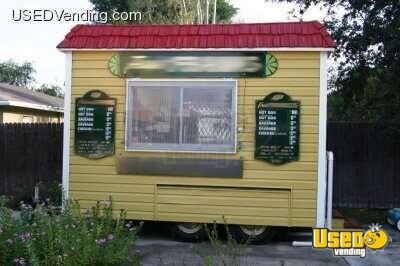 8' x 12' Mobile Food Stand!!!
SOLD

This unit can be towed. Manufactured 2000, in very good condition. Can be used to sell hot dogs, burgers, italian ice, soda, ice cream, etc. See details for list of equipment and features.
WAS: $19,250

NOW: $16,500. Tampa, Florida.

CLICK on "MORE INFO" for PICS & FEATURES!!!
SOLD
More info...
FEATURES:
- Removeable Tongue
- 100% stainless steel on the inside
- 8 electric burners / elements
- freezer
- stand-up cooler for sodas and supplies
- 6-head fountain soda setup
- 3 sinks
- 1 hand wash station
- microwave oven
- 110 volt power throughout
- Central breaker box
- single exterior power connection
- wastewater storage tank
- ample storage space
- air conditioning
- skylight that opens for ventilation
- clean title with no issues
- easily moved with a truck and trailer hitch
---