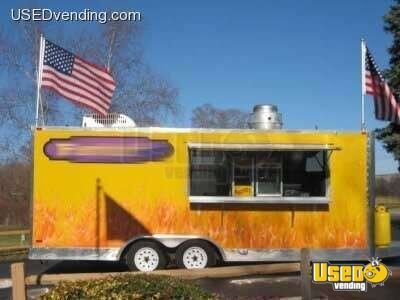 8' x 20' x 84" Freedom Prowler Concession Trailer!!!
SOLD



This trailer was used for 1 season- it is like new. Can be used to sell a full menu of hotdogs, burgers, brats, chicken, fries, drinks, etc. Has carrier rooftop a/c and built of stainless steel and aluminum. It's loaded- see details for list of features and equipment.

$77,000. McHenry, Illinois.
CLICK on "MORE DETAILS" for PICS & FEATURES!!!
SOLD



More info...
FEATURES:
We purchased this unit in March of 2010. We actually gutted it three times and rebuilt it to what it is now. Completely new electrical, plumbing, gas lines and equipment. It truly is the most efficient setup for high volume sales. Top of line equipment with the ease of operation and maintenance.
We cut no corners and built this unit for quality and efficiency. Also available is a tow truck with electrical panel, exhaust system, shelving, coolers and freezers. Additional pictures upon request. This is a class act unit.
2008 Freedom Prowler Concession Trailer

* Dimensions - 8'-6" x 20'-0" x 84"
* Triple Beam Tongue w/60" Extension - Aluminum Diamond Plate for Propane & Generator Storage
* 2 Dexter 3500 LB. Drop Axles
* D.O.T. Safety Equipment & Lights/N.A.T.M. Certified Trailer
* 8'-0" Concession Door w/Tempered Sliding Glass Windows Including Double Locksets
* 8'-0" Aluminum Diamond Plate Drop Shelf Under Concession Door
* 36" Entry Door w/Venting Window, Flush Lockset and Padlock Deadbolt Turn Bar System
* 1 - Non Powered Roof Vent w/Screen
* 1 - Carrier 13.5 A/C Roof Top Unit
* Custom Painted Aluminum Exterior w/Polished Aluminum Corners and Bottom Trim
* Stabilizer Jacks on Rear
* Custom Holding Tank Skid Plate
* Interior Walls and Ceiling White aluminum
* Interior Rear and Front Walls Covered With Stainless Steel For Food Prep and Cooking
* Black Rubber Tread Plate Flooring
* 50 Gallon Fresh Water Tank
* 75 Gallon Waste Water Holding Tank
* 4 Gallon Rheem Water Heater
* Shur Flo Water Pump
* 2 - 120 AMP Electric Panels w/Breaker Circuits
* Covered Florescent Interior Lights
* Low Voltage and Ethernet Cable for Point Of Sale System
* Superior Air 10 Ft. Stainless Steel Hood System w/Filters
* Loren Cook Up Blast Grease Range Exhaust Fan System
* Stainless Steel Counter Tops, Stands and Fold Up Shelving
* Chrome and Painted Wire Shelving
* 1 - Royal Range 12" 2 Burner Pot Range L.P.
* 1 - Royal Range 24" Char Broiler w/Lava Rocks L.P.
* 1 - Royal Range 36" Flat Top Griddle L.P.
* 2 - Royal Range 50 LB. Deep Fryers L.P.
* 1 - 6'- 0" Stainless Steel Stand and Shelf for Royal Range Equipment
* 1 - Artic Air Commercial Reachin Refrigerator
* 1 - Artic Air Commercial Reachin Freezer
* Custom FRP Cabinet with Sliding Doors
* 1 - 3 Hole Stainless Steel Sink w/Counter Top Area
* 1 - Stainless Steel Hand Wash Sink w/Hand Soap Dispenser
* 1 - 6'-8"x 2'-0" x 3/4" Cutting Board
* 4 - 24" x 1'-6 1/2" Cutting Boards
* 2 - APW Wyott Classic Food Cooker Warmer Counter Top Steam Tables w/Pans and Lids
* 1 - Fusion Commercial 2 Bulb Crisp Food Warmer
* 1- AWP Wyott Hot Dog and Bun Steamer Cooker
* 1 - Alpha Soup Kettle Warmer
* 1 - Bunn 3 Pot Coffee Maker
* 1 - Nemco Condiment Chopper
* 1 - Nemco Ribbon Fry Cutter W/Makita Lithium Cordless Drill
* 1 - Gold Metal Lemon Shakeup Juice Extractor w/ 5 Gal. Cooler Dispenser
* 1 - Gold Medal Ultra 60 Special Popcorn Maker Merchandiser
* 1 - Paragon Nacho Chip Warmer and Merchandiser
* 1 - Gehl's Double Nacho Cheese, Chili Warmer and Dispenser
* 5 - Igloo Coolers w/ Wheels
* 4 - Ice Pack Condiment Dispensers
* 2 - Stainless Steel Order Holders
* 2 - Crock Pot 4 Qt. Stone Warmers
* 2 - Fire Extinguishers
* 9 - 40 LB. Propane Tanks
* 2 - Honda EU6500IS 6500Watt Inverters w/Eco Throttles
* 2 - 55Ft. 10 Gauge Shore Line Power Cords
* 1 - Uniwell Point Of Sale System, Including 1 - DX 915 Terminal, 1 - Bixilon SRP 350 Printer,
1 - Epson TMN 220 Kitchen Printer and I-MMF Value Line Cash Drawer
---