Item No: CA-F-441D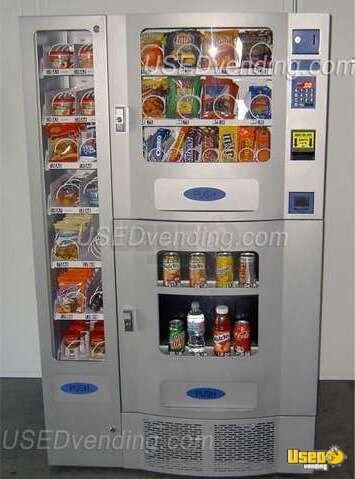 Brand New Model From Antares: Electrical Office Deli Vending Machines!!!
SOLD
(5)- 2007 Planet Antares / Purco Corp. Office Deli Refreshment Center Snack and Soda Combination Vending Machines- 4 New, Never Used!!!
These are the brand new electrical combo machines from Antares / Purco Corporation. They consist of an entree' unit, snack unit, and drink unit. The machines have 38 selections and dollar bill validators. Seller is original owner; 4 of the combos are still NEW IN BOXES and 1 combo was in use for only 3 months and is in like new condition.





NOW: $4,100 each new combo; $3,100 each used combo.



These machines are in Cota de Coza, CA and are for local pickup ONLY

More info...

Product Specs:

Entree Unit: 14 entree selections; 68 entree capacity
Snack Unit: 16 snack selections; 160 snack capacity
Drink Unit 8 drink selections; 126 drink capacity (cans, bottles, Red Bull)
Has JCM Dollar Bill Validator, accepts $1 & $5 bills.
Removable cooling unit.

The Office Deli machine breaks down into 4 separate units.
Assembled, it is 69.5 in high, 42.4 in wide, 28.5 in deep, 621 lbs.

---
We have thousands of equipment listings!
Search below by category, zip code, distance, or keywords...
DISPLAY OPTIONS