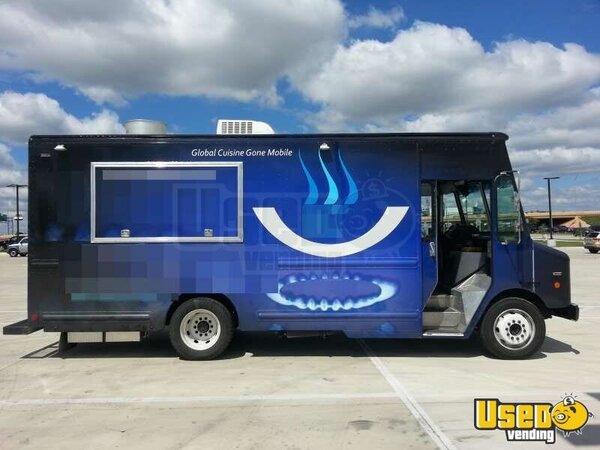 Chevy Food Truck in Texas for Sale!!!
For sale 2006 Chevy Work Horse food truck in Texas. It's in very good condition. Has an automatic transmission and gas engine with 166,587 miles on it. It's all equipped and ready to make money! See details for more info. Kitchen size is 16' x 8'

MOTIVATED SELLER - Reasnable Offers Are Welcome
PRICE REDUCTION!
Originally: $55,000
NOW: $52,250 in Texas
More info...
This 2006 Chevy food truck is in very good condition. It has passenger seat, Serving Window with (2) Slider:
Truck Equipment Detals:

hot water heater
hand-washing sink
triple sink, refrigerator
7k Onan Generator mounted under truck

fresh water tank
gray water tank
propane tank
work table
A/C
fire suppression system
36" exhaust hood with fan

exterior lighting

interior lighting
sound system
insulated walls
GFI outlets
diamond plated aluminum flooring

6 Burner Stove with Ove
(2) Countertop Commercial Warmer
Propane Tank under Truck
---
Equipment List
Transmission - Automatic
Passenger Seat
Two Concession Windows
Gas Engine
Hot Water Heater
Hand-washing Sink
Triple Sink
Refrigerator
Generator
Fresh Water Tank
Gray Water Tank
Propane Tank
Work Table
Fire Suppression System
Exhaust Hood
Exhaust Fan
Exterior Lighting
Interior Lighting
Water Tank
Sound System
Insulated Walls
GFI Outlets
Diamond Plated Aluminum Flooring
---
Prior Equipment Questions...
Its 28 March 2017. Is this truck still available?
Yes, this is still for sale.
Is there room to add a deepfryer, oven and grill
It already has a 6 burner range and oven installed. There is tons of empty counter space that could be used or eliminated to make room.
Is this truck still for sale?
Why is this truck being sold?
Because I'm not running the business any more
What is the mileage on this truck?
Is this unit still available?
Yes it is! If you have any further questions please feel free to ask. It was custom built buy a food truck manufacturer in 2013 with all new equipment.
Has this truck been inspected? Also, does it conform to the requirements of Maryland regarding set-up?
It was last inspected by City of Dallas Health Dept (which I have been told and experienced is the toughest in the state of Texas) and was approved. Not sure about Maryland. It has a top of the line fire suppression system and commercial fire extinguisher. Aisle width, counter height, ceiling height, building materials....everything conforms to code.
What is the length of this truck please? Maryland has new laws that state new food trucks can only be up to 25 feet in length.
Good news....the truck measures 23'6" in length. If you count the step up bumper on the back....24'6".
Have Questions? Have Questions about this item, its condition or features?