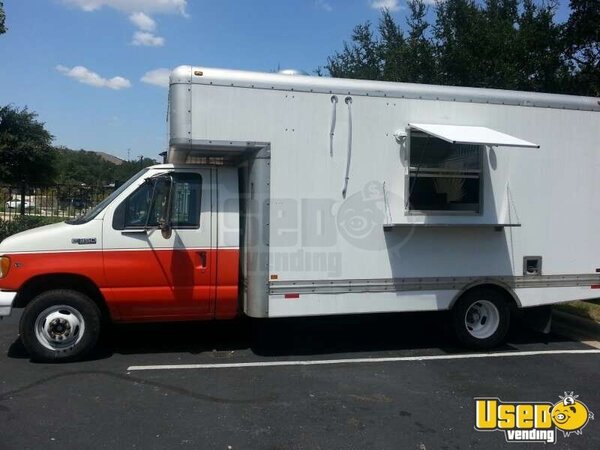 Ford Mobile Kitchen Food Truck for Sale in Texas!!!
Texas lunch truck for sale. This is a 2000 Ford F-350 truck that has a brand new kitchen, equipped for all food types. Has 159,800 miles on its gas engine.

See details for equipment list.


$42,790. Texas
More info...
This Ford food truck for sale is fully inspected and registered in Texas. Vehicle inspection is valid till July 2015.

These are all Newly Installed:
* Large Exhaust/Vent hood (10' 5") (Covers all cooking equipment)
* Griddle
* Steam Table
* 2 Burners
* Char broiler
* 2 Compartment Fryer
* 3 Compartment Sink
* 1 Hand-wash Sink
* Hot and Cold Water lines
* Clean Water Tank
* 15% bigger Grey Water Tank
* Serving Window with Shelf
* Window A/C unit with 3 years warranty
* Refrigerator with 3 year warranty
* Two large Food Preparation tables
* 4 large Storage Cabinets
* Stainless Steel walls(easily washable)
* 1 extra Roof Exhaust Fan
* K Class Fire Extinguisher
* Standard Propane Gas Compartment
* Extra Window on Gate
* Built in Ramp for Loading and unloading
* Passed Certification for propane pressure and leakage check
* Heat resistance paint on Truck's roof Truck
==== This is Used 17' Ford E-350 truck; Year 2000 and have 160K Miles on it. Fully inspected and Registered in Texas. Vehicle inspection is valid till July 2015. Truck Specification: =================== * Roof-line Inside: 16'8" * Floor inside: 14'1" * Inside Height: 7'2" * Inside Width: 7'7" * Bumper to Bumper length: 24' * Engine: 6.8L V-10 Gas, 362 H.P. * Transmission: E40D/ 4 speed automatic with overdrive * Gasoline: Gas * MPG: 11 * Fuel Tank Capacity: 37 gal

---
Equipment List
Transmission - Automatic
Air Conditioning
Gas Engine
Hand-washing Sink
Triple Sink
Refrigerator
Fresh Water Tank
Gray Water Tank
Propane Tank
Work Table
Exhaust Hood
Exhaust Fan
Exterior Lighting
Interior Lighting
Water Tank
Cabinets
Fryers
Stainless Steel Wall Covers
Insulated Walls
---
We have thousands of equipment listings!
Search below by category, zip code, distance, or keywords...
DISPLAY OPTIONS