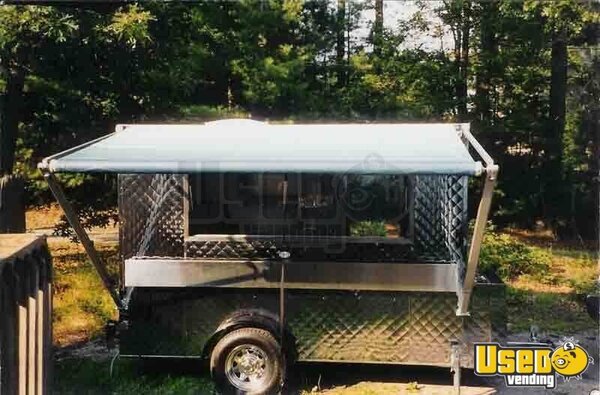 Hot Dog / Lunch / Concession Trailer!!!
SOLD
Hot
Dog / Lunch /
Concession Trailer!!!
Creative Mobile Systems
8'L x 6' W x 8'H, this trailer was manufactured in 2003 and has only been used 3 times! It has a completely welded tubular steel frame, primed and painted with Rustoleum; 2' coupler for towing; welded stainless steel construction inside and out. Also has fully insulated walls, floor and ceiling. Trailer comes with ball; also has chrome fenders. Super clean. Be sure to check out "more details" to find out about all the equipment included.
$21,900 for ALL. Fitchburg, Massachusetts.
CLICK "MORE DETAILS" for FEATURES & PICS!!!
SOLD
More info...
FEATURES:

STEAM TABLE: MODEL 800:
- Two 1/6 pot, three 1/3 pot with lids
and set into water table, one 2/3 meat
cooking pot with lid and divider on
direct heat. Valve drains for easy access and
cleaning.
COLD COMPARTMENT:
- Two large deep stainless steel coolers
insulated with rigid urethane insulation
for durability and maximum life for ice.
- Lift up fully insulated cooler doors.
STANDARD EQUIPMENT:
- Coffee Urn
- 24" grill
- Meat cooler
- Steam table
- 8' Drop shelf in front of display door
- Roof vent
- Exhaust fan over grill
- Overhead lighting
- Battery with charger
- Rear door with screen
- Sliding plexiglass window
- Rubber roof
- Interior walls FRP fiberglass panels
- Exterior walls stainless steel
- (2) soda coolers
HEAT SOURCE:
- Dual burners on each trailer with
Separate controls
- All propane systems are with
100% safety controls
HOT AND COLD WATER SYSTEM:
- Stainless steel four compartment
sinks 10" x 6" x 4" with brass and
chrome swivel faucets
- Five gallons each hot and cold water
- 12 gallon waste water tank
OPTIONAL EQUIPMENT:
- Removable drop shelves inside
- Outside rear stainless steel shelf
- 4 Bay sink
- Removable tongue
- Chrome fenders
- 10" x 10" Open Flame Burner
- Refrigerator
- Awnings
Super Clean, Many Extras including paper goods!
Call @ 601-749-8424 x 15
or Click on the "Request" link to E-mail for more information.
---