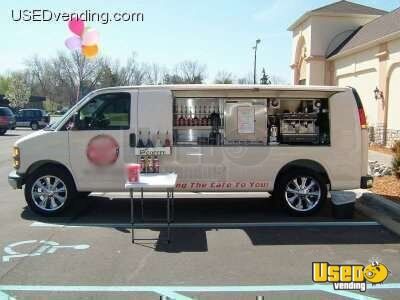 Mobile Espresso Cafe!!!
SOLD



INCREDIBLE OPPORTUNITY for an ambitious business minded individual to make some serious $$$! HEAD TURNER! SHOW STOPPER!
2002 GMC Custom Built Espresso van. Only 13975 Miles. Almost perfect condition. 22" PACER beautiful chrome 8 arm rims.
Eagle GT2 tires, Lots of tread left. New paint job (Graphics to be removed). All stainless steel serving area and Enough product and wares to start TODAY!! Lots of features; be sure to see the details.
WAS: $30,250

NOW: $24,750. Holt, Michigan.
CLICK on "MORE DETAILS" for PICS & FEATURES!!!


SOLD




More info...
FEATURES:
La Cimbali M32 Bistro 2 group espresso machine.
La Cimbali Friomilk milk cooler and dispenser.
Mazzer Luigi bean grinder.
Vita Mix blender
Beverage Air 27 inch refrigerator.
2 sinks. Flourescent lights, soap dispenser, cup sleeves, more...
Utility systems:
Honda EV6010 Liquid cooled Rv generator.
4- Promaster batteries.
Ariston 4 gallon water heater.
Sureflo water pump with on/off switch.
Everpure water filtration system.
Homelite 100 amp electrical service panel.
Fan with automatic switch to cool the compartment(needs work).
Freedom Combi invertor with remote(needs work).
Clean water tank with easy fill access.
Dirty water tank with east drain and hose.
Storage area:
Lots of storage for product and supplies accessible by side entry doors, wire shelves, stainless steel shelves.
---