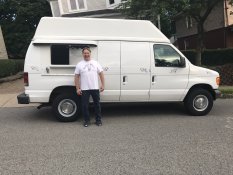 Okay, this may be a little long winded, but I hope it's helpful. First off, I had an incredible experience. However, I have to go back a few days before I met Nicole (the agent that assisted me) and got involved with UsedVending. I had been searching the internet for weeks trying to find a vehicle that was fit for taking my pizza stand (which was crippled by the Corona) into mobile delivery as a pizza truck. It was the only way I could see surviving this crisis. I figured I'd have at the least $18,000 to $20,000 in the vehicle when it was all said and done. After weeks of searching through vehicles. I found a truck that looked like it would work. It was a steal at $6,000 and looked as if I would be able to convert it into the pizza truck I would need for around $6,000 more plus a $2,000 wrap for a total of $14,000. A great savings for me. I immediately called the dealer and convinced him I was interested. We negotiated a price of $6,000, and I began planning my trip to South Carolina to pick up my truck. The dealer assured me my word was good enough and it would be ready. I told all my friends and investors. I was so excited. The day before I intended to arrive I called the owner to schedule the exact timing of the pick up, and found out that my vehicle had been sold. I know this is probably very common and the dealer was probably doing what he had to do to protect his profits, but I was bummed.
The next morning I gathered the courage to launch out on my search all over again. I had been commenting on a few of the vehicles on UsedVending's site and had already received an email response from Nicole, so I decided to just give her a call. She was very quick and professional about gathering my interest, my needs and my budget. She said she would take that and shoot me some suggestions while she found out some additional details on the vehicles I had previously inquired. All of these vehicles I had seen at that point, both on the site and the one I was poised to buy, were big compromises to what I really wanted. Right after I got off the phone, while browsing the site, I see a van I had not noticed and as I looked it over it looked to good to be true. It was almost $400 cheaper than the vehicle I was about to purchase, five years newer and 80,000 less miles. On top of that it was exactly what I was looking for. A high top van with a service window and it was white. So I called Nicole and told her this is the one. She said ok I'll check on it and call you right back. She did and she called me with all kind of information that made me want this vehicle even more.
Long story short, I went from one evening having lost the truck I was willing to settle for and travel a great distance to get, and by noon the next day, I had locked a deposit in on a vehicle of my dreams. Little did I know just how much it would be. When I got down there to purchase it, the owner was so kind and amazing and had taken such good care of this vehicle. It was immaculate and in great operating condition. It also had the electrical system I was going to need to install already in it and on top of that the owner threw in all sorts of minor equipment she had used in her business as she was retiring. It was so much more than I could imagine and with what little I have to do to it to make it into the pizza van I need, it is coming in at $10,000, a $4,000 savings on what it would have been if I had purchased the truck I was set to buy. Nicole was amazingly knowledgeable, helpful and encouraging throughout the whole process, and did I get across ultra competent. This was such an amazing answer to prayer. I would recommend anyone looking for a vending vehicle, make your first call to UsedVending. You'll be glad you did.
Joyfully,
Rick Brown,
Pittburgh, PA