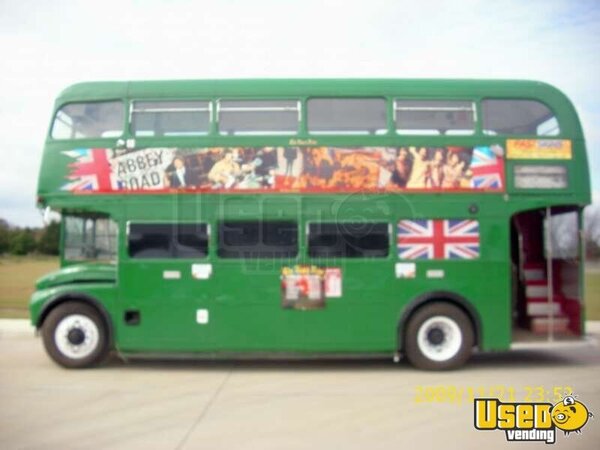 1961 - 32' Double Decker Bus Food Truck / Lunch Truck!!!
SOLD


This is a vintage British double-decker bus converted into a food truck for selling fried foods & canned drinks. It is 14ft,6 in high, 8ft wide, 32ft long. Ready to roll. See details for list of features & equipment.

$57,750.Texas

CLICK on "MORE INFO" for PICS & FEATURES!!!
SOLD
More info...
1961 Routemaster double decker bus converted into a mobile fish and chip shop. The height of the bus is 14feet and 6 inches. The height of the lower floor is 6 feet. The height of the upper floor is 5 feet and 9 inches. Original bus seats are available, but the second level is left open for the buyer to decide how to use the large space.
FEATURES:
2 refrigerator/freezers,
1- 3ft food warmer,
2 80lb Tri-Star propane deep fryers,
6 ft Eco-Air vent hood with fire suppression system,
3 fire extinguishers (1 K class, 2 A/B class),
2 10gallon propane tanks,
Dean oil filtration system,
2 cash registers,
1 five gallon hot water tank for hot running water,
Flojet water pump,
5 gallon grease trap,
First aid kit,
2 water tanks (fresh and grey water) – both hold 15 gallons,
window A/C unit downstairs for the cook,
A/C unit upstairs,
2 burner stovetop (uses propane),
stainless steel countertops,
6 drawer metal storage with butcher block,
top microwave florescent lights on both levels,
LED sign in back window for advertising,
63 Amp Diesel RV generator,
Combination safe,
2 - 19inch flat screen TV's,
Sony 5-DVD stereo system and 6 JVC speakers,
Security system with 3 cameras,
Spare line generator switch for hook-up,
Spare bus parts,
---
Have Question? Have Questions about this item, its condition or features?