Food Truck Marketing Ideas to Seduce Customers this Valentine's Day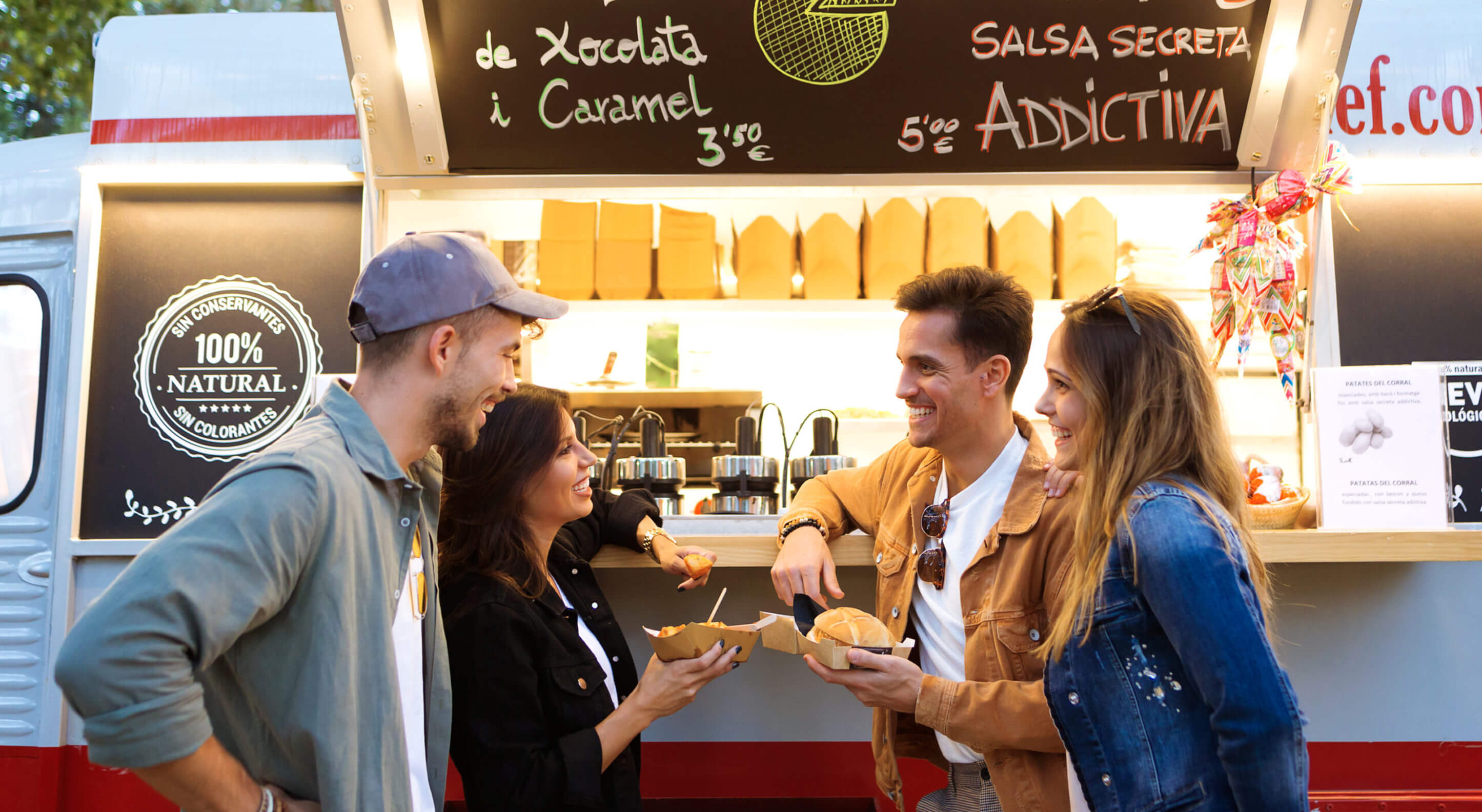 Valentine's Day ranks 2nd as the busiest day in the food industry. It was bested by Mother's Day ranking 1st. During such an event, families and lovers commonly dine out to highlight the celebration. A National Restaurant Association survey even showed that Americans don't just dine out during Valentine's Day. They also love receiving and sending flowers and gift cards. Among food trucks, Valentine's Day is an opportunity to boost their income. With people opting to celebrate the event by dining out, food trucks offer a range of special menus for a romantic meal. 
Here are the best food truck marketing ideas to seduce customers this Valentine's Day.
Valentine's Day Food Truck Marketing Ideas
Add music to set a romantic mood

Valentine's Day is a day of romance. So, it may be a wise idea to play romantic music in the background to seduce customers in dining at your food truck. Playing romantic music can attract singles and lovers alike. Studies show that they encourage singles from mingling in a place where there's romantic music playing. Your food truck can be a perfect place for a first date or meeting.  It is easy to create a romantic playlist as a background for your food truck. All you need is to grab your Bluetooth speaker and smartphone to set the tune. You can use the following apps to get the songs you need: 
Amazon Music

iHeart

Pandora

SoundCloud

Spotify
Create magic by dimming the lights

They say that lights and food can create magic. You can adopt this marketing idea in your food truck. By dimming the outdoor lighting of your food truck, you can set a perfect theme for Valentine's Day dinner. They can make your customers feel a romantic vibe and be relaxed. Think of a candlelight dinner or a cozy fireplace. You can imitate the scene by stringing lights with low wattage on your food truck. Soft pink or red bulbs emit a cool spectrum. They can magically change the exterior of your food truck. As a pro-tip, you can also use objects that reflect light. Shiny glasses, gold and silver decorations, and even sparkling table cloths will do. 

Dazzle your food truck menu with dessert

Valentine's Day is the perfect time to offer food that is sweet and sultry. Offering free sweet treats is a smart food truck marketing idea to attract customers this Valentine's Day. You can set your customers' mood for loving through candies in mason jars, chocolate heart cookies, cupcakes, ice creams, or sweetheart day shakes. To boost your food truck's network and sales, you can try collaborating with other food trucks that offer desserts. Pairing them with delicious meals will make it a date night to remember.
Promote a meal for two

The easiest way to lure customers to dine in your food truck this Valentine's Day is to promote a meal for two. You can offer a romantic dinner package at a fixed price complete with drinks and desserts. To make the promotion more interesting, you can rename the meal for two into something that relates to Valentine's Day. Some suggested names are:
A Fine Romance

After Dark

Burning Desire

Careless Whisper

Cupid's Arrow

Heart Throb

Latin Lovers

Sealed with a Kiss

Tender Love

Venus Desire
Set up Valentine's Day ambiance through decorations

The overall ambiance and decorations of your food truck on Valentine's Day can be a winning marketing idea to attract customers. Romantic customers would love to see your food truck filled with heart-themed decors or romantic memorabilia. You can also accent your outdoor dining tables with flowers like carnations, daisies, lilies, orchids, peonies, roses, and tulips. Or fill your truck's exterior with unique red decors to set the mood for loving.

Social Media for the win

Never underestimate social media as your best marketing tool. Facebook, Instagram, and Twitter have a large number of followings that can be your target customers. Through your social media accounts, you can advertise and post the Valentine's Day offerings of your food truck. You can post your menu, Valentine specials, and theme. You can even do a teaser video showcasing your food truck offering through live streams. Another great way to promote your food truck visa on social media is to run a contest. Before Valentine's Day, you can encourage your social media followers to take part in posting their food experience in your truck or romantic photos with their partners. Whoever scores the highest based on the criteria of your contest will win a dinner date for two. This type of marketing ideas can highlight the following:
Setting a loving mood on Valentine's Day doesn't have to be expensive.

Valentine's Day is the perfect day for food and fun not just for lovers but for everyone. 
Valentine's Day happy hour

Diners will love visiting your food truck with a happy hour where you may offer discounts, treats, or unlimited food. This is a perfect marketing idea to entice customers to dine in your food truck. Teenagers will benefit from happy hours set at lunchtime. Working couples would appreciate an after-work happy hour – say 8 PM. 
Take advantage of the season. Shoot and pierce the hearts of customers with irresistible food truck marketing initiatives!
And if you need a new unit, don't forget UsedVending is just a click away. Find the best food trucks and mobile kitchens near you.