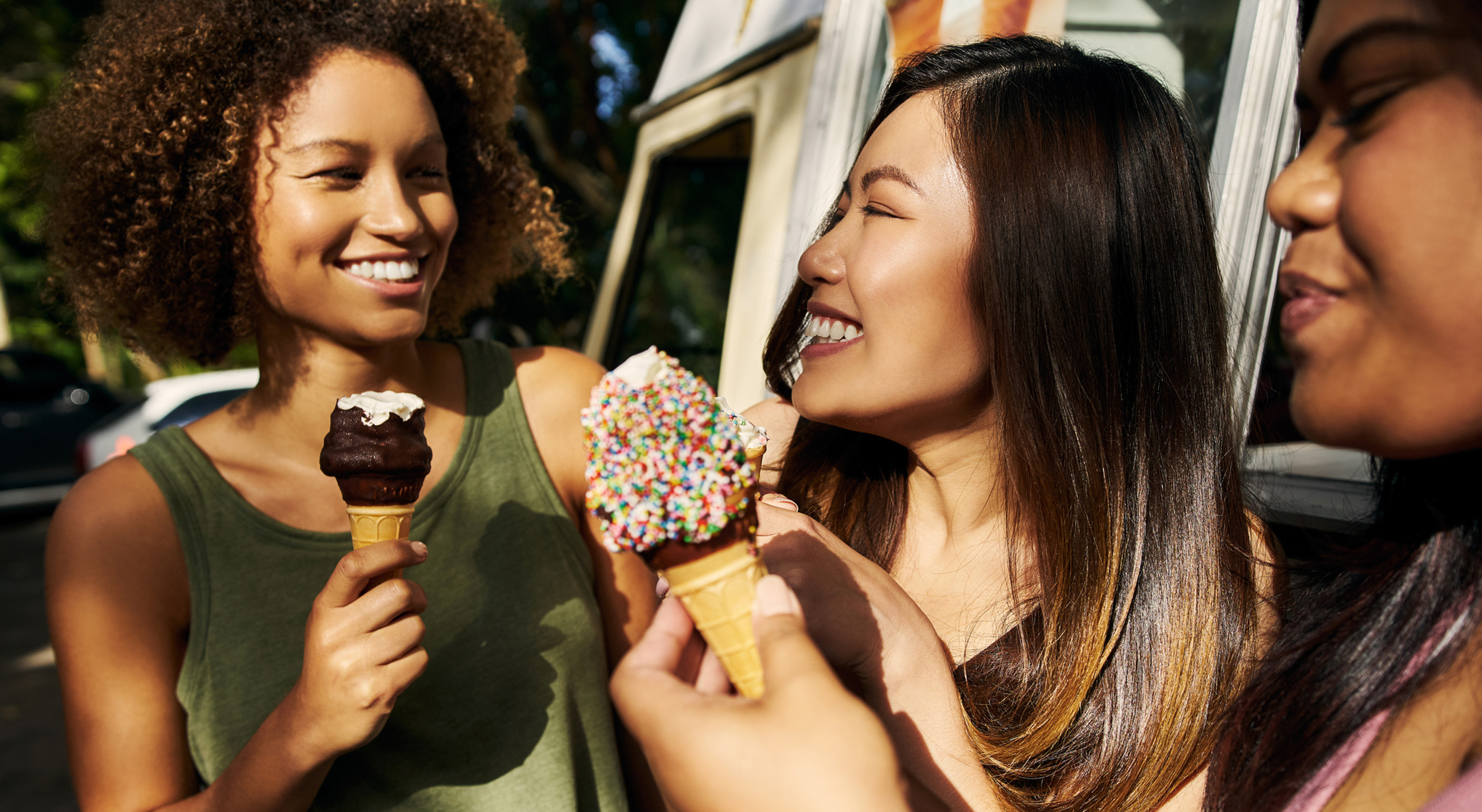 Best Ice Cream Trucks in America
---
What's the best sound every kid wants to hear during the summer? It's the jingle of an ice cream truck!!! Many children, and even adults, are longing for a cold treat on hotter days. From the classic popsicle and fudge pops to delicious gourmet ice cream, ice cream trucks feature cold desserts to beat the heat. Let's check the 8 best ice cream trucks in America.
History of Ice Cream Trucks in America

In 1920, Harry Burt created the Good Humor bar. It was frozen ice cream with chocolate frosting sold all over Youngstown, Ohio. Ice cream trucks roamed the street with bells to get people's attention. They used dry ice to keep the ice cream cold and frozen. Soon, they became a big hit on American streets. Other ice cream trucks followed suit. They become an ordinary attraction at fairs, parties, and picnics. During the Great Depression, ice cream parlors became a luxury. Yet, ice cream trucks continue to sell low-cost ice cream. That's the time they began selling twin popsicles as a cheap treat. In 1956, brothers James and William Conway started selling soft ice cream on trucks. The brand became popular as Mr. Softee, one of the largest American ice cream franchises. Until today, ice cream trucks have been serving happiness all over the U.S.

8 Best Ice Cream Trucks in America
Coolhaus (Los Angeles, CA)

Coolhaus Ice Cream Trucks are under a women-owned corporation headquartered in Los Angeles, California. It was founded in 2009 by Freya Estreller, a food entrepreneur, and Natasha Case, an architect. The two colleagues started making cookies and ice cream sandwiches in 2008. In 2009, they dispatched ice cream trucks along with Austin, Dallas, Los Angeles, and New York. Coolhaus ice cream trucks popularized the "sammies." They are artisan ice cream sandwiches in different flavors. These include caramel, chocolate, cinnamon, cookies & cream, milk, mint, peanut butter, s'mores, and vanilla. Their bestseller is the I. M. Pei-nut Butter. It's an ice cream sandwich made of double chocolate cookies with peanut butter filling.

Fifty Licks (Portland, OR)

Fifty Licks founder, Chad Drazin is a food lover. He became an intern in Portland Brewing and can't find a good scoop of ice cream that suits his taste. In 2009, he started the Fifty Licks food trucks by popping up on farmers' markets. He made ice cream from fresh local ingredients like booze, eggs, and milk, etc. Thus, Fifty Licks became popular for organic ice creams. Among the exotic ice cream flavors they serve are:
Blackstrap Gingersnap

Buttermilk Blood orange

Chocolate Porter Beer

Jasmine Rice in Pandan Leaf

Pip's Original Salted Honey Doughnut

Thai Rice
Hello! (Ann Arbor, MI)

In 2013, a 1965 International Metro van began serving Italian desserts in Ann Arbor, Michigan. Founders Kayla Rose and Nick Bradshaw named the truck "Ingrid." Operating every summer, Hello! ice cream truck served gelato and sorbetto in traditional flavors. These include caramel, cherry, chocolate, cookies, espresso, lemon, pistachio, and sesame. A popular unique flavor that became a bestseller is the zabaglione. It's a combination of cream, egg custard, and marsala wine. 

Parfait Organic (Seattle, WA)

Adria Shimada, a pastry chef, wanted to serve the people of Seattle with gourmet ice cream made from scratch. Having lived in France for some time, she founded the Parfait Ice Cream Truck in 2009. The concept of the brand name comes together with her passion to create perfect ice cream. "Parfait" is the French word for perfect. Since then, Parfait has been serving farm-to-cone French-inspired ice cream. The seasonal flavors available are apricot, Ballard bee honey, Alm Hill Farm blueberry, peaches & cream, etc. A must-try is the Hayton Farms Strawberry ice cream made from fresh strawberries harvested in the Skagit Valley.

Sticks and Cones (Charlotte, NC)

Spouses Dave and Karen Trauner have been together since 1989. In 2011, they started with 2 trucks in Charlotte, North Carolina. The Sticks truck offers regular ice cream in sticks. While the Cones truck offers specialty ice cream in a cone. Sticks and Cones became popular serving premium sundaes with home-made baked goodies. Among their two popular flavors are:
Carolina Gold – made of caramel, chocolate, and vanilla wafer toppings

Granny Gene – made of graham crackers, home-made lemon curd, and vanilla
Treatbot (San Jose, CA)

Treatbot Ice Cream Truck was founded by entrepreneur and karaoke lover, Ryan Sebastian in 2010. Originally, it's a red fire truck that serves handmade ice cream and lets customers belt out their favorite karaoke song. Among their popular ice cream flavors are: 
Bananutella

Eastside Horchata

Macapuno or Philippine coconut (FYI, Ryan is of Filipino origin)

Treatbot's signature ice cream is the 408. It was named after a phone area code in California. It's a combination of caramel, fudge, and Oreo cookies. 

Twirl and Dip (San Francisco, CA)

Meg Hilgartner and Siri Skelton were co-workers at Cole Valley wines and bar in San Francisco, California. They have the same passion – sweets and desserts. Without any kitchen experience, they decided to venture into organic soft ice cream. They opened up the Twirl and Dip truck at Golden Gate Park in 2012. Since then, Meg and Siri have been experimenting with a new spin of soft ice cream from local and organic California ingredients. They offer coffee, dark chocolate, mint, vanilla bean, and vanilla-chocolate organic ice cream. They also offer seasonal flavors like cantaloupe, ginger, mango, nutmeg, pumpkin, and strawberry.  

Van Leeuwen (New York City, NY)

In 2008, brothers Ben and Peter Van Leeuwen together with Laura O'Neill hit the streets of New York City offering artisan ice cream. Their $50,000 initial investment then became a phenomenon. Van Leeuwen ice cream trucks offer unique flavors of frozen treats sourced from organic sources. Among the popular flavors are passion fruit, sweet sticky black rice, and ube coconut jam. What's best is that all of Van Leeuwen's utensils are made from 100% renewable materials. 
Looking for the best ice cream truck to start your own food truck business? Used Vending offers a great selection of newly refurbished gelato, ice cream, and yogurt trucks. 
And to help you get started, read this article on how to start a successful ice cream truck venture.
Live your life with a purpose! Enjoy an ice cream before it drips and melts.