Food Truck Biz – Pros & Cons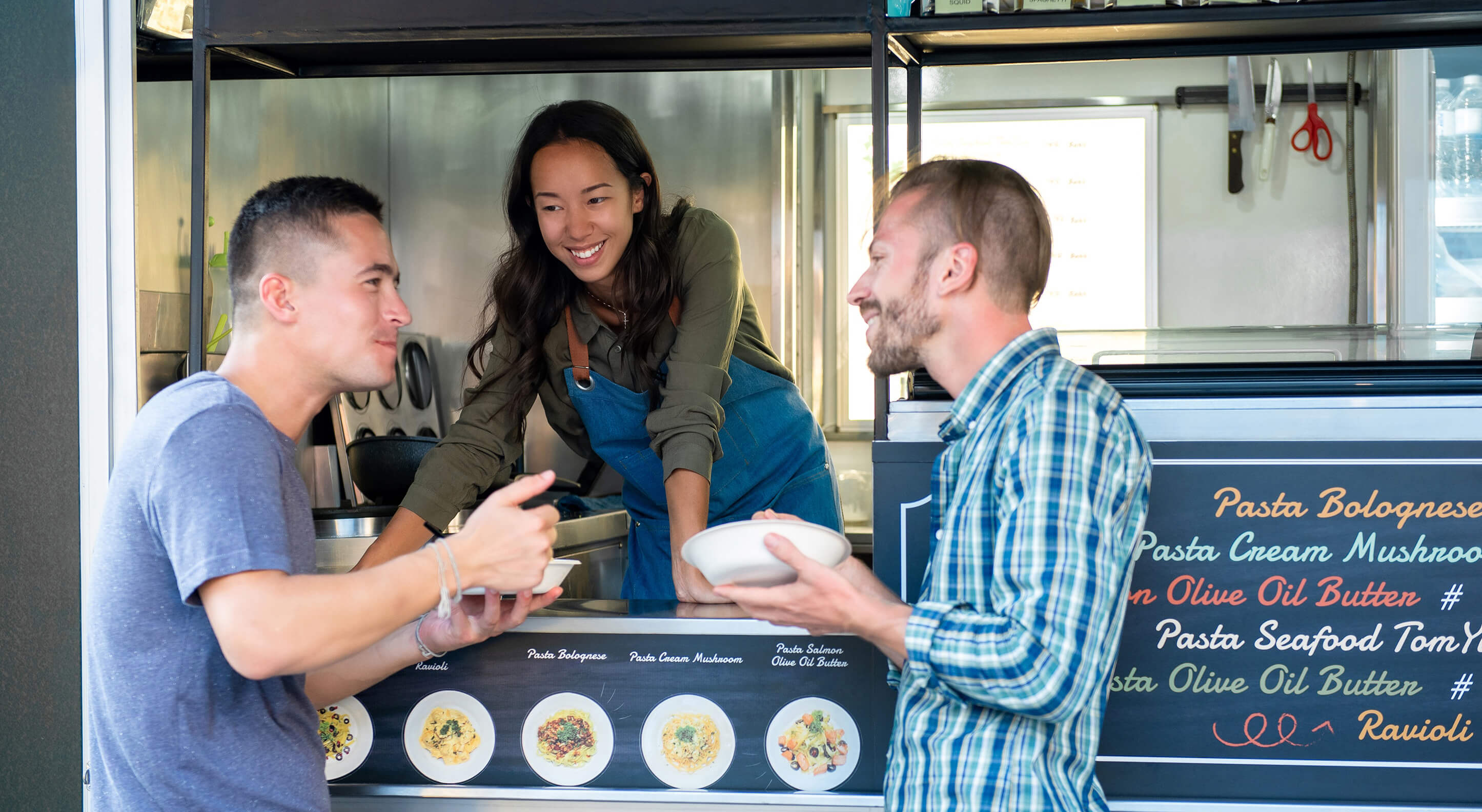 What's the hottest trend in the restaurant industry right now? Food trucks, without a doubt. No longer grimy trailers selling greasy food at local fairs, food trucks have evolved into unique little restaurants that take high end flavor on the road and give it to the people where they work and live. If you know anything about the restaurant industry, you know you're going to need a lot of planning and research before even taking your first small steps in owning a food truck or food trailer. One of the best ways to do this is to work in a food truck for a few months, right alongside the owner. Experience every job and shift, from early morning food runs to late night catering gigs. This will give you a solid idea of all the advantages and disadvantages of this growing restaurant niche, while letting you find out whether the food truck life is right for you.
Even if you don't have a chance to get hands-on experience in the business, it's important for you to honestly examine all the pros and cons of the business before committing yourself and your money. Some might stand out as obvious, but there are probably aspects of the business you never even considered. Get professional advice on creating a business plan, and take an unbiased look at every aspect of the business, from finances and legal considerations to creative marketing and menu creation. The more you find out about running a food truck business before beginning the process, the better prepared you'll be for the inevitable snags that will happen.
Advantages of Starting a Food Truck Business
Startup Costs
Any restaurant business calls for a large outlay of cash before opening day, but even with a new vehicle and retrofit, a food truck is significantly less expensive to open and run than any other type of food business. The smaller footprint of a truck or trailer means fewer pieces of expensive restaurant equipment. Food trucks are truly pared-down enterprises; there is no room for unneeded items in these vehicles. This can mean a bigger bottom line when you don't have to worry about paying off equipment loans for decades before turning a profit.
Larger Long-Term Profits
It never fails. You've opened a restaurant that's turned into the hottest place in town, so your landlord decides it's a great time to raise the rent. You can avoid this and maintain your profit margin if you own your food truck or trailer outright instead of renting a building. If you're used to parking in an area that's turned gentrified and trendy, it's up to you to decide whether higher license fees and lot rents are worth sticking around. If not, it's a simple matter to choose a new place to park.
Mobility
What's the key to finding restaurant customers? Like all real estate, it's location, location, location. The problem with that truism is that the best locations often demand the highest rents. And what happens when the neighborhood changes, or competition moves in down the road? You're stuck paying big rents on a building that no longer draws in the big crowds. Your food truck business will avoid these problems. Go where people need your food on lunch breaks, move to catering big gigs on the weekends, and drop in on festivals during summer months for extra business. Instead of trying to get customers to visit your restaurant, you take your restaurant to where the customers already are.
Larger Customer Base
Interest in food trucks is exploding right now. Diners are excited to see them at gatherings, and go out of their way to try new ones when they spot them. In many parts of the country, large food truck festivals are drawing huge crowds determined to try as many new brands as possible. Food trucks and trailers are the hottest new thing in catering, giving you an edge in corporate retreats and company picnics as well as city festivals. Cable television networks are helping with competition shows about food trucks, giving the business a bigger bump to people who might not have considered them in the past.
Your Own Unique Spin
Unlike brick and mortar restaurants, people expect food trucks to be quirky and exciting. Recent research by the National Restaurant Association saw that food truck customers usually describe their dining experiences as exciting, fun, new, different, unusual, and unique. Instead of offering a bland menu designed to please the most customers, you'll be expected to give your food an unusual twist with bold flavors, rare combinations, and quirky humor. If you've ever felt constrained by business rules that made you tone down your personal style, the food truck business is where you can truly shine.
The Ability to Scale
Compared to a traditional restaurant setting, food trucks and food trailers give you a wide amount of freedom in terms of menu items, scheduling, hours of operation, environment, and a host of other operational details. Hate early mornings? Skip the breakfast diners and specialize in the after-bar crowd. Long to work in other environments? License your business in two states and move according to the seasons. Want to completely start over with a new brand? It's much easier to revamp a small menu and give your truck a new wrap than it is to redo a brick and mortar restaurant with extensive menu offerings. While owning a food truck or food trailer is a large commitment, it's one that allows you to explore different business options much more easily than a traditional restaurant business does.
Disadvantages of Starting a Food Truck Business
Heavy Competition in Some Areas
In some cities, food trucks may be so trendy that they're overcrowded in the choicest places. Some festivals and gatherings may be booking food trucks long in advance, and you might have a hard time getting a solid spot without some serious long-term planning. Food trucks are more popular in some states than in others, so serious research is in order before you decide where you want to place your truck. It might simply be a matter of moving a couple of towns or one county over before discovering a lucrative new audience for your business.
Too Many Legal Restrictions
Almost every city, town, county, and state have their own rules and regulations about food trucks and food trailers. If you want to set up your business on multiple spots, you'll need to get a license for every city you plan to do business in. In some locales, the parking restrictions for food trucks can make it difficult for you to set up where you'll get the most business. These are some of the special legal restrictions you need to consider, on top of the same food safety requirements, business tax laws and hiring regulations that every restaurant has to consider.
Mother Nature
Every business has to deal with the weather to a greater or lesser extent, but food trucks and food trailers feel it stronger than just about any other industry. Your food truck festival can get rained out, causing thousands of customers to stay home. Massive amounts of snow piling up will prevent most office workers from leaving their offices to reach you for their take-out lunch boxes. Depending on where you live and work, your business might be in danger from tornadoes, hurricanes, earthquakes, tropical storms, electrical blackouts, and massive heat waves. All of these extreme weather conditions can impact your business and cause you to scramble for alternate selling venues.
Food Pricing Limits
While the food truck business in becoming more high end, customers still expect affordable meals compared to some sit-down restaurants. With menu prices being pegged at a lower rate, you'll have to get creative with your grocery sourcing in order to increase your profit margins. This is slowly changing, as the upscale food truck is becoming more popular in larger urban and tourist areas, but profitable high end gourmet food trucks are still a rare commodity.
Long Working Hours
Every restaurant owner puts in incredibly long hours, but none more so than the successful food truck or food trailer owner. Your main business may be during office hours during the week, but in order to turn a decent profit you'll probably have to work nights and most weekends. Between food festivals and catering gigs you'll have little time for vacations or even long weekends.
The Bottom Line
If you've ever dreamed of owning a restaurant, having a food truck or food trailer can be a fun alternative, and sometimes even better than a brick and mortar shop. Like with every beginning business, the more time and work you put into research and preparation, the better chance you'll have at being a success. Every disadvantage can be turned around into a plus with the right amount of creative energy and intelligent problem solving. Expect to invest a lot of time, energy, and funds at the startup stage; it's a demanding business and one that will become a huge part of your life from the very beginning. But for those who love the food business and crave the ability to truly share their creative genius with customers and fans, there's no better way to invest in their future.