Food Truck vs Restaurant: Which is the Best Option for You?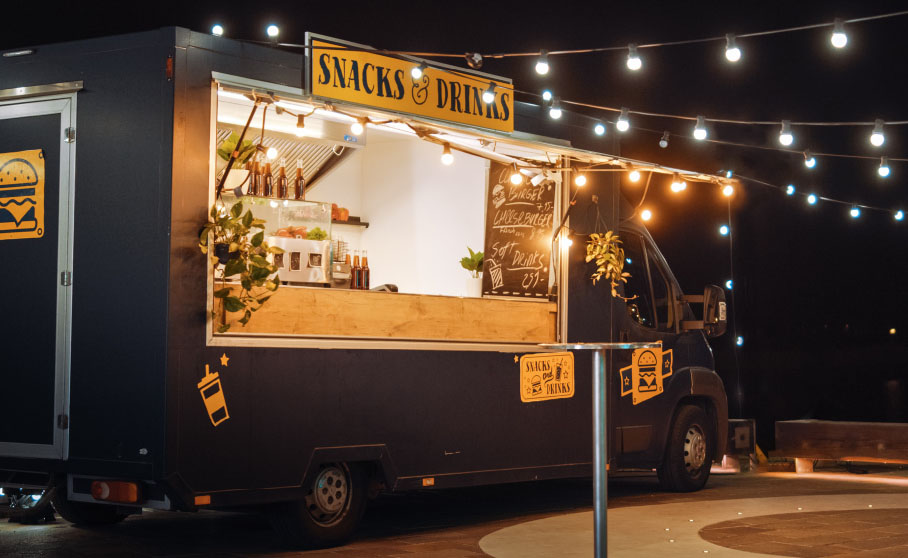 Gone are the days when food trucks are associated with events and grungy buildings. They are now an exciting and practical option for foodies. They're a more affordable market for those who want to begin a food business. There are around 125,000 food trucks in the streets of America in 2020. Restaurants, on the other hand, come and go. But they are still a large number in the U.S. with around 680,000 of them today.
Within such numbers, people who want to pursue the dream of starting a food business have to think wisely. The food industry is booming, but it takes a smart decision to succeed. So, before thinking of getting a food truck or opening a restaurant, it's best to compare which is the best option for you.
Here's a comparison between getting a food truck versus opening a restaurant.
Developing a Concept
Developing a food truck concept is easier than that of a restaurant theme. But it's more than just sandwiches. You should be creative enough to think of a unique offering that can make a food truck stand out. What's easier is that a food truck can start with a single menu. Unlike in a restaurant, developing a concept is much more complex. First, you need to think of a theme. From this theme, that's where you'll start conceptualizing the ambiance, look, and menu offering of your restaurant. A restaurant can't start with a single menu. There should be different choices for every member of the family.
Investment Cost & Revenue Stream
The average startup cost of a food truck business is $100,000 and its average yearly revenue is $290,000. This means a 190% return of investment within a year. For a restaurant, the average startup cost is $275,000 and the average yearly revenue is $1,342,328.40. That's a stunning 488% return of investment for a year. In business, the higher capital you risk, the higher ROI you'll get. When it comes to the revenue stream, opening a restaurant is much more rewarding. You'll get a bigger reward after all the stress of high investment risk.
The costs linked to starting a food truck are very much contained. There's no need to worry about long term investment like a building and furniture. Your main expense will be on buying a food truck, the little items you need for cooking, and a retrofit. When opening a restaurant, the capital investment is uncontrolled. You may need to shell out money for a long-term lease. The price of the lease depends on the location. The restaurant furniture may also be pricey depending on your theme. It's one consideration you have to focus on for the sake of marketing. You will also need large kitchen equipment to keep your menu in full swing.
Finding a Location
Finding a location for a food truck offers more flexibility than that of a restaurant. After conceptualizing a restaurant theme, you will need to do market research. You have to look for a place accessible to your target customers. You also have to consider possible competition within the area. When starting a food truck, your main focus is to look for space where there is always a crowd. You also need to consider the competition. But there's less worry because of the large number of target customers. Besides, the location of a food truck is flexible. You can decide which spot to take for a weekend if there are scheduled concerts, fairs, or sports events.
Licensing & Permits
Both a food truck and a restaurant need to secure a business license and an employer identification number. As a restaurant needs a certificate of occupancy, a food truck needs a vehicle permit and sellers permit depending on the spot it'll be covering over a certain time. This means that food trucks need more licenses and permits as regulations vary per state. In a restaurant, you can renew everything yearly – business license, food handlers permit, health permits, fire safety, and liquor license. For a food truck, different locations mean different licenses and permits. It's important to be aware of and meet the regulations of every state. This can help you avoid large fines and possible business closures.
Branding & Marketing
Restaurants are easier to market because of their fixed location. People know where to go to find them. Even if they're closed, the menu and signage make your brand visible. A food truck's mobile nature makes it difficult for patrons to experience the brand consistently. Every new spot means a new challenge to capture the market. There's limited time to make people aware of your brand menu. Most food truck operators use social media to let their patrons know about their current location. Others develop a routine schedule of the spots they'll occupy for a month, quarter, or year.
The Bottom Line
For a beginner, a food truck opens a broader option to start a food business. The budget is low, the concept is simple, and the location is flexible. Failures and mistakes have a smaller impact because there's a lot of potential to bounce back. On the other hand, if you have the right location for a brick and mortar theme, the restaurant business can be more reliable and stable. The startup cost may be higher but so is the ROI. With fewer licensing and permits needed, it offers a more settled lifestyle for the owner. In the end, the choice is up to you. Whether it be a food truck or a restaurant, the keys to success are a clear vision, determination, and proper planning.
Curious about starting a food truck business? Well, we're not surprised. Here at UsedVending, we receive tons of inquiries on how to start a trucking business almost every day.
So, to get started, we recommend checking out our listing of used food trucks and mobile kitchens. We also have a wide range of ice cream trucks, pizza trucks, BBQ trucks, mobile bakery and other units perfect for your upcoming mobile business.