3 Fancy Recipes for Your Waffle Food Truck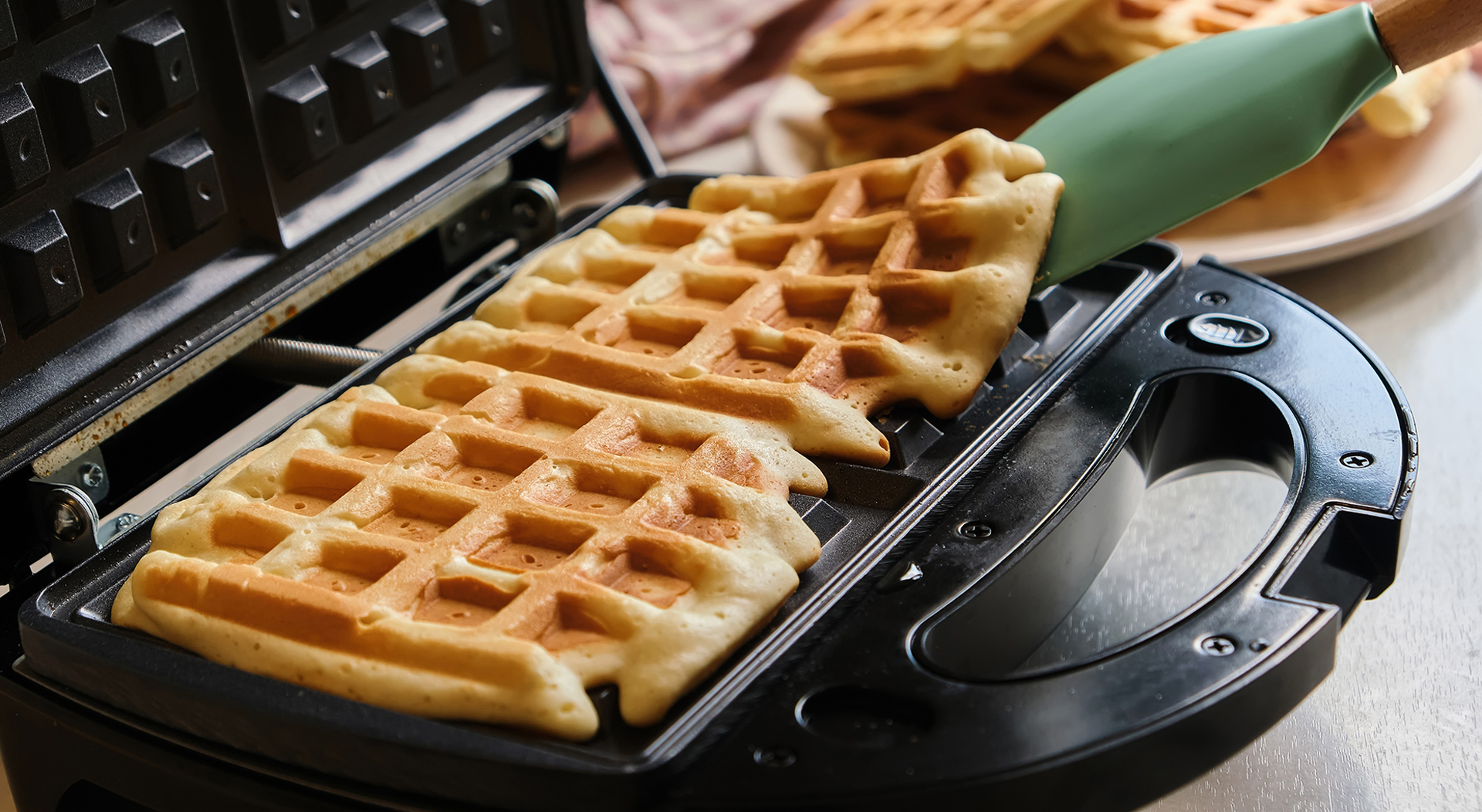 Waffles are breakfast favorites by tradition – no doubt about that, and yet, these delightful treats that come in various shapes and sizes have become an ideal all-around meal depending on the variations. Today, you can now enjoy waffles any time of day.
Although the basic ingredients of flour, eggs and milk, are pretty much similarly used when making cakes and pancakes, waffles differ in that a distinct waffle maker (that is, the waffle iron with two patterned plates) is used, hence, giving the final product its characteristic surface impression.   
Since these cake-like goodies are ubiquitous, these can be bought practically everywhere in the United States. From its humble beginnings back in the 13th century in the Western world, waffles today have conquered the hearts of foodies the world over. 
And so, if you're planning to sell waffles as your main menu for your food truck business, here are some delectable versions to experiment with. But before tackling the fancy recipes, here's the basic recipe for the standard waffle.
The Basic Waffle Recipe

You need 2 large eggs, 1 1/2 c. whole milk,1 tsp. apple cider vinegar, 1/2 c. canola oil, 1 3/4 c. all-purpose flour, 1/2 tsp. kosher salt, 2 tsp. baking powder, 1 tsp. baking soda, and a cooking spray.

How to Prepare

Preheat waffle iron. In a big mixing bowl, whisk together wet ingredients like eggs, milk, apple cider vinegar, and canola oil until smooth. In another bowl, whisk dry ingredients such as flour, salt, baking powder and baking soda. Then pour the wet into the dries. Mix well.
Spray oil on heated waffle iron using a cooking spray. Estimate the amount of batter to be poured into the middle of the iron until all sections are totally filled up. Cook until golden or around 5 minutes. Do the same with the remaining batter. Serve hot.
Fancy Waffle Versions
Chicken Nugget and Waffle Cupcakes

Perfect for breakfast, lunch or party snacks, it takes a total of 20 minutes to prepare, yielding 24 servings.
Ingredients needed are 6 tablespoons butter, ¼ c. honey, ½ c. milk, 1 egg, 24 frozen breaded chicken breast chunks, 1 c. Original Bisquick (pancake mix).

How to Prepare

Preheat the oven to 400°F. Spray the mini muffin tins using non-stick baking spray. Divide butter into six 1-tablespoon slices. Cut each slice into four little cubes. Put one cube into each mini muffin cup. Drizzle 1/2 tsp. of honey on each of the butter cubes. Blend well the pancake mix, milk and egg until smooth. Pour batter in each muffin cup just enough to fill at least ¾ of the cup. Press a breaded chicken chunk into the middle of the batter in each muffin cup.
Bake at 400°F for about 9 to 13 minutes, or just until the edges of the waffle batter becomes light, golden brown. When done, remove muffins quickly by gently running a knife around the edges, then transfer to a serving plate. Serve with remaining honey.

Mac and Cheese Waffles

It takes 30 minutes to prepare to yield 4 servings.
Ingredients to be used are: 2 c. Bisquick Original mix, 1 lb cooked macaroni pasta, 18 oz soft American cheese, ½ c. grated cheddar for garnish (as desired), 1 ⅓ c. milk, 1 egg, 2 tablespoons vegetable oil, 1 c. heavy whipping cream.

How to Prepare

Preheat waffle iron. In a sizable bowl, combine together the Bisquick, milk, egg, and vegetable oil. With a spoon, pour batter into a hot, greased waffle iron. Cook until waffles turn golden brown. In a big saucepan, heat Velveeta cheese and whipping cream, mix well together until smooth. Put cheese mixture over cooked macaroni pasta. Spoon heaps of mac and cheese between waffles. Top with cheddar cheese, if you like.

Potato Dill Waffles

This recipe takes around 30 minutes to prepare to yield 4 servings. Ingredients are as follows: ¼ c. plus 1 tablespoon all-purpose flour, 1 c. thawed shredded potato hash brown (Cascadian Farm Organic, frozen), 1 tablespoon chopped fresh dill, ½ tsp. baking powder. Other dry ingredients are 4 fried eggs, 4 pieces cooked thick slab applewood bacon, 1 tsp. sugar, 2 pinches kosher salt and 1 pinch ground black pepper. Wet ingredients include ½ c. buttermilk, 1 tablespoon melted butter and 2 whole eggs.

How to Prepare

Combine the thawed hash browns and butter in a medium bowl. With a potato masher or fork, mash the mixture until it is somewhat chunky. Mix well the flour, sugar, baking powder, salt, pepper and chopped dill. Blend the eggs with the butter milk with a whisk. Pour the buttermilk/egg mixture into the dry ingredients and stir well until blended. Spray the waffle baker with baking spray. Preheat following the waffle iron instruction manual.
There are still a hundred mouth-watering waffle variations out there waiting for you to whip off. It all depends on your creative imagination to come up with something you can call your own. Meanwhile, it's not just those recipes that can propel you to success. Your excellent choice of food truck also matters. Take a look at these sample food trucks for sale at Used Vending.

Food Trucks That Matter
Turnkey 2000 Ford E350 18.5' Step Van – This all-purpose food truck had driven 79,000 miles, with propane tanks, chargrill, hot water heater, handwashing sink and more.
14' Ford F250 Super Duty Lunch/Canteen Food Truck – This vehicle comes with 2 stoves, flatgrill, fryer, food warmer, steam table, hot water heater, handwashing sink and other amenities.

More excellent choices are available at Used Vending. Visit the site today for the best deals.