Catchy Taglines and Slogan Ideas for Your Food Truck Business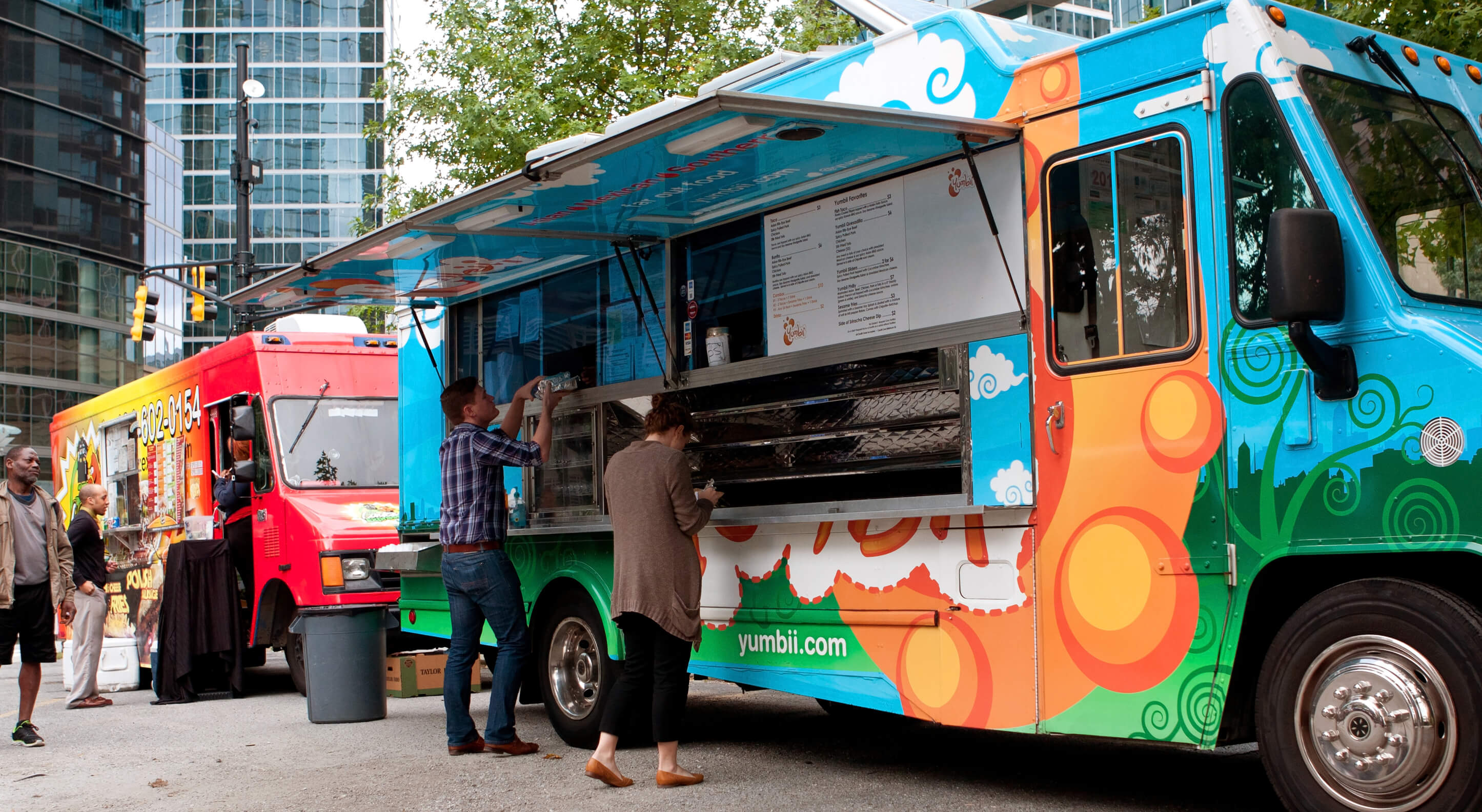 Most modern entrepreneurs put their kitchens on wheels and bring their cuisines to different cities and states. These are popularly called food trucks. Food trucks started as chuckwagons in the 1800s. A rancher named Charles Goodnight needed to feed his cattlemen during long journeys of transporting herds of cows. He then designed a surplus U.S. Army wagon by putting in some drawers and shelves to carry cooking and food supplies. Food trucks boomed during the 1950s. Among the popular ones are hotdog vendors and ice cream trucks. Such a trend continued and made the United States a food truck nation. 
Today, there are around 26,000 food trucks on the mainland. Their most common locations are on busy offices, streets, fairs, farmer's markets, festivals, parks, and urban centers. With a large number of competitions, a food truck needs to build its unique identity to stand out and be remembered. One way to do so is by using catchy taglines and slogans. Below are some catchy taglines and slogan ideas for your food truck business.
How do you create a catchy tagline and slogan for your food truck?

A great tagline or slogan helps set your food truck from the rest of your competitors. For example, Fava Pot's tagline to "eat healthy for a good cause" makes the food truck stand out as a haven of healthy vegetarian meals. Another example is Blaxican food truck's slogan, "Mexican Soul Food" keeps their customers aware that the truck serves authentic jalapenos, quesadillas, tacos, and tortas. 
Your food truck's tagline or slogan also builds your brand's identity over time. As they become memorable, your customers will also remember the name of your food truck. 
Let's take Kogi's BBQ as an example. Their popular tagline is, "If L.A. had a song, you'd hear it in the first bite." Since 2008, this food truck has been remembered as a famous barbecue truck in LA (Los Angeles). Like "Don't Give a Fork" food truck in Delaware, customers know that it serves fork-free signature meals.
Here are some tips on how to create a catchy tagline or slogan for your food truck:
A catchy food truck tagline or slogan should also relate to your target customers. Identify their age group, location, and spoken languages. It may be better to use a Mexican or Spanish tagline if you are marketing to a Mexican or Spanish dominated community.  Or play words that appeal to kids if your food truck is selling kid's meals. 

Limit your catchy food truck tagline or slogan into 10 words or below. It may be hard to memorize too long phrases or sentences. 

The secret behind a catchy food truck tagline or slogan is using the three W's to describe your brand – Who you are? What do you do? What makes you different? Make it simple yet powerful. 

Use common traits to create a catchy food truck tagline or slogan. This is one of the overlooked

challenges of being a food truck owner

. It's hard to keep the words simple but different. Your food truck's slogan or tagline must appeal to your customer's emotion. 

Once you have created a catchy tagline or slogan for your food truck, ask for feedback from colleagues, customers, family, and friends. Getting the pulse of the majority will help you gauge if it's effective or it needs changing.
Sample catchy taglines for your food trucks

Here are some catchy taglines for your food trucks:
A taste of home

Delight in every bite

Eat. Drink. Love.

Every day is a good day for your food truck.

Every meal is a happy meal.

Farm to fork

Focus on the food

Food with attitude

Foodies welcome

Good food and great vibes.

Hasty and tasty!

Just like grandma used to make

Life is too short for boring food.

Make food, not war

More flavor for less

Play with your food!

Satisfy your snack attack

Take a trip to chow-town

Taste the difference

The food dudes

The only thing we love more than food is you!

The only thing we're serious about is food.

The taste truck

There's no place like a food truck

Wake up your taste buds.

We saved you a seat!

We're always in the mood for food

We've got something for everyone.

What can we get you?

You deserve it!

Your grub hub

Your happy truck
Sample slogan ideas for your food trucks

Here are some slogan ideas from elite writers:
Bringing BBQ to you.

Classic recipes with a twist.

Crafting great food for your lifestyle.

Eat good, be happy.

Food that really moves.

Food: It's our craft.

Food Truck Yeah!

Get on the food truck bandwagon.

Get out and eat!

Great atmosphere, even better food.

It's not just food, it's an experience.

It's Trucking Good!

Join the food truck movement.

Mobile food for a mobile world.

No seats just eat.

Not fast food, craft food. 

Not just-food. It's art.

Quality ingredients, incredible taste.

Quality you can taste.

Satisfaction on the corner.

Satisfy the foodie in you.

Taste the difference.

The best meal on wheels.

The fast-food alternative.

The restaurant alternative.

The truck that satisfies.

The truck with taste.

We are the after-party.

We know what matters.

When the party stops, we are just getting started.

Who has time for restaurants?

You'll never eat the same.