10 Easy Dessert Ideas You Can Add to Your Food Truck Menu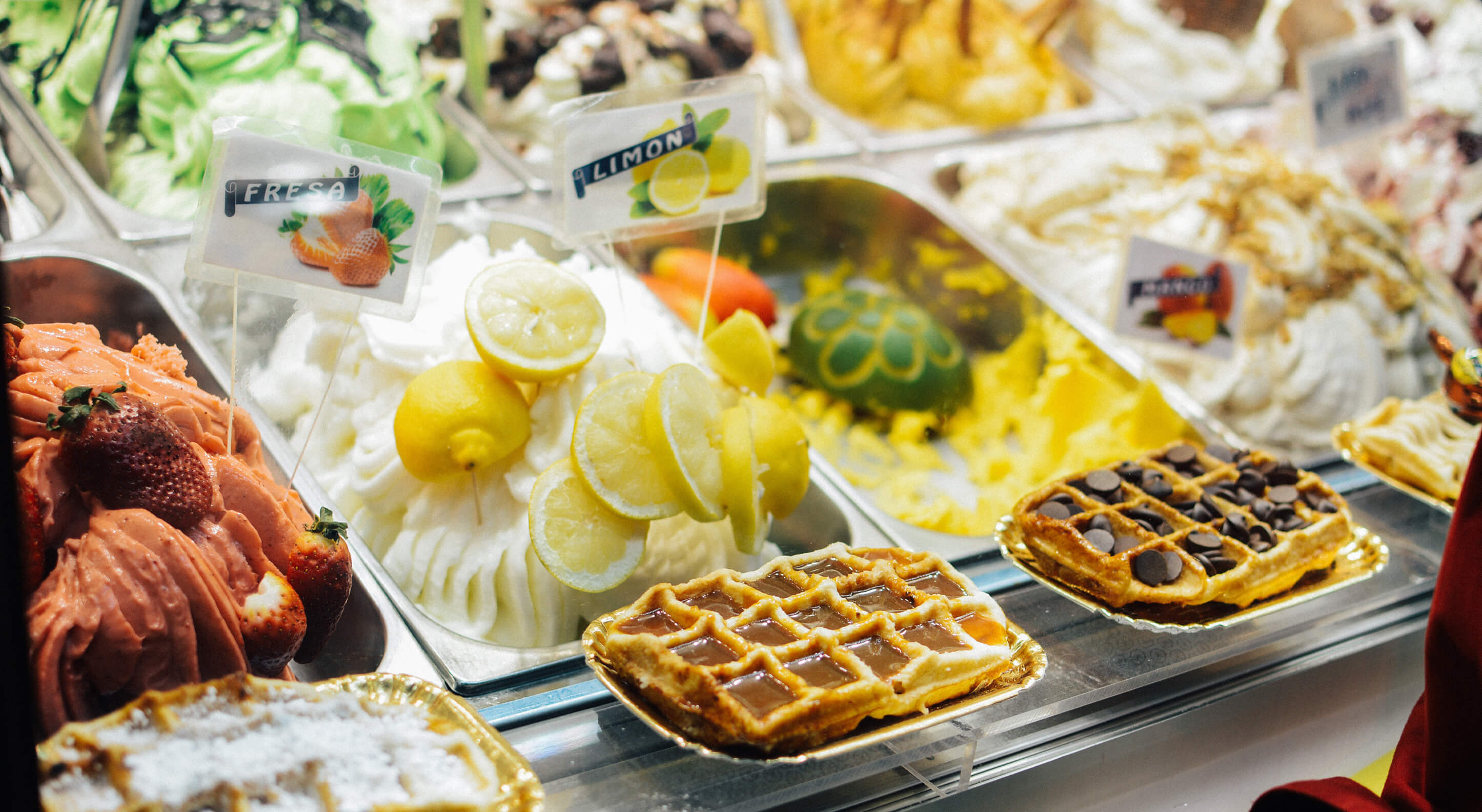 "Stressed spelled backward is Desserts." This is a popular quote by Loretta LaRoche, an international humorist and stress expert. Among food trucks, desserts are also one of the top-selling items. Traditionally, these sweets are eaten at the end of any meal. Today, they are all-time treats. 
Biscuits, cakes, cookies, custards, gelatins, ice creams, pastries, pies, puddings, tarts, and sweet soups go well with coffee or tea any time of the day. Most people now skip the main course to head over to these sweets. 
If you are interested in setting up a viable mobile business, here are the top 10 easy dessert ideas you can add to your food truck menu.
10 Dessert Ideas for Your Food Truck
Baklava

Baklava is a famous Turkish pastry made of buttered phyllo crust and filled with nuts soaked in honey. Making this kind of dessert is all about layering. 
Line 8 layers of salty butter and phyllo alternately on a baking dish. 

Then add some walnuts. 

Repeat the layering pattern one more time. 

Cut the layers into diamonds or rectangles then pop the dish into the oven. 

Once cooked, pour the honey syrup into the dish. 

At room temperature, such a dessert can last up to 2 weeks. Baklava is a hard-to-resist heavenly dessert, making it a great addition to your food truck menu.

Churros

These fried doughs are of Portuguese and Spanish origins. With simple ingredients and straightforward cooking, churros are perfect dessert ideas you can add to your menu. 
Boil salt, sugar, vegetable oil, and water in a saucepan in medium heat. 

Remove the mixture from the heat once boiling and stir in flour to form balls. 

Put the formed balls in a sturdy pastry bag with a medium star tip. 

Use this to pipe around 5 to 6 inches strips of dough to fry over hot cooking oil. 

After frying, roll the churros in cinnamon and sugar mix. 

You can serve them in different dipping sauces like cheese, chocolate, peanut, strawberry, etc. 

Cookies

Cookies appeal to the masses for many reasons. They are chewy, crunchy, sweet, and come in different flavors. It's one of the easiest dessert ideas you can add to your food truck menu using flour, oil, and sugar. They are easy to cook and transport. 
Just stir flour, baking powder, and baking soda together. 

Add them to the cream of butter, egg, sugar, and vanilla. 

Roll a teaspoonful of rounded doughs in the baking sheet and bake until golden. 

You can add chocolate chips, fruits, M & M's, nuts, etc. to flavor your cookies.
Crepes

These French desserts are thin pancakes filled with cheese, fruits, chocolates, and other fillings you can think of. The fact that they can be flavored with anything makes crepes one of the easiest dessert ideas you can add to your food truck menu. 
Whisk together egg and flour and gradually add milk and water. 

Add some butter and salt then beat until the batter is smooth. 

Heat oil in a skillet and pour a thin portion of the batter. 

Cook it moving the pan in a circular motion until the batter is light brown. 

Once you have your basic crepe, you can add in any flavoring you like as fillings.
Cupcakes

This colorful small sponge cake is one of the best dessert ideas you can add to your food truck menu. Cupcakes can be topped with different icing flavors like chocolates and strawberries. They are both mouth-watering and visually appealing. 
Beat butter into a bowl until it's soft. 

Add egg, flour, milk, salt, and sugar and mix until smooth. 

Scoop the mixture in paper cases and place them in a muffin pan. 

Bake until the mixture turns into light golden cupcakes.
Doughnuts

Doughnuts are one of the most popular bakery items and dessert ideas you can add to your food truck menu. Plus, you don't need to settle with the plain ones, you can serve gourmet doughnuts on your food trucks. 
Whisk baking powder, flour, salt, and sugar together. 

Add a mix of melted butter and buttermilk. 

Stir the mixture until smooth. 

Flatten the batter and use a donut cutter to shape it. 

Fry until golden brown. 

You can glaze the doughnuts with gourmet fillings like cinnamon, chocolate, custard, salted caramel, strawberry, vanilla, etc.

Discover more pastry ideas and goodies on this article: Best Bakery Trucks in America.

Gelato

A frozen Italian dessert, gelato uses more milk and less cream than ice cream. 
Warm a mixture of heavy cream and milk in a saucepan until foamy. 

Add the heated mixture into beaten egg yolk and sugar and cook in medium heat while stirring. 

Filter the mixture using a strainer and chill overnight. 

Then, freeze it using an ice cream maker. 

Gelato's natural ingredients make it a unique dessert. Less air and butterfat make it creamier than ice cream. This makes gelato one of the top dessert items you can add to your food truck menu.

Ice Cream

This frozen treat was invented by the Chinese and made accessible to the public by the French. 
Simmer heavy cream, milk, salt, and sugar in a small pot while stirring. 

Remove it from the heat until the sugar completely melts. 

Slowly whisk the hot cream constantly in egg yolks then cook back in medium heat until thick. 

Strain the hot cream using a fine-mesh sieve. 

Cool, cover, and chill it overnight. 

Churn it using an ice cream maker. 

The easiest way to flavor ice cream is to infuse the flavor in the final stage of hot cream cooking.

Get more inspirations from the Best Ice Cream Trucks in America.

Smoothies

Smoothies are a dessert made from pureed fruits or vegetables. They are a perfect and super easy dessert idea you can add to your food truck menu during summer. They are also healthy treats. 
Using a blender, mix fruit juice, milk, water, and fruits or vegetables to create a smoothie. 

You can also add frozen bits as you like. 
Waffles

This no sweat dessert idea for your food truck menu is a favorite not only among Americans and Belgians but also of people of all ages. Waffles are great for breakfast, coffee time, snacks, and tea time. 
Mix baking powder, beaten eggs, butter, flour, salt, sugar, and vanilla together. 

Fry or cook in waffle irons until they become golden brown. 

You can add flavors to the batter to create a more delicious waffle. 

These can be bacon, cheese, chicken, chocolate, cinnamon, etc. 

You also pour any kind of syrups to flavor them.  

There are countless dessert ideas out there to try and experiment with. You can also start with the simple desserts we've shared above and add some personal twists to the recipes. Designing your food truck menu is fun and exciting, but the most important thing is being able to deliver clean and delicious food to your customers. That plus a sweet and friendly smile on your face could be the main attraction of your business.
Wanna learn how to dominate the mobile kitchen industry? Read our guide on How to Crush Competitors in the Food Truck Industry. 
And if you are looking for food trucks for sale, visit UsedVending.com.