Top 12 Highly Addictive Ice Cream Truck Menu Ideas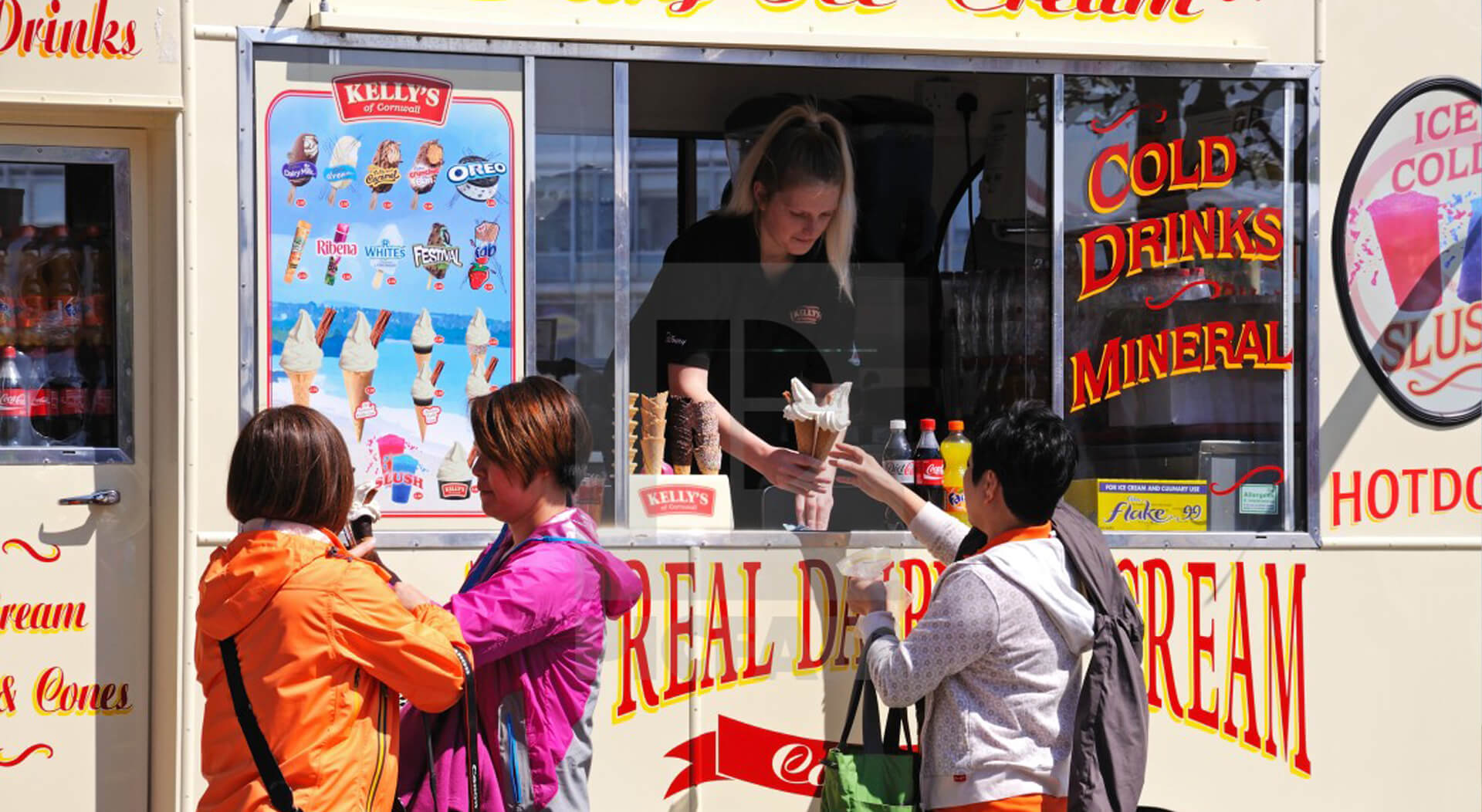 Among a variety of cold treats, ice cream is the ultimate comfort food. Such frozen goodies conjure multiple thoughts. It reminds us of childhood dreams and party memories. During a hot summer night, it speaks of calories with a sense of indulgence. 
The global market value of the ice cream industry today is around $89.5 billion. The United States ranks 2nd to New Zealand as the nation with the largest ice cream consumption in the world. No wonder, a lot of ice cream food trucks roam American streets. Below are the top 12 highly addictive ice cream truck menu ideas.
Some Facts About Ice Cream

Back in the 2nd century BC, Alexander the Great enjoyed ice-flavored honey and nectar. This is what historians credited as the first ice cream in history.
In the year 1295, historian Marco Polo returned to Italy after traveling from the Far East. He brought with him the recipe of a sherbet which evolved as ice cream in the 16th century.
The 1st ice cream advertisement appeared on May 02, 1777. Filippo Lenzi announced via the New York Gazette that his confectioner will be serving ice cream daily. During that time, ice cream is considered a luxury.
In 1904, the ice cream cone was invented. Concession vendors at the St. Louis World Fair in Missouri created them as a way for people to easily eat ice cream during fairs. 
In 2015, Norway got the world record for the largest ice cream cone at 10 feet high. It was carried by helicopter during the measurement rite and distributed to the attendees of the Tall Ships Race in the Kristiansand Harbor. 
Did you ever wonder why ice creams are so creamy? It takes 3 gallons of whole milk to make a gallon of ice cream.
The most popular ice cream flavor in the world is vanilla, not chocolate. Among the top countries that love vanilla ice cream are Brazil, China, Germany, Italy, and the United States.
Ice cream ranks 4th among the world's most addictive foods. According to the International Dairy Food Association, an average American consumed around 23 pounds of ice cream every year. What makes an ice cream addictive is its cream and sugar content. It is sweet enough without being cloying. The butterfat makes it creamy and the flavor lingering. This makes people enjoy ice cream spoonful after spoonful.

The Best Ice Cream Menu Ideas

The best ice cream trucks in America manage to serve highly addictive ice cream flavors. Here are 12 unique ice cream flavors that can very well drive patrons to your truck. 

Brown Butter Bacon Ice Cream

This is a mouthwatering white chocolate ice cream in caramel sauce. Speckled with bacon, the flavor has a slightly meaty taste. Kissed with cream of butter, it is a frozen treat that can really cool you off.

Caramel Balsamic Swirl Ice Cream

This vanilla ice cream has less salt. It is treated with a complex savory and sweet flavor of balsamic vinegar caramelized in olive oil. It is an invigorating and sweet dessert that will leave you wanting every second. 

Cilantro Lime Ice Cream

Cilantro is coriander leaves. A bright bunch of this herby flavor and candied peel of lime is added to powdered bourbon vanilla bean to make an addictive, delicious, and refreshing frozen treat.

Curry and Mint Ice Cream

Indian curry adds a salty and spicy flavor when mixed with chocolate chips and mint ice cream. This unique confectioner flavor is a must try for those who want to be de-stressed.

Goat Cheese Ice Cream

This addictive ice cream flavor is best served with macerated peaches. The ice cream itself is a sweet counterpoint of whole milk ice cream with a tangible tang of crumbled goat cheese. 

Gorilla Ice Cream Sandwiches

This is ice cream with no cream and no milk. It also doesn't need an ice cream maker. Gorilla ice cream sandwich is a mix of frozen bananas, double chocolate, mascarpone, and pecan cookies. Each bite makes you crave for more and eats like a gorilla.
Honey-Rhubarb Ice Cream

A healthy ice cream flavor yet addictive. Honey-rhubarb has a mouth-puckering sour taste but blends well with a honey ice cream base. Rich in dietary fibers and magnesium, the red honey-rhubarb syrup makes both your eyes and mouth water.

Olive Oil Gelato

This grassy and smooth ice cream flavor makes an elegant dessert. Yet the unusual silky flavor of this gelato makes it addictive and sophisticated. Olive oil gelato tastes best when topped with sprinkled sea salt.

Pumpkin Stracciatella Gelato

Pumpkin is an all-spice flavor of cinnamon, clove, ginger, and nutmeg. And experts say that pumpkin spice addiction is a real thing. Adding to the addiction is the shards of pure chocolate called Stracciatella.

Raita Ice Cream with Indian Pistachio Brittle

Raita is an herb-flavored Indian yogurt. It has an addictive salty and sweet taste when added to any ice cream base. The brittle sweet nuts exude a mouth-watering smell of cilantro, cumin, and fennel seeds.

Sweet Corn Ice Cream with Salty Popped Corn and Caramel-Candied Bacon

This irresistible ice cream flavor is perfect for couch potatoes. It does not only have one nor two but three unique flavors. The candied caramel bacon adds a meaty taste. While the salty popped corn balances the sweetness of the sweet corn ice cream base.

Trail Mix Ice Cream

Trail mix as a standalone snack is very addictive. It is full of dependency-inducing fat, salt, and sugar. Riddled with chocolates, nuts, and raisin, this star-studded concoction is indeed an addictive frozen treat. 
Need more menu ideas for your food truck? Check out some of our guides:

And don't forget to visit UsedVending.com for daily updates on the largest selection of food trucks for sale in America.