10 Mouthwatering Ideas for Your Pizza Food Truck Menu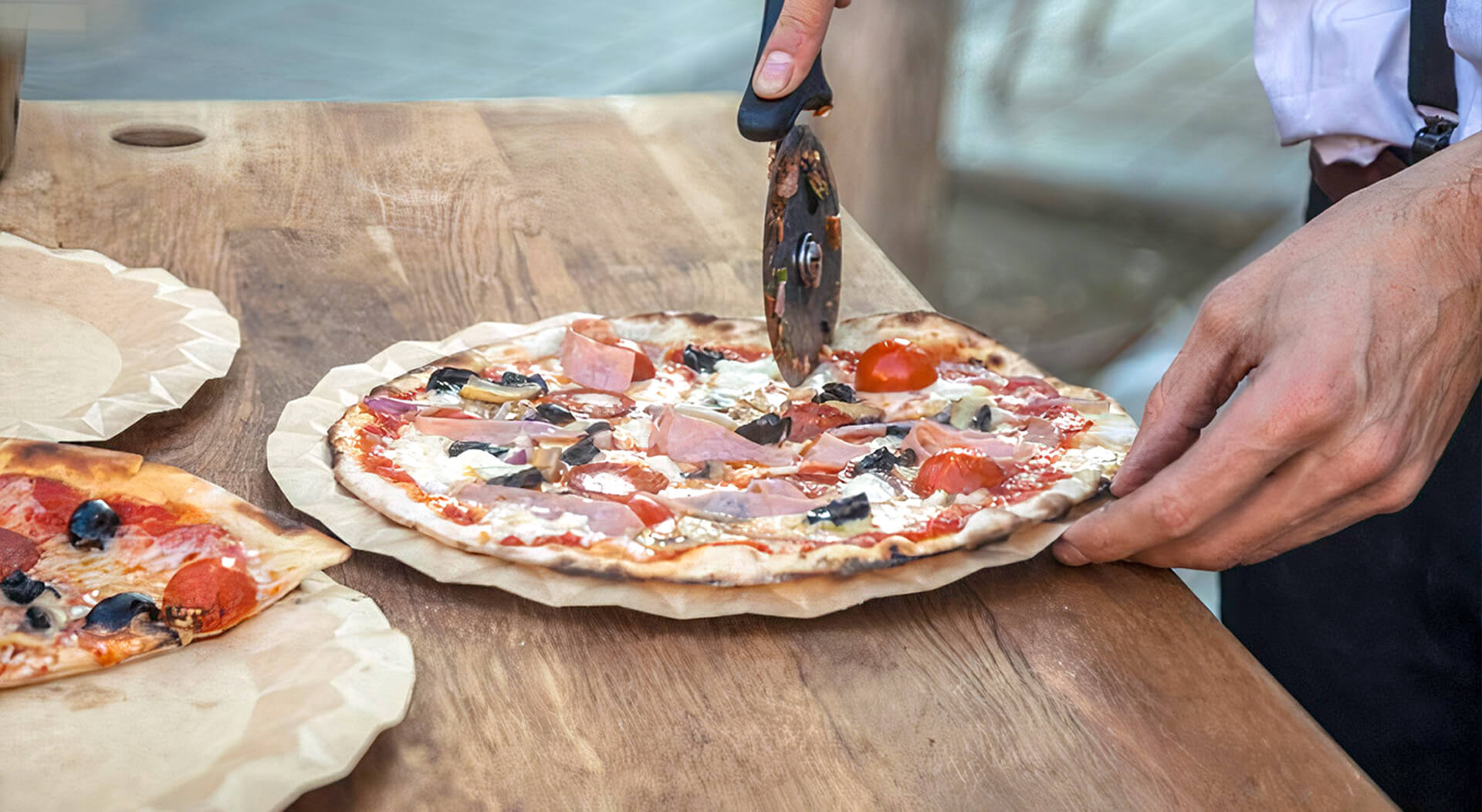 What is America's staple food? Most Americans will answer "pizza." Such a truth is very obvious as Americans eat an average of 100 acres of pizzas every single day. 
Between 1880 and 1920, there were 4 million Italians who migrated to the United States. They brought with them their pizza-making skills and taste buds. These were adopted by the American food culture. So, now, pizza holds a special place in the hearts of Americans. It can be an easy group dinner, a portion of food that fits every menu, and a tasty midnight snack. It's the ultimate comfort food that can be delivered right on your doorsteps. 
No wonder, pizza has spawned hundreds of variations in different US states. Below are mouthwatering ideas for your pizza food truck menu.
10 Menu Ideas for Your Pizza Food Truck
Cheese and Pepperoni

Pepperoni is a type of American salami that has a smoky and spicy flavor. When mixed with cheese as pizza toppings, they result in a warm and spicy cheesy flavor. A New York-style dough flavored with cheese and pepperoni is one of the most favorite pizza menus among Americans. This pepperoni flavor is a classic taste for a crispy pizza. Just by looking at these circular red pieces topped with extra cheesy flavor, everyone's mouth will surely water as they see it in a food truck. 

Chicago Thin Crust

A typical Chicago-style pizza features a deep-dish flavor on a dough with rolled ends. The rolled ends resemble a thick crust bowl shaped pizza. For the health-conscious American, a Chicago thin crust offers a thinner dough which means fewer carbohydrates. Often in square cuts, they are a midway pizza flavor between New York crust and Chicago toppings. It is an extra thin white pizza topped with BBQ chicken bits, garlic, Italian beef, mozzarella, olive oil, provolone, parmesan, and shrimp. 

Chicken Dominator

If you're a fan of Domino's, then you are a lover of their chicken dominator pizza. It has a crispy, fresh, moist, and soft hand-tossed pizza dough with a crispy texture. Each slice of this mouthwatering pizza is loaded with a flavorful barbecue chicken, chicken rasher, chicken sausages, peri-peri, and spicy chicken bites. To add a spicy or tangy taste, the chicken bits are topped with onions, Mexican herbs, red paprika, and more. The chicken dominator pizza will truly make your senses explode with happiness once eaten. 

Evergreen Flavor

This is a prairie pie filled with natural meat and vegetable ingredients. This pizza flavor doesn't contain any canned or frozen meats and veggies. The Evergreen Pizza dough doesn't have sugar. Instead, it uses honey to sweeten its flavor. This results in a fresh, mouthwatering crust that doesn't give pizza lovers any guilt. It also had a salad filling of cucumber, green pepper, mushroom, and Kalamata olives. Topped with Canadian bacon, prime ribs, and pepperoni, the Evergreen pizza makes a mouthwatering combination with Monterey jack cheese. 

Grilled Chicken Fresco

Experience the taste of an authentic Italian pizza with the Grilled Chicken Fresco. This is a perfect mouthwatering treat for people who are conscious about health, fitness, and nutrition. The Grilled Chicken Fresco gives a high-protein bite with a mix of bacon, grilled chicken breasts, and four slices of cheese pumps. The "al fresco" taste comes from the slices of basil, onions, and Roma or vine-ripened tomatoes. All these ingredients combined with balsamic vinegar, lemon juice, and wine create a unique, not-an-everyday pizza that people can experience.
Hawaiian Pizza

Do you know that Hawaiian pizza originated from Canada and not Hawaii? A pizza-maker in Ontario named Sam Panapoulos was the first to use pineapple to flavor pizzas in 1962. After using a brand of sliced pineapple on the pie, Sam used the official name of the Hawaiian Pizza. In reality, Hawaiian Pizza sounds like a trip to the beautiful island of Hawaii. It is a perfect combination of sweet pineapples and savory ham topped with mozzarella cheese that melts in your mouth. To add a bit of smoky flavor, grilled bacon bites take it to the next level. With the exceptional bittersweet pineapple taste, the Hawaiian pizza is mouthwatering.

Herb Chicken Mediterranean

If you want the best pizza flavor that is rich in fiber, the Herb Chicken Mediterranean pizza is a treat for the whole family. It is an ideal mouthwatering dish for those who wish to stick to a diet plan. The Herb Chicken Mediterranean pizza is one of Papa Murphy's house specialties. The chicken ingredient used was raised without antibiotics. It was flavored with dried herbs such as basil, oregano, marjoram, and rosemary. It comes with a thin crust topped with Feta cheese, feta garlic, spinach, sun-dried tomatoes, and flavored with olive oil.

Meatzza Pizza

Pizza nights will never be the same once you've tried this mouthwatering low-carb pizza flavor. It is called a Meatzza Pizza because it has a meat crust. Yes, it's a hardcore non-vegetarian pizza. It is packed with proteins of Mediterranean ingredients such as artichokes, cherry tomatoes, egg, Greek olives, ground chicken, ham, minced basil, and onions. Feta cheese, Greek seasoning, and mozzarella cheese give it a mouthwatering finish. 

Mexican Green Wave

Again, this pizza flavor is one of Domino's favorites like the Chicken Dominator. It has a crunchy crust loaded with crispy capsicum, jalapenos, juicy tomatoes, and onions. Immensely preferred by vegans, it is a gourmet pizza that echoes traditional American and Mexican herbs. It is topped with double cheese and vegetable slices, oregano herbs, and red chili flakes to spice up its Mexican taste.

Supreme Pizza

It is called a supreme pizza because it is a hearty combination of meat and vegetable toppings. The Supreme pizza dough is crispy and thin but its toppings make it a heavy meal. Traditionally, a supreme pizza is topped with bell peppers, olives, onions, pepperonis, and sausages. Some pizzerias add bacon, capsicum, ground beef, mushrooms, or oregano to liven its taste. The supreme pizza is a perfect mouthwatering pizza for meat lovers.
With these 10 mouthwatering pizza flavors, pizza lovers will surely line up on your food truck.
Looking for other food menu ideas? Check our recommendations here:

And if ever you need a new truck, visit UsedVending.com to find the best food truck and mobile kitchen for your growing business.