Buying Guide: New VS Used Food Trucks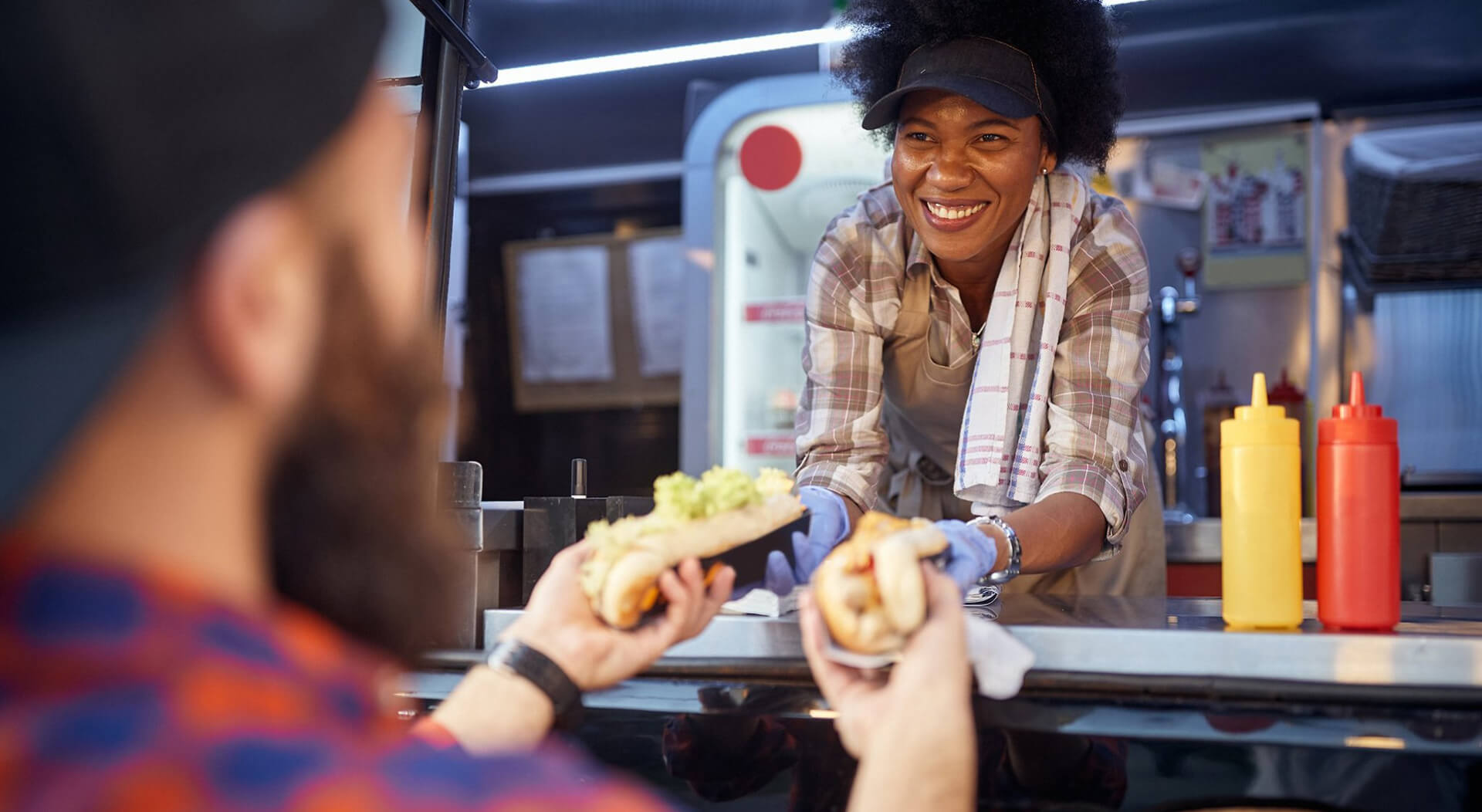 Buying a food truck is challenging, costly, and time-consuming. The challenge lies in your ability to determine the right type of truck that is perfect for your business. You will also need to canvass prices to get the best offer and save. These processes would all take time and involve a lot of dealings with truck dealers and manufacturers. There is also a big difference between buying a new and a used food truck. In general, the main distinction is the price. But there are a lot of factors that you would need to consider to get the perfect fit you'll need. Here is a buying guide to getting a new or a used food truck.
Buying a New Versus a Used Food Truck

A used food truck costs anywhere from $50,000 to $100,000.
A new food truck costs anywhere from $100,000 to $175,000. 
In general, most food truck operators spend around $70,000 to $250,000 when starting a food truck business. These include the customization of the truck, kitchen equipment needed, licenses, and permits. As such, most food truck operators apply for either a commercial loan or food truck financing. 
The biggest and toughest decision you will make if you want to start a food truck business is whether to buy a new or used truck. There are pros and cons of buying a new food truck. They also go the same if you are going to buy a used one. 

Pros and Cons of a New Food Truck

Most new truck models can easily be customized to meet the specific needs of a food truck business. They look very clean, fresh, and polished. 
If you buy a new food truck, they will most likely come with great and longer warranties. You will not need to worry about costly breakdowns and repairs. Most truck manufacturers offer free maintenance on the truck for a certain mileage or period. 
Being an owner of a new food truck, you will reap the benefit of using the truck in a longer life span. The average life expectancy of a new truck is around 10 to 15 years. They can even extend up to 25 years when very well taken care of. 
On the negative side, buying a new food truck is very expensive. It is higher by around $50,000 to $100,000 when compared to the price of a used food truck. 
You may also need to wait longer if you want to customize the truck. It is because the manufacturer will make sure that any customization will not affect the truck's warranty. So, if you want to upgrade or renovate your truck based on the business growth, it may also take time to fund the changes needed.

Pros and Cons of a Used Food Truck

Buying a used food truck is initially cheaper than buying a new one. Generally, all retrofitting for the kitchen layout and serving area already works for the business. You will only need a little retouch and time to start taking orders. This eliminates the task of figuring out what equipment you will need for your food truck business. 
The downside of buying a used food truck is the higher risk of having costly breakdowns, repairs, and maintenance. You may always be worried about how the previous owner took care of the truck. So, you may have less peace of mind than those who buy a new food truck. 
Adding to the worry is the lesser years that you may be able to use the truck. The life expectancy of a used food truck is much lower than the life expectancy of a new food truck. 
Where to Buy a Food Truck?

Buying a food truck ultimately comes down to the decision of how much budget you want to spend upfront. After deciding on the budget, you will need to find a reputable food truck dealer. There are a lot of options on where to buy a food truck in America. You can ask colleagues, family, or friends to check if they know a seller or you can scout trucks from the following websites:

Craigslist

Craigslist and eBay are popular online marketplaces where you can look for a food truck to buy. You can initially search on the "cars and trucks" section of Craigslist. Start paring down your search on the "for sale" list. Start with the trucks' photos. Craigslist uses low-resolution images but it provides some warning signs like damages or rusty parts. The smartest way to shop on Craigslist is to prefer sellers near your location. As such, you can schedule an inspection and a test drive before buying a food truck.

eBay

eBay is generally a safe online marketplace because of its PayPal protection services. It also houses a feedback page for you to check the previous buyer reviews of the food truck seller. Though, you need to watch out for the price. Most sellers on eBay price food trucks and other items higher than other online marketplaces.

UsedVending

There are also specialist websites where you can buy a good vehicle or food truck unit. UsedVending.com is the most trusted among them. Here you can find a large selection of concession trailers, food carts, food trucks, mobile kitchens, and other mobile business trucks sold by truck operators and owners. You can also sell your old truck through the website.
Do you have questions? Contact our team at (601) 749-8424 for expert assistance.