Innovative Recipes and Ideas for Your Chicken Food Truck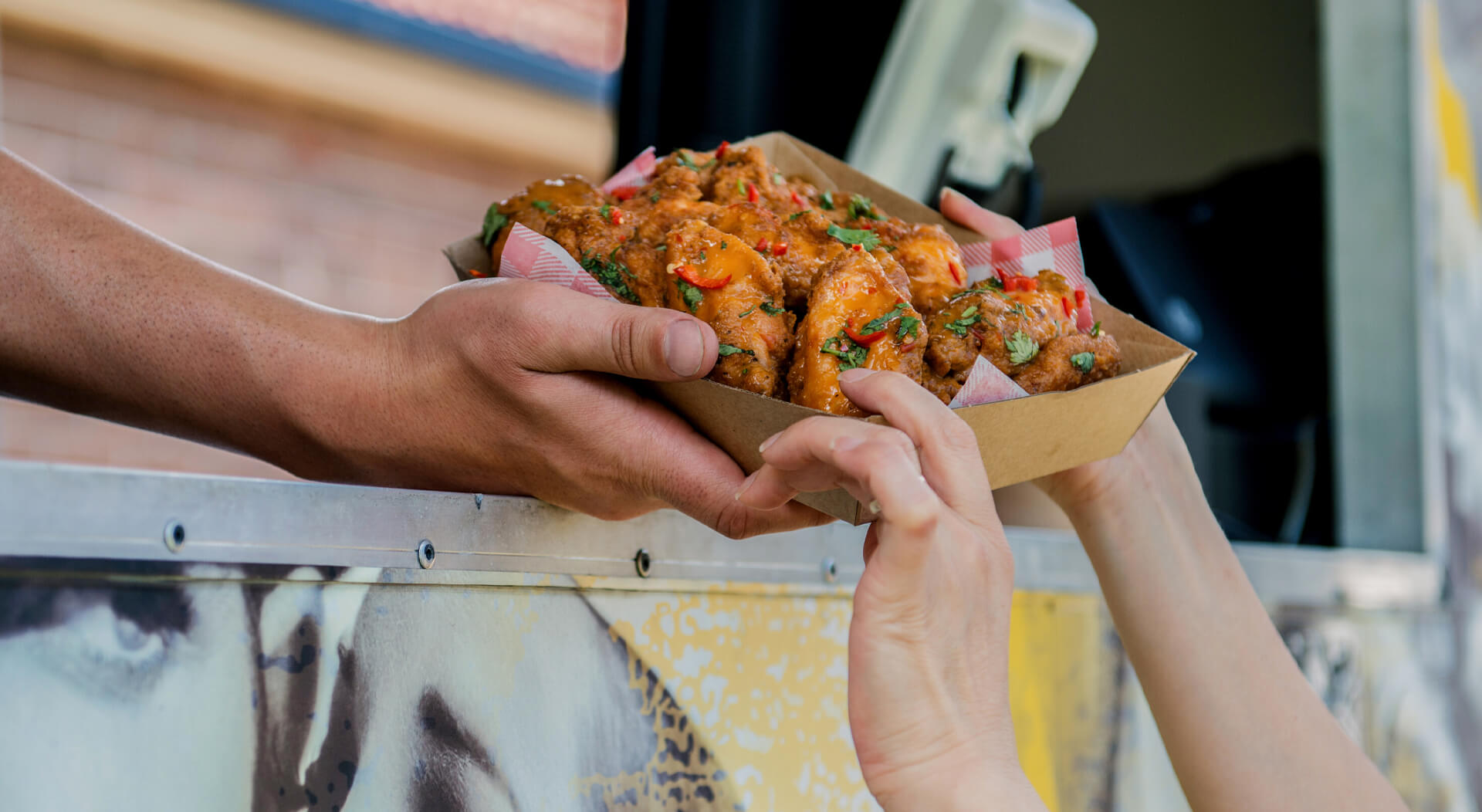 As early as 10,000 years ago, humans raised chickens and other fowls not for food consumption. Instead, they use them for cockfights. It was only around 2,200 years ago that humans began eating chicken. Some archeologists found evidence of chicken bones bearing the mark of butcher's knives in Israel. People theorized that in the dry Mediterranean climate, chicken became more attractive as food. 
From there, the chicken diet boomed. Based on statistics, the United States eats way more chickens than any other country. In 1970, an average American could consume 50 pounds of chicken annually. Today, the number doubled to more than 100 pounds of this white meat. No wonder most food trucks include chicken recipes on their menu offerings. 
As such, here are awesome recipes and ideas for your chicken food truck.
Benefits of Eating Chicken Meat

Mobile trucks often sell chicken meals because they are a healthy alternative to red meat. They are also on top of food truck menu ideas because they are very affordable and easy to prepare. But what makes Americans love chicken meat the most are the health benefits that it offers. 
Unlike red meat, chicken is low in fat. Lean chicken meat contributes to healthy body weight and cholesterol levels. Even though they don't have dietary fibers, they are good for the stomach because they are easy to digest.

Chicken is filled with protein, the body's building block of muscles. They provide enough amino acids to maintain our vital body functions and strengthen our body's bones and cells. 

Chicken meat is also rich in vitamins such as A, B, and D. Vitamin A helps improve our eyesight. Vitamin B

strengthens the immune system, improves the nervous system, and gives us more energy. Vitamin D is good for our heart's health and protects our bones and muscles. 

Chicken meat is also rich in minerals. These include iron that delivers oxygen to the red blood cells, phosphorus for strong bones and teeth, plus selenium for defense against cancer. 

Therefore, if you are targeting customers who are conscious of their weight and health, a food truck menu that includes chicken meals is a great idea. 

Best Chicken Recipes and Ideas
Buttermilk Spring Chicken

This is a roasted chicken dish made up of:
Buttermilk

Chicken leg quarters

Chives

Greek yogurt or sour cream

Hot sauce

Kosher salt

Leaks

Lemon

Olive oil

Toasted sesame oil

Typically, this chicken recipe involves dredging and frying the chicken before baking. The buttermilk gives the dish a tangy flavor and a walnut-colored hue. 

Chicken Cordon Bleu

A classic chicken menu idea for a food truck, the chicken cordon bleu uses breadcrumbs coating, a slice of ham, and cheese. A secret to tenderizing the meat is to pound it in diagonal motion from the center to the edge. Chicken cordon bleu got its name from the French word "blue ribbon," which stands for excellence. It is technically a rolled and stuffed chicken dish. 

Classic Chicken Noodle Soup

Do you want some chicken soup for the soul or the sick? It is a popular food truck cuisine and comfort food. It is a simmered chicken recipe made of:
Black peppercorn

Carrots

Celery stalks

Chicken 

Dill

Ditalini

Garlic

Noodle

Onion

Salt

The secret is not to cut corners to lend a flavorful taste. Slow cooking makes a classic chicken noodle soup more appealing to the palate.

Crispy Turmeric-and-Pepper-Spiced Chicken Wings

All Americans have the right to life, liberty, and chicken wings. This is a fun quote among food trucks offering chicken wings in their menus. Here's a recipe for your chicken food truck. You may need a spice mill to finely chop the following ingredients:
Black peppercorn

Garlic

Ginger

Salt

Sugar

Turmeric

Then rub these ingredients over some chicken wings together with vegetable oil. Start baking them in a cold oven to allow infusion of the chicken fats. Slow cooking is the secret to perfectly crispy turmeric-and-pepper-spiced chicken wings.
Healthy Chicken Salad

Be it summer or winter, you can eat healthy chicken salad plate after plate without any guilt. It's because you don't need to put down a jar of mayonnaise to make it taste great. All you need is to toss the following ingredients:
Boneless chicken breast (poached)

Cilantro leaves

Crushed red pepper flakes

Cucumber

Fresh lime juice

Honey

Lime

Romaine or lettuce

Salt

Scallions

Soy sauce

Tahini

Toasted sesame seeds

This healthy chicken salad is loaded with creamy nuttiness, gourmet-inspired dressing, and pops of crunch.

Healthy Fried Chicken

Is there such a thing as healthy fried chicken? Yes, there is! This is an innovative recipe for your chicken food truck that people will surely love. Its ingredients include: 
Buttermilk

Chicken

Chickpea

Cornstarch

Crushed red pepper flakes

Diamond Crystal or Morton kosher salt

Honey

Lime

Sesame seeds

Shredded coconut

Vegetable oil

Season the chicken with crushed red pepper flakes, Diamond crystal or Morton kosher salt, honey, and lime. Set aside for 3 hours or more. Then, boil it with coconut milk. Pat to dry and dip it in chickpea, cornstarch, and sesame seeds before frying in vegetable oil. Ensure that you fry the chicken until golden brown. It creates a super crunch coaxing out a nutty flavor. 

Masala Fried Chicken

Masala is a blend of ground spices in Indian cuisine. It puts out a vibrant flavor when frying fresh chicken. This innovative recipe for your chicken food truck can make you known for finger-licking-good chicken meals. For the marinade, use the following ingredients:
Distilled white vinegar

Garam masala

Garlic

Ginger

Kashmiri red chili powder

Kosher salt

Turmeric

Whole-milk Greek yogurt

Crush them all and marinate on boneless chicken thighs. Coat the chicken with flour and whisked potato starch, then deep fry in canola oil. With an earthy and spicy taste, the Masala fried chicken goes well with a creamy sauce.

One-Pot Gingery Chicken and Rice with Peanut Sauce

Do your customers love Hainanese chicken? Then the one-pot gingery chicken and rice with peanut sauce can be an amazing chicken recipe you can offer on your truck. What you'll need for the main dish are:
Basmati rice, an ancient Chinese or Japanese rice type

Bone-in but skin-on chicken

Garlic

Ginger

Kosher salt

Large shallots

Soy sauce

Star anise

Cooking this chicken dish involves baking and broiling. Partner it with a special sauce made of: 
Cilantro leaves

Creamy peanut butter

Cucumber

Ginger

Honey

Soy sauce

Sriracha

Unseasoned rice vinegar

It will make a world of difference with these creamy and fluffy chicken and rice dishes.
For more food truck menu ideas, you might also want to read these helpful articles:

And if you are looking for a new truck, visit UsedVending for a wide selection of food trucks for sale. 
You can also sell your used food truck through our platform. Contact (601) 749-8424 for immediate assistance.