Delicious Menu Ideas for Your Pasta Food Truck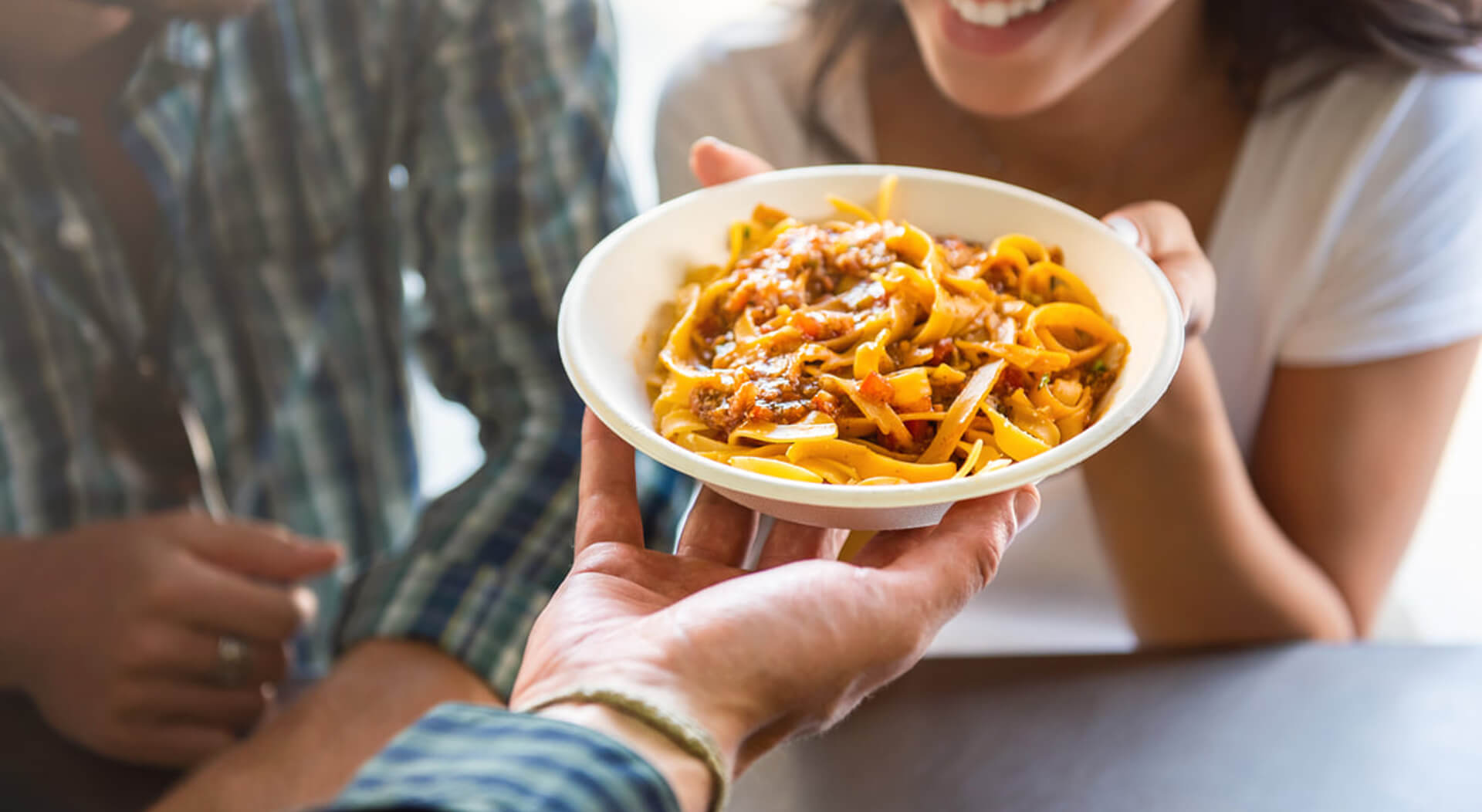 It is no secret – Americans love food! But what food they love is another side of the story. There is a lot of variety to choose from – burgers, desserts, mac n cheese, pasta, pizza, etc. 
Recently, Harris Poll initiated a survey to identify the top 5 favorite foods of Americans. The results are surprising because hamburgers don't top the list. It was even the bottom among the top 5. Pizza hits the number one spot, beating out steak, tacos, and pasta. 
Yes, pizza and pasta! Americans love Italian dishes. It may be because they are a mixture of meat, veggies, and cheeses. Another reason may be the explosion of pasta shapes. Coming in 350 forms, pasta intrigues people of all ages, from toddlers, kids, teeners, to adults. The consumption of pasta in the United States started to surge during the Great Arrival. It was between 1880 and 1920 when around 4 million Italians from the south migrated to America. 
Since then, pasta food trucks have become a common street figure in busy cities and even remote towns. An average American eats pasta dishes at least twice a week. It makes pasta a very in-demand product among food trucks. 
If you are looking for delicious menu ideas for your pasta food truck, let's take a look at America's most sought-after pasta dishes.
10 Menu Ideas for Your Pasta Food Truck
American Chop Suey

American chop suey is a savory combination of baked macaroni, cheese, ground beef, tomato sauce, and Worcestershire sauce. The spices and veggie ingredients are cabbage, capsicum, carrots, garlic, ginger, spring onions, and tomatoes. As a substitute for macaroni, others used tubular pasta shapes. 
American chop suey is like crispy fried noodles with a sauce. The sauce has a sweet, spicy, and tangy taste. It can be baked in a casserole or cooked in a stove pot. With grated cheese, this can be an easy-to-cook pasta menu for your food truck during winter days. Many believed that such comfort food came from New England and reached the American mainland in 1950. 

Baked Ziti

Have you ever watched the hit TV show, "The Sopranos?" Well, baked ziti is the favorite dish of Tony Soprano's wife, Carmela. Many Americans have become interested in this pasta menu after watching the popular TV series. 
Baked Ziti is a hybrid of American and Italian cuisines. It is an Americanized Italian casserole-dish made of ziti, garlic, meat, mushroom, onion, peppers, and chunky tomato sauce. What makes this delicious menu idea for your food truck great are three kinds of special cheeses. These are mozzarella, ricotta, and Parmigiano Reggiano. It is often served as a casual appetizer. But it can also be a rainy afternoon meal that can be best paired with a bowl of green salad. 

Chicken Riggies

During the late 1970s, doctors, lawyers, and union workers frequented a restaurant in Clinton, New York. They would come there to play cards and eat an Italian-American pasta dish called "riggies." It is made of rigatoni pasta, chicken, flavorful cream, hot or sweet cherry peppers, and tomato sauce. Its marinated acid and herby taste are what make chicken riggies a delicious menu idea for your pasta food truck.

Cincinnati Chili

Tom Kiradjieff, a Macedonian immigrant, discovered Cincinnati chili in 1922. As the owner of "The Empress" restaurant, his specialty is serving chili dishes with Middle East spices. It was there where the Cincinnati chili pasta dish was invented. It was made of allspice, cinnamon, cumin, fried beans, garlic, ground meat, onion, oyster crackers, tomato paste, and tomato sauce. Being the chili capital in the US, this Cincinnati dish is authentic spicy comfort food.

Mac and Cheese

A tender yet firm pasta dish with melted cheese, mac n cheese is an all-time favorite in the United States. Its basic ingredients are breadcrumbs, cheese, macaroni, and mornay sauce. This is an affordable and delicious menu for your pasta food truck that will surely sell being an American staple. History told us that it was Thomas Jefferson who popularized mac n cheese by shipping his pasta machine back to his Virginia home. He served the dish on lavish banquets resulting in his cousin, Mary, publishing the first mac n cheese recipe in 1824. 

Pasta Primavera

In 1976, pasta primavera became the most talked-about dish in Manhattan, New York. The dish was first served in Le Cirque restaurant by friends Jean Vernges and Sirio Maccioni. They learned the recipe from Ed Giobbi, an American cookbook author. Giobbi invented the recipe during a hunting trip in Nova Scotia. Until today, it is a popular pasta menu among food trucks and restaurants in the Big Apple. The original recipe used chopped basil, garlic, olive oil, parsley, and ripe tomatoes to flavor the spaghetti. Modern variations include asparagus, broccoli, green beans, hot pepper, mushroom, and zucchini.

Penne Ala Vodka

Penne ala Vodka was invented in Bologna, Italy. But others say that it was invented in New York. It is made of penne pasta, heavy cream, hot pepper, olive oil, parmesan cheese, and vodka. The vodka adds a unique alcohol flavor making the dish preferably served hot. In just 30 minutes, you can serve a delicious menu on your pasta food truck. 

Spaghetti and Meatballs

The spaghetti and meatballs dish was invented in America during the 19th century. It is not an Italian dish as most people believe. If you happen to travel to Italy, you will rarely find this pasta recipe. This spaghetti dish is usually flavored with canned tomatoes, garlic, oil, and pork or beef balls. Picking the right meat is the key to a chunky and savory bite.

Spaghetti Pie

The original American pie came from Colorado. It is also where the spaghetti pie originated. It is made of spaghetti flavored with beef, bell pepper, butter, cheese, eggs, onions, and tomato. With a savory and not-so-sweet taste, you can add basil, oregano, or parsley to elevate the taste. 

Toasted Ravioli

During the 1950s, if Buffalo, New York is famous for chicken wings, St. Louis, Missouri is popular for its toasted ravioli. This crunchy breaded pasta is topped with beef, cheese, eggs, Parmigiano Reggiano, and spinach. It is served with marinara sauce on the side. But despite its name, the ravioli is not toasted but deep-fried.
Need a new truck for your business? Check out the best deals on food trucks for sale at UsedVending.