Vegan Food Trucks: A Guiltless Business Idea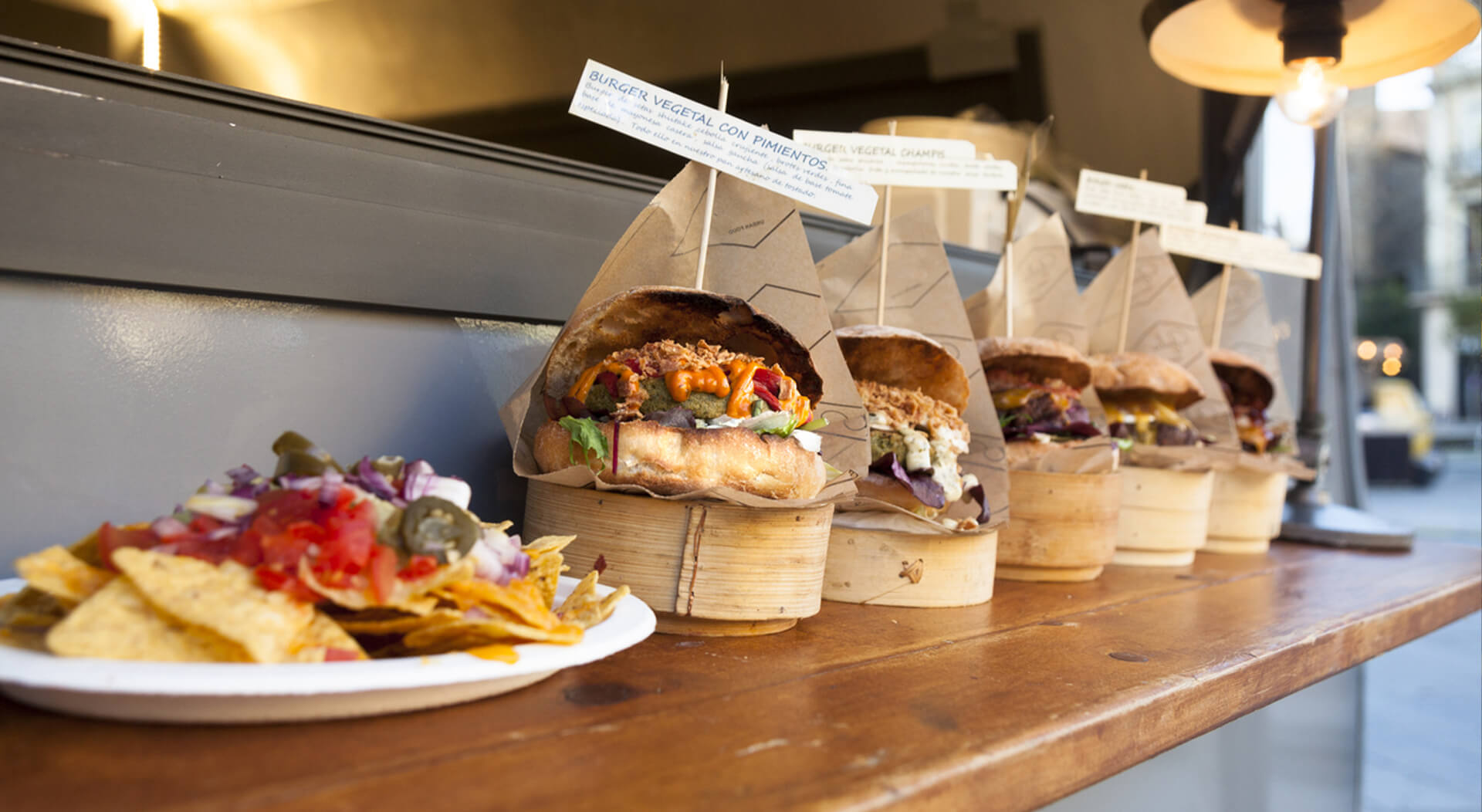 According to ethics, every living creature – including animals – has the right to live. This is the same belief that vegetarians hold. Around 14% of the world's population is vegan. They only eat plant-based food. In the US, 3.5% of the population is vegetarian. That is why there are lots of plant-based food served in different restaurants and food trucks. This niche is now showing a ripple effect in the food truck business. If you are looking to start a venture in such a niche, food trucks are less expensive and the most viable option. Below are some guiltless ideas for vegan food trucks.
15 Vegan Food Truck Ideas
Falafels

Falafels are deep-fried balls from Middle East cuisines. They are mainly vegan being made of chickpeas or fava beans. They are fluffy and herby inside plus hot and crunchy outside. They are best served in pita bread or wraps with a lot of dressing choices. Falafels are profitable vegan food items because their vegetable ingredients are relatively cheap. 

Indian Street Food

India is the dream destination in the world for vegetarians. Being a Hindu country, most people in India follow a vegan diet because they don't want to hurt other life forms, a Hinduism belief. There are lots of Indian street foods that are vegan. They are a good choice to offer among food trucks on American streets. These include:
Aloo Matar, a creamy pea and potato curry

Gobi Aloo Wrap, a mix of cauliflower, potatoes, and red lentil hummus wrap

Pav Bahji, a thick vegetable curry made of cauliflower, potatoes, tomatoes, and spices served in a bread roll

Vegetable Samosas, baked or fried pastries made from lentils, onions, peas, and spiced potatoes. Minus the lamb meat, they can make a great vegan offering among food trucks. 
Loaded Fries

Loaded fries are a popular American food made of either regular white potatoes or sweet potatoes. You can load deep-fried potatoes with unique flavorings to make them a standout guiltless vegan menu. Top them with jalapenos, kimchi, mushrooms, tofu bacon, and vegan nacho cheese. 

Mobile Juice Bar

Juices and smoothies made of fruits and vegetables are a great idea for food trucks. The most popular ingredients are apple, beetroot, carrot, ginger, lemon, mango, orange, pineapple, strawberry, and watermelon, among others.

Thai Food

Buddhism is the major religion in Thailand. Around 95% of its population are Buddhists. One of Buddha's sutra is not to eat the flesh of sentient beings. This belief includes refraining to eat animal meat. As such, Thai food is rich in vegan offerings which you can set as a menu for your food truck. Among the best ideas are:
Pad Thai Tofu, a rice noodle dish made of stir-fry eggs, tapioca flour, and tofu

Thai vegetable spring rolls, a mix of bean sprouts, cabbage, carrots, and fresh herbs freshly wrapped in spring roll wrapper

Thai pumpkin curry, made of baby spinach, cubed pumpkin, and cashew nuts cooked in coconut and curry sauce
Vegan Burger

Who said burgers are all meat? A popular guiltless business idea for a vegan food truck is vegan burger. People are changing their eating habits nowadays. They commonly go for plant-based options not just because of health reasons but also for environmental sustainability. Vegan burger patties don't have meat ingredients. They are commonly made of black beans, grains, jackfruit, mushroom, mycoprotein, nuts, seeds, soybeans, sweet potatoes, and tofu.
Vegan Burritos

Burritos are Mexican tortilla wraps sealed in cylindrical form. They can be a good vegan dish for food trucks to offer because they are a favorite food among Americans. You can try vegan burritos with black beans, cauliflower, shredded jackfruit, smoked tofu, sweet potato, and walnut taco meat.  

Vegan Caribbean Bowls

These are an all-time favorite cuisine that makes up a complete meal. It is easy to cook these island bowls using cabbage, chickpea, coconut rice, and sweet potato. Keep it fully vegan by using tofu to replace chicken meat. Vegan Caribbean bowls are a lucrative and profitable offering for lunch and heavy dinner among food trucks.

Vegan Crepes

Crepes are thin pancakes made of egg, flour, milk, salt, and water. Food truck owners can flavor crepes with vegan touches such as:
Agave Syrup

Banana

Blueberry

Mushroom

Peanut butter

Strawberry

Tomato

Vegan cheese

Vegan ice cream

They can generously be salty or sweet.

Vegan Grilled Cheese

This special type of cheese is made of plant-based ingredients such as nuts, root vegetables, seeds, and soy. Cheese is one of America's most loved dairy products. Americans consume around 38 pounds of cheese every year. So, offering vegan grilled cheese on food trucks is a smart business idea.

Vegan Hotdogs

Made of completely non-meat ingredients, vegan hotdogs are a great food truck menu for people of all ages. This innovative business idea can be flavored with different vegetables such as beets, carrots, chickpeas, eggplants, jalapeno, corn, mushrooms, and pinto beans. 

Vegan Ice Cream

Any sort of plant-based milk can flavor vegan ice creams. Vegan ice cream trucks can offer this healthy treat having low-fat content. The secret to this dairy serving is coconut milk mixed in fruits and vegetable flavors such as blueberry, chocolate, coffee, hemp, mint, oats, raspberry, strawberry, vanilla beans, etc. 

Vegan Kebabs

Kebabs are popular Middle East meat dishes cooked in grillers or skewers. They are commonly served with rich and tasty sauces. To serve vegan kebabs on your food trucks, you can substitute the meat with the following: courgette, jackfruit, potato, mushroom, and tofu.

Vegan Pizza

Pizza is very popular among American taste buds. Its combination of bitter, salty, sour, and sweet taste makes it very appealing to the palate. Vegan pizza is a delicious, guiltless idea that is easy to make. All you need is to top the crust with fruits and vegetable flavor then heat to make a delicious serving. Some unique pizza toppings you can use are butternut squash, cauliflower, cashew, hummus, guacamole, mushroom, shallots, and tomato. They can be best paired with plant-based cheese such as aquafaba mozzarella, cashew brie, chipotle cheese, and tofu gouda.

Vegan Tacos

Tacos are a popular Mexican dish that uses corn or wheat shells and tortilla wraps. They are a healthy food truck offering because they are rich in protein. They can also be served in controlled portions. Some famous ingredients for vegan tacos are asparagus, avocados, BBQ mushrooms, Cannellini beans, jackfruit, and quinoa mince.
For more ideas on recipes you can twist to suit vegan cravings, you can also check our articles on The Most Profitable Food Truck Items and 10 Easy Dessert Ideas You Can Add to Your Food Truck Menu. And if you're looking for a truck to start your new venture, visit UsedVending. We have a wide range of mobile food trucks that are perfect for any food niche.