Easy Air Fryer Recipes for Your Food Truck Business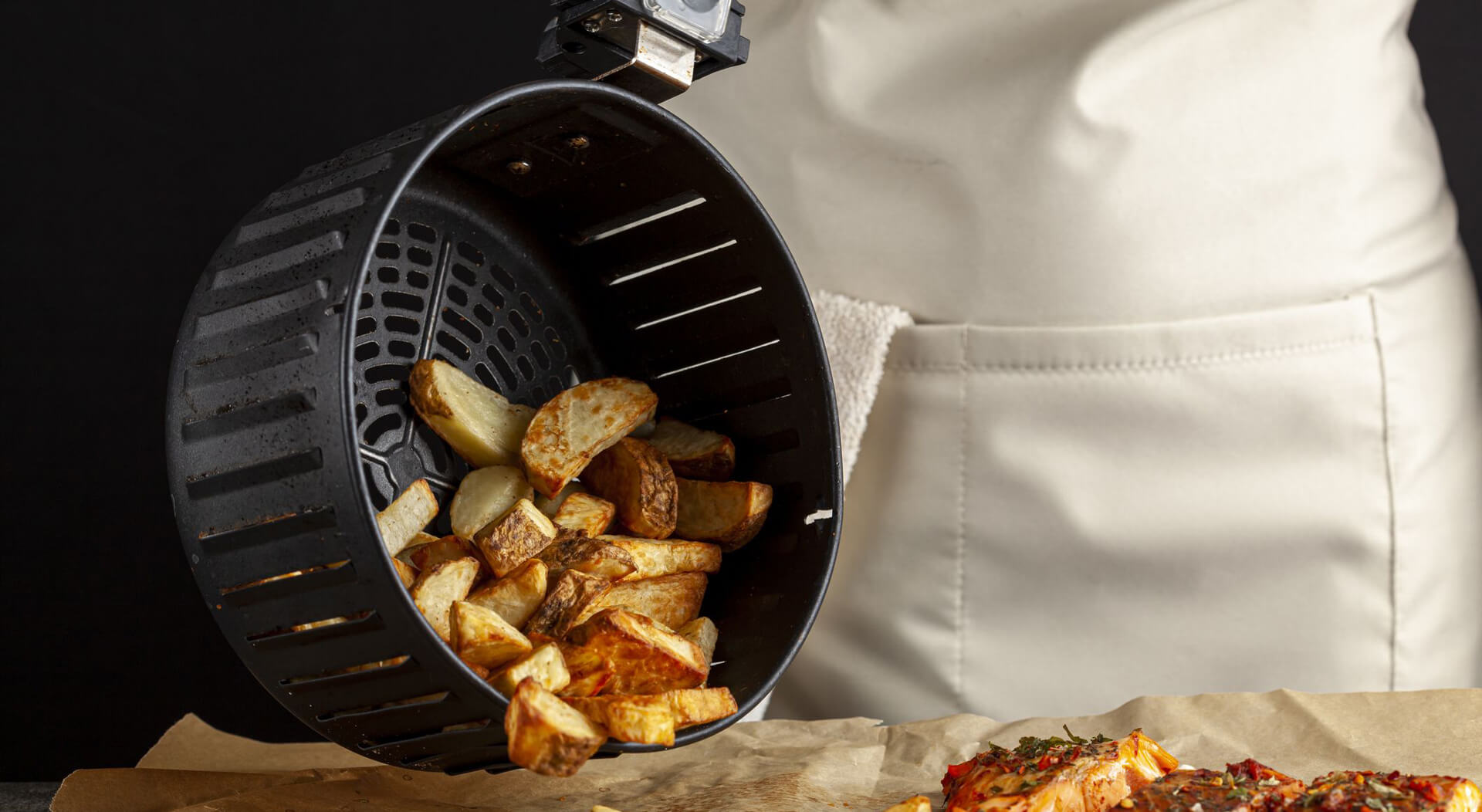 ​Imagine enjoying a crispy chicken meal that does not use oil. Or savoring flavored potatoes without being deep-fried. The air fryer is not a major invention but it has certainly made the lives of many people and food trucks better. It revolutionized a cooking style with health benefits. 
William Maxson, an American industrialist, resigned from the navy in 1935. As he settled in New Jersey, he was growing cauliflowers in his family garden. Because he grew more than what the family could eat, he decided to freeze the extra yield. He started experimenting with heating this frozen food. That is how he invented the convection oven in 1944. 
Maxson's convection oven was used by the Naval Transport Service. To replace cold sandwiches during their flight, blue plates with half-cooked meat and vegetables were frozen. The meals were then heated in the air before they were eaten. 
In 2010, Philips Electronics Company introduced the first air fryer in the market. With the motto, "Innovation and Growth," they claimed that air-fried dishes have 80% less fat. Since then, air fryers have started to conquer many kitchens. These include food carts and mobile trucks.
What is an Air Fryer?

An air fryer is a countertop convection oven. It is designed to imitate deep frying without the use of oil. Air frying follows the principle of the Maillard reaction. A fan circulates high-speed hot air to produce a crisp layer of food through a browning reaction. The temperature can be as high as 250°C, depending on the air fryer model. Cooking time is also reduced by 20% or more than regular frying.
Most air fryers available in the market today are equipped with temperature and timer adjustments. They also have a basket that sits on a deep tray where food is typically cooked. Like standard convection ovens, air fryers can also bake, cook dry food, roast, or steam. Some air fryers have extra accessories for grilling, pizza pans, and skewing.

Benefits of Air Frying

Counter space is an essential part of a food truck. Such a space saver allows more area for cooking and food preparation. An air fryer can make a good room among counter spaces. Mobile trucks can use an air fryer instead of messy deep fryers. Besides taking less space, they are also easy to clean. 
Air fryers also cook food quickly. They can reduce regular frying time by 20% or more, making it possible for you to expand your food truck menu. Moreover, it will be easier to serve a large number of customers in a small amount of time. 
Nobody can argue that cooking food in an air fryer is healthier than deep-frying. Even though they have similar flavor and texture, air-fried food has less fat and oil. For instance, frozen French fries cooked in an air fryer contain only 4 to 6 grams of fat per serving, while deep-fried fries have a whopping 17 grams of fat per serving. Meanwhile, a 100 gram battered and fried chicken produces 13.2 grams of fat, while the same serving of air-fried chicken only has 0.39 grams of fat. 
Easy Air Fryer Recipes

Air fryers are often touted to shave calories and fats from classic food. You can use this when marketing your food business to customers.
Here are some of the easiest air fryer recipes for your food truck business.

Chicken Tenders

This is a healthy twist to deep-fried chicken tenders. Each serving of this easy fryer recipe can be cooked for under 30 minutes and contains less than 200 calories.
Ingredients:
1 pound of chicken tenders

1 tablespoon olive oil

⅛ teaspoon of garlic powder

⅛ teaspoon of onion powder

¼ cup of bread crumbs

¼ teaspoon of black pepper

½ teaspoon of paprika

½ teaspoon of salt

A pinch of cayenne pepper

Instructions:
Preheat the air fryer to 200°C. Stir all the ingredients together except for the oil and chicken tenders. Brush both sides of the chicken tender with oil. Dredge them in the stirred breading mix until completely coated. Shake off the excess breading and put the breaded chicken tenders in the air fryer. Cook for 3 minutes, flip, then cook for another 2 minutes. Repeat the process until they are golden brown. 

Cinnamon Sugar Doughnuts

Air-fried doughnuts are a light meal alternative for the health-conscious. They have less oil and are lower in fats. They are also easy and quick to cook breakfast, desserts, or snacks.
Ingredients:
1 to 2 teaspoons of stevia or ¼ cup of table sugar 

1 teaspoon of ground cinnamon

8 ounces of biscuits

Cooking oil to spray 

Instructions:
Lay the biscuits on a flat container and cut holes in the middle using a cookie cutter to form a doughnut. Spray the air fryer basket with oil. Place the doughnuts on top of the air fryer basket and spray with oil. Cook for 4 minutes under 360°C. Flip the doughnut and cook for another 4 minutes. Do not over stack the doughnuts. Cook in batches instead. After air frying, dip the cooked doughnut in cinnamon and sugar before serving. 

Meatballs

Air-frying meatballs take away the mess from oils and greases. To clean up after cooking, just pour the grease off from the basket and wash. It also cuts cooking time to under 30 minutes.
Ingredients:
¼ cup of minced onion

½ teaspoon of crushed red pepper flakes

½ teaspoon of Italian seasoning

1 pound of ground beef

1 pound of mild Italian sausage

1½ cup of grated parmesan cheese

2 cloves of minced garlic

2 pieces of beaten eggs

2 tablespoons of chopped parsley

salt and pepper to taste

Instructions:
Mix the beef, cheese, eggs, garlic, onion, parsley, and pork in a large bowl. Sprinkle with a pinch of pepper and salt. After combining all the mixture together, form them into 1 to 2 inches meatballs. Spray olive oil on the air fryer basket lightly. Put the meatballs in the air fryer and cook at 350°C for 13 minutes. Flip and cook for another 8 minutes. Avoid overcrowding the air fryer. Cook the meatballs in batches when needed. 
Do you know other recipes that you can make with an air fryer? Share them with us! 
You might also want to read the following articles for more healthy menu ideas:

And if you are looking for a new truck, you can always visit UsedVending to find the best deals on food trucks for sale.