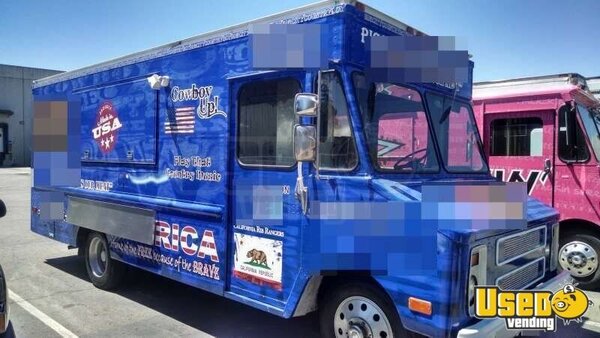 California Built Gourmet Food Truck for Sale!!!
Built in, and for sale in California, this is a 1985 Chevy P30 food truck that is equipped for any kind of food. Has a full service kitchen and is in very good condition. See details for features & equipment list.
PRICE REDUCTION!
Originally: $77,000
NOW: $55,000 in California



More info...
For sale - Gourmet Food Truck with full mobile kitchen. This was a california built kitchen so you know it will pass all health codes. Auto transmission, gas engine. Kitchen is only 3 years old!
INCLUDES :
- 3 compartment sink
- Hand-washing sink
- 2 Bev-Air single door refrigerators
- Steam table 2 burner stove
- Flat top grill
- 2 Imperial deep fryers
- Buck eye fire suppression system 10' hood with exhaust fan
- Diamond plated floor
- Stainless steel walls and ceiling
- 2 separate ice bins for drinks
- Stainless steel shelving and storage compartment to station glass service window
- Onan 6.5 gas generator
- 1 refrigerator has deli top
---
Equipment List
Transmission - Automatic
Passenger Seat
Two Concession Windows
Gas Engine
Hot Water Heater
Hand-washing Sink
Triple Sink
Deep Freezer
Slide-top Cooler
Refrigerator
Generator
Fresh Water Tank
Gray Water Tank
Propane Tank
Work Table
Fire Suppression System
Exhaust Hood
Exterior Lighting
Interior Lighting
Water Tank
Cabinets
Fryers
Stainless Steel Wall Covers
Insulated Walls
GFI Outlets
Diamond Plated Aluminum Flooring
---
Prior Equipment Questions...
I don't see a range nor oven in any of the pictures, correct? What is the size of the hood?
It has a 2 burner stove top, I am not sure on hood size I will have to measure it when I get back into town this weekend but I believe it to be 10 feet
How many feet is your food truck?
The truck from bumper to bumper is 22 feet.
From wall behind driver to back is a little over 16 feet
I notice there are tables under the hood area. Is there room for any consolidation in an effort to put other gas operating fixtures?
Yes if you remove the area between the fryers and the flat top. That area is a stainless steal counter top with drawer and storage area underneath. Could be removed pretty easy and gas supply is right there.
How many miles are on the vehicle and is it mechanically sound?
The odometer reads high 200 but the engine and transmission was rebuilt by previous owner. It is on a regular maintenance schedule. The truck is well kept and runs strong. It is driven about 50 miles a day 4 days a week curently.
Can I see a layout drawing of the interior showing dimensions and where equipment is?
I will draw a diagram and get it over to used vending asap
Is this permitted currently for operation in CA?
Yes it has California state insignia. Truck currently hold 3 county health permits. Alameda, Santa Clara and Contract Casta
Have Questions? Have Questions about this item, its condition or features?