Witty Food Truck Name Ideas That Will Get Customers Lining Up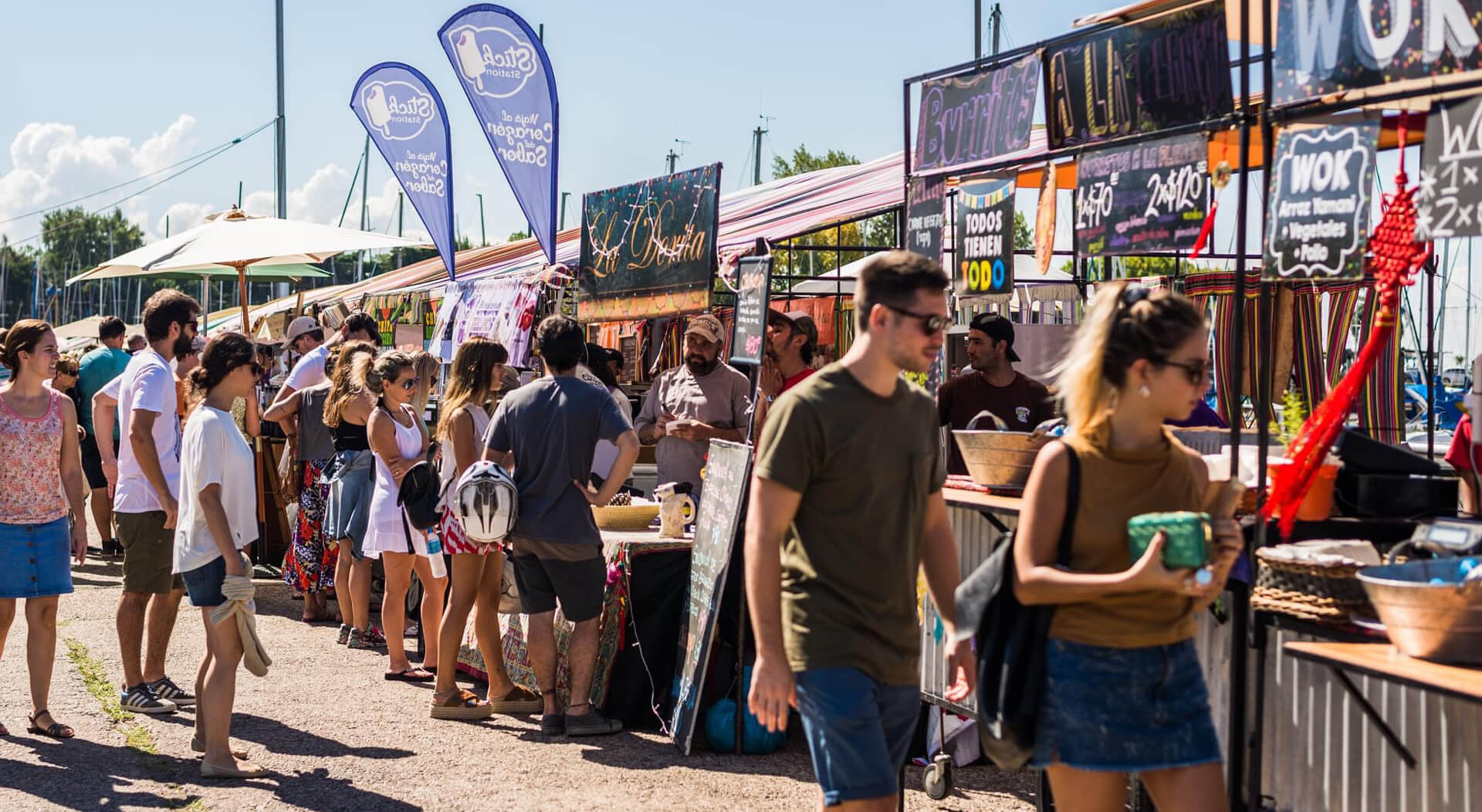 As a food entrepreneur, naming your business is a critical and important step. It can make or break your food business. Sorting out potential names can be a long and tedious process. As the options can be overwhelming, there are several things you can do to narrow the potential fields down. This can help you choose a lot easier. 
After finding the perfect name for your food truck business, you will need to register it under the State Division of Corporations and the local government of the city or county as well. This is done for tax purposes and to run your business in a legal way.
Creating a Name for Your Food Truck Business

Here are some helpful tips on how to create a name for your food truck business.

1. Choose a descriptive name

Making the name of your food truck descriptive can help potential customers immediately know the type of food you offer. Research shows that businesses with names identifying their products and services are more successful than businesses with non-descriptive names. 
A good name for your food business should highlight the type of food you offer and what customers can expect from your truck. It is a branding essential and makes your food truck memorable. If you are selling pizza, announce it loud and clear. If you will offer gourmet burgers, pinpoint your niche through the name of your food truck business. If you will sell salads, incorporate something relevant to the title of your niche. 

2. Keep the description general for future expansion

Another tip when creating a name for your food truck is to keep the description general. This is to allow expansion of your menu in the future. For example, a general description you can use is "Korean food." If you are thinking of expanding a Korean barbecue food truck to more Korean food offerings, avoid naming it as a Korean BBQ food truck. This is unless you want to specialize in such a food niche. 

3. Strategize in making a great name for your food truck business

There are 4 strategies you can follow to come up with a great food truck name. 
First, you can clarify your specialty on the name. This is by naming the kind of cuisine you will offer. 

Second, you are the boss and should be proud of your legacy. You may consider including your name in your food truck's name. 

Third, you can also mention your signature dish. It can help people identify your brand and expertise. 

Fourth, you can represent your hometown as you will be traveling. Most people patronize small businesses that offer a unique dish from a locality as they promote a diverse and inclusive culture.
4. Think of the name in visuals

Typically, the name of your food business will appear on the side of your truck. If you think of it as visually appealing, it should be short and sweet. Think of how it will be printed on marketing materials. They should be both legible and memorable for your potential clients. 

5. Write a shortlist to help you decide the name of your business

Naming your food truck takes time. While doing steps 1 to 4, see to it that you write a shortlist of the name you come up with for each step. Use this shortlist to filter and rank the names you have listed. In the end, choose the name that you feel is perfect for your food truck. The name should keep you inspired enough to keep the business going.
Best Food Truck Name Ideas

The top 10 best food trucks in America became successful after serving burgers, coffee, cupcakes, deli, fries, pizzas, salads, sandwiches, seafood, and tacos. Based on these categories, here are some unique and inspiring food truck name ideas that will surely attract a hungry crowd.

For Burger Food Trucks
Badass Burgers

Beast Burger

Bite Sized Burgers

Burger Bird

Burger Bus

Cheeseburglar

Extreme Burger

Gourmet Burgers

Juicy Burgers

Jumping Jack's Burger

Monster Bun

Mouth-size Burgers

Sir Burger

Sin Burger

The Burger Spot
For Coffee Food Trucks
After Coffee
Bean Drinking?
Coffee Wagon
Coffee Vaccine
Date a Coffee
Dracula's Cup
Espresso Lane
Grind and Sip
Java the Truck
Liquid Hug
Magic Beanstalk
Mocha Motion
Mug Shot
Parking Latte
Room with a Brew
The Coffee Cart
Your Blackness
Your Darkness
For Cupcake Food Trucks
Bliss Bakery

Butter Sweet Cupcakes

California Cupcakes

Cup and Cakes

Cupcake Amore

Cupcake Lounge

Cupcake Shack

Cupcakes on the Go

Cupcakes for Real Men

Delightful Desserts

Follow the Crumbs

Frosted Tops

Healthy Cupcakes

Mobile Sweets Shop

Rolling Bakery

The Royal Cupcakery
For Deli Food Trucks
Charming Chews

Charming Deli

Deli Goods

Devilishly Delish

Divine Bites

Fancy Nosh

Heavenly Deli

Kosher Counter

Moreish Morsels

My Fine Foodstuff
For Fries Food Trucks
Beer and Fries

Freedom Fries

French Fry or Die

Frenchie's French Fries

Frenzy Food Truck

Fries Empire

Golden Potatoes

Holy Fries

Hot Potatoes

Proud Potatoes

Tater Treats

The Fries is Right!

The Fryer's Club

The Nobel Fries

Wacky Wedges
For Pizza Food Trucks
Cheesy Crust

Cheese Avalanche

Cheese Pull

Colossal Crust

Custom Pizza

Oven on the Run

Pizza on Wheels

Pizza Pals

Pizza Parade

Pizza God

Rocky Mountain Pizza

Slice as Nice

The Gaping Pie

Yas Pizza!
For Salad Food Trucks
Earthy Treat

Green Salad

Healthy Cheat

Honeyed Greens

Leafy Greens

Salad Club 

Salad Plates

Salad Queen

Salad Shack

Signature Salad

Tossed Greens

Veggie Brunch

Veggie Heaven 
For Sandwiches Food Trucks
Brave Little Toaster

Club Sandwich 

Easy Bite

Flying Breads

Generous Sandwich

Munch Mobile

Pocket Sandwich

President Sandwich

Roaming Sandwiches

Sandwichcraft

Sandwich Queen

Sandwich Shack

Signature Sandwiches

Two Slice of Bread
For Seafood Food Trucks
Aqua Grill

Aquameal

Fishermen's Catch

Fisherman's Wife

Fishy Business

Hot Crabberia

Lobster Cove

Meet the Sea

Off Shore Eatery

Rock Lobster 

Seafood Boat

Shrimp Truck

Tasty Catch
For Taco Food Trucks
Crunchy Tacos

Fired Up Taco Truck

Flying Fish Tacos

Guerilla Tacos

Let's Taco Bout It

Macho Tacos

Los Famosos Tacos

Taco Amigos

TacocaT

Tacos Before Bros

Taco Trailer

Taco Travelers

Tasty Taquitos

Where the Tacos Are

Wicked Tacos

Still thinking about how to start a successful mobile food business? Read our article on How to Start a Successful Food Truck Business and before buying a truck, make sure to consider the things discussed in this guide. 
Visit UsedVending for a wide range of food trucks for sale. You can also list and sell your used truck with us for quick cash! Call (601) 749-8424 for more information.