5 Brilliant Space Saving Kitchen Ideas for Your Food Truck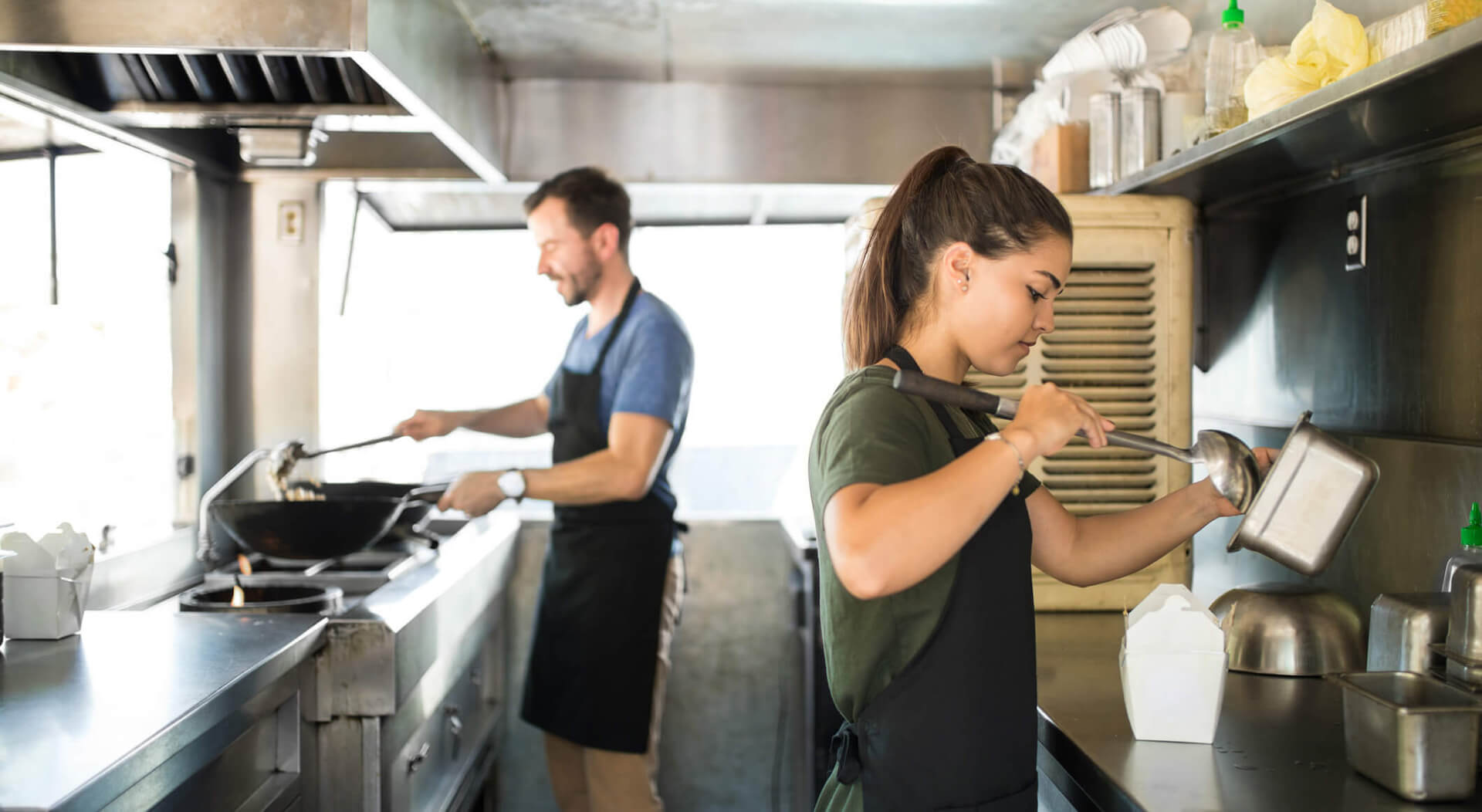 To date, there are around 24,000 active food trucks all over the United States. It has an estimated market size of $1.2 billion in 2020. Such business concepts are a hit because their investments are a lot cheaper than starting a brick-and-mortar restaurant. Besides, they also give a higher return on investment (ROI). A food truck investment of $100,000 can result in average revenue of $250,000 to $500,000 annually. 
When it comes to food truck designs, maximizing spaces is a premium. This means that unnecessary equipment and unorganized cooking wares are luxuries you can't afford in such mobile kitchens. The typical size of a food truck is 16 feet long and 7 feet wide. The length can range between 10 feet to 26 feet. With limited space, cooking and serving customers can become a challenge among food truck operators. To address this common issue, here are 5 brilliant space saving kitchen ideas for your food truck.
Consider Your Food Truck Dimensions

Every food truck is unique. No mobile kitchen is the same. So, this means that no food truck design or layout can also be the same. A brilliant space-saving kitchen idea for your food truck is to design it yourself according to the truck's dimension. 
The most common length of a semi-truck is 14 feet, 16 feet, and 18 feet, while the width is typically 7 feet. You may consider putting a space for food preparation, meal cooking, refrigeration, sink, and storage on a 14 feet food truck. You can add an extra griddle for a 16 feet space, while you can also add a freezer and fryer on an 18 feet semi-truck. Mark these areas on the truck and draw a paper layout of the vertical space. You can then decide which section will need to cover a larger area depending on your food truck menu and operation.

Choose the Right Size of Kitchen Equipment

It's obvious, smaller equipment works better in smaller spaces. Be creative in buying the right cooking and serving equipment for your food truck. Hanging racks and underboard shelving commonly fits a limited space. Opt for multi-use equipment like combi-ovens, hot plates, multi-cookers, and steamers. Consider your menu and how these foods are cooked and prepared. Cutting boards and prep tables may be placed on top of refrigerators or drawers. 
For refrigeration, the best ones for a food truck kitchen are:
Pizza prep tables 

Reach-in refrigerators

Salad or sandwich prep tables

Under counter refrigerators

Worktop refrigerators

Check out this article on How to Choose the Perfect Food Truck Refrigerator and Cooler.
Keeping a record of your inventory is also a smart way to choose the right equipment for your food truck. This means knowing what size of cooking equipment, refrigeration, and storage you may need on your daily operations. Knowing them can either give you enough space for a new menu or allow you to buy bulk supplies if you've got enough storage.

Maximize Storage Space

The key to maximizing the storage space of a food truck is to think vertically. Because a food truck layout is in a vertical space, you may need to find small storage bins and stackable containers. Building shelves on ceilings or open walls optimize your overhead space. They won't even interfere in the movement inside the food truck. Then, look at the space under the counter. There may be extra areas where you can put the fridge and wheeled storage bins. If possible, use do-it-yourself (DIY) or made-to-order (MTO) prep tables, racks, and shelves. They can minimize the storage size for open spaces. 

Pare Down Your Food Truck Menu

Another smart kitchen idea for your food truck is to pare down your menu. If you have a limited storage space, having a menu with too many ingredients may not be advisable. So, the key is to redesign your food offerings into a menu that cross-utilizes similar ingredients and has a limited need for ingredient storage. 
Among the best food truck menu ideas are:
Barbecue

Burgers

Candies

Cookies

Cupcakes

Doughnuts

French Fries

Hotdogs

Ice Cream

Noodles

Pizza

Tacos

These foods are easy to cook and prepare. They also use fewer ingredients than other gourmet offerings. Among food trucks, they are also the ones that give a higher return on investment (ROI). Even though you are tempted to offer a variety of options for your customers, keeping your menu simple can save your food truck a lot of space.
You might also want to read our article on The Most Profitable Food Truck Items and Menu Ideas for more inspirations.
Extra Tips 
Prepare the food somewhere else

If you feel that your food truck space may not be enough to accommodate your equipment and supplies, you may want to consider cooking at home then selling them in your food truck. Others join kitchen commissaries. They have shared kitchens where most food truck owners cook and prepare their food before they open. They don't only help you save space but they can also lend you the needed cooking and food preparation equipment. Some commissary kitchens even offer grease disposal, overnight parking, and more.

Label your items

Labeling your ingredients, packaging, and food truck storage can go a long way. Labels can help you put things in the proper place to organize and save space. Clearly marking them allows a food truck staff to put them back in the right place as needed.

Find storage opportunities

Some storage opportunities for food trucks are extra shelving on top, pegboard on the back door, and sliding bins on countertops. They can make a big difference in your food truck's storage situation. 

Observe other food trucks

The smartest way to learn how to save space is to find inspiration from other food trucks. Observe how other owner-operators design their kitchen. If possible, talk to food truck owners and ask for pieces of advice. Some of them will be more than happy to share their experience and knowledge when designing a food truck.

Upgrade your truck

You can sell your old truck and get a bigger, more spacious unit.  
Visit UsedVending to learn how to buy and sell food trucks. We feature a large selection of mobile food trucks and semi trucks listed by legit owners. 
Level up your food business today!